Dinner Recipes
How to Make Ranch Dressing & Wedge Salad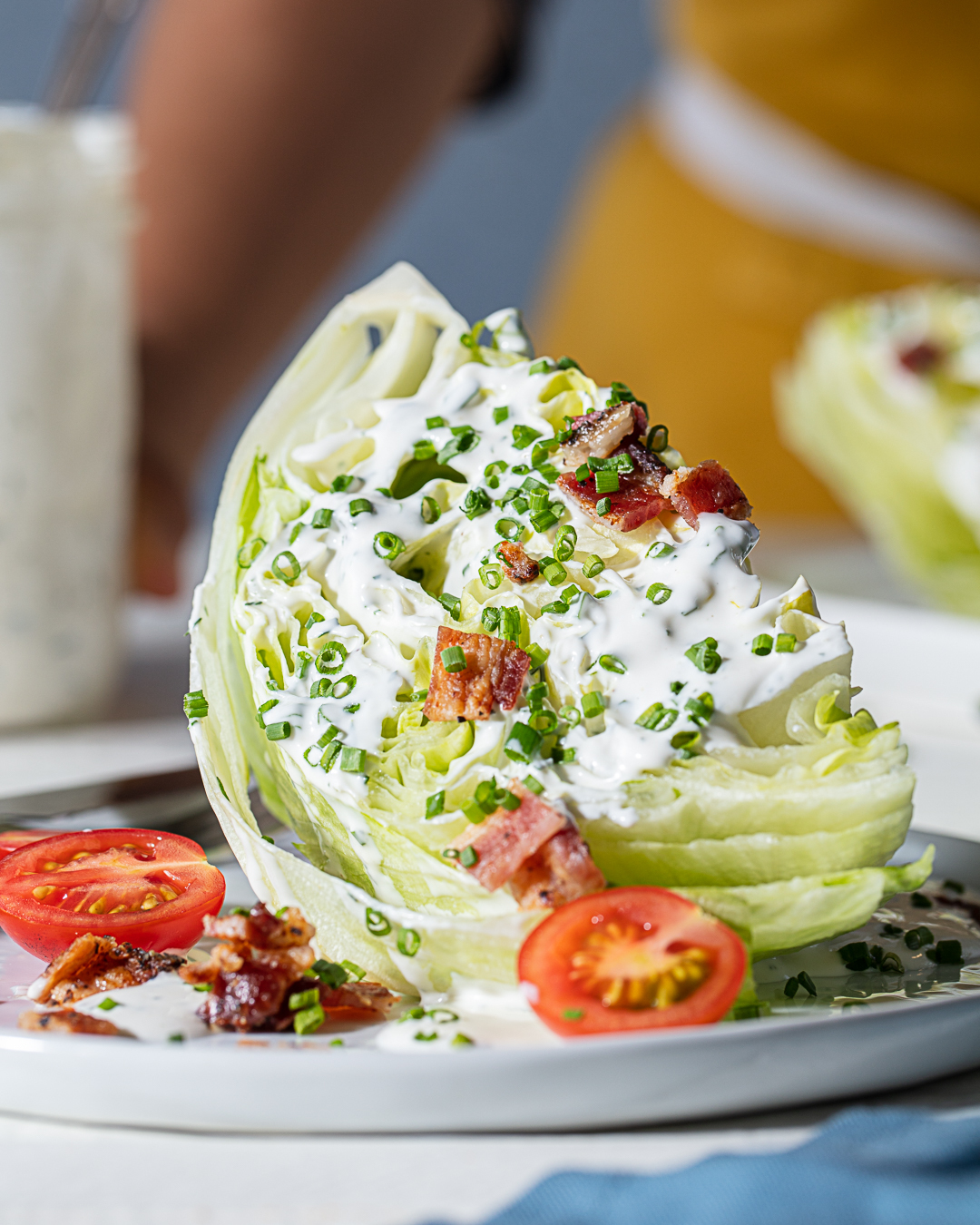 There are a couple of things that make this ranch dressing special. First, we fine-tuned the mayonnaise, sour cream, and buttermilk ratios so the texture is just right. It's thin enough that you can toss it, and it's got a nice amount of stick-to-itiveness: it clings to lettuce, salad goodies, and dippables without globbing. No one likes a giant glob of dressing on their salad. Well, in this case, we might. It's so light and tangy — and herby, thanks to a handful of parsley, chives, and dill.
Here's some expert advice on ranch dressing from the test kitchen: Make a double batch. Once you have a jarful of the stuff, you're going to want to dip, dunk, and drench everything in it, like our blistered shishito chile peppers, air fryer pickles, and jalapeño poppers. It's also amazing on the classics, from wee baby carrots to pepperoni pizza, and of course, this wedge salad.
Wedge salads are just about as simple as they come — but that's kind of their appeal. They feel sophisticated and special, the sort of thing you'd order at a country club or a restaurant with a particularly dramatic view of the ocean. Plus, that juicy iceberg lettuce is the perfect blank canvas for all your favorite toppings. Since tomatoes are so good right now, we went with sweet cherry tomatoes, a very peppery bacon, and some chives for a pretty pop of green. But you can layer on black olives, pickled onions, toasted seeds … and whatever else you love.
Wedge salad makes a lovely luncheon — serve it when your mom comes to visit, and she'll swoon. It's also great alongside a protein, like a grilled steak or salmon fillet. (Keep it simple, just salt and pepper, because you're going to want to drag that meat through the dressing.)
Ranch Dressing
Yield: 2 cups

Ingredients

¾ cup mayonnaise
½ cup sour cream
¾ cup buttermilk
2 tsp white wine vinegar
1 Tbsp minced fresh parsley
2 tsp minced fresh chives
2 tsp minced fresh dill
½ tsp garlic powder
¼ tsp onion powder
Kosher salt, to taste
Black pepper, to taste

Directions

In a large bowl, combine all of the ingredients and whisk together until incorporated.

Store in an airtight container in the refrigerator for up to two weeks.

Wedge Salad

Servings: 4
Ingredients

1 head iceberg lettuce, quartered
1 cup ranch dressing
6 strips peppered bacon, cooked crispy and chopped
2 cups halved cherry tomatoes
4 tsp minced chives

Directions

Place the quarters of iceberg lettuce, angled side up, on a serving dish.

Pour the dressing over the lettuce.

Sprinkle them with the chopped bacon, cherry tomatoes, and chives.

Serve immediately.