Lunch Recipes
How to Make Spaghetti Squash
October 24, 2018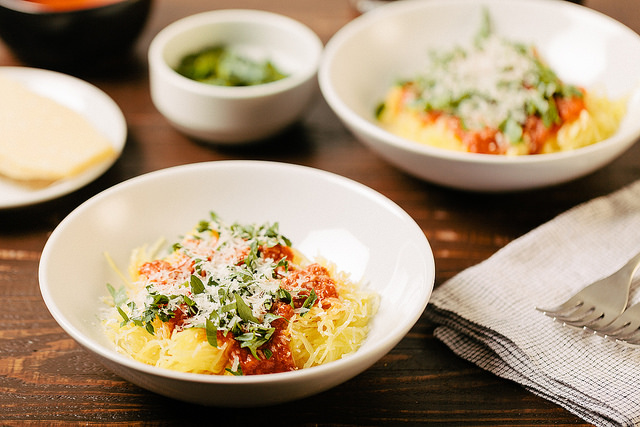 Spaghetti squash is naturally gluten-free, mild flavored, and so versatile: You can stuff the shells with hearty fillings, like white beans and fennel sausage or cheese and broccoli. You can pull the shredded tendrils out of the shell and use them in a frittata or a green salad. And, of course, you can do just what the name suggests and use them as noodles in everything from a light pad thai to a luxe bolognese.

Whatever your plans, our how-to will help you get the squash prepped and ready — a tender blank slate for your culinary masterpiece.

Our tips: If 40 minutes is too much prep time for a weeknight, roast your squash on Sunday night; it will definitely keep for few days. And use a fork to shred the squash out of the shell.
Ingredients
1 spaghetti squash
Directions
Heat the oven to 450º.
Using a large, sturdy knife, cut off the ends of the squash, and then cut it in half lengthwise.
Use a large spoon to scoop out the seeds, which you can either discard or clean and roast like pumpkin seeds.
Place the squash halves on a pan, flesh-side up, and cover each half with tinfoil.
Bake the squash in the center of the oven for 40 minutes.
Remove the squash from oven, uncover it, and let it cool for 10 minutes or until it's ready to handle.