Recipes
How to Make the Best California Burger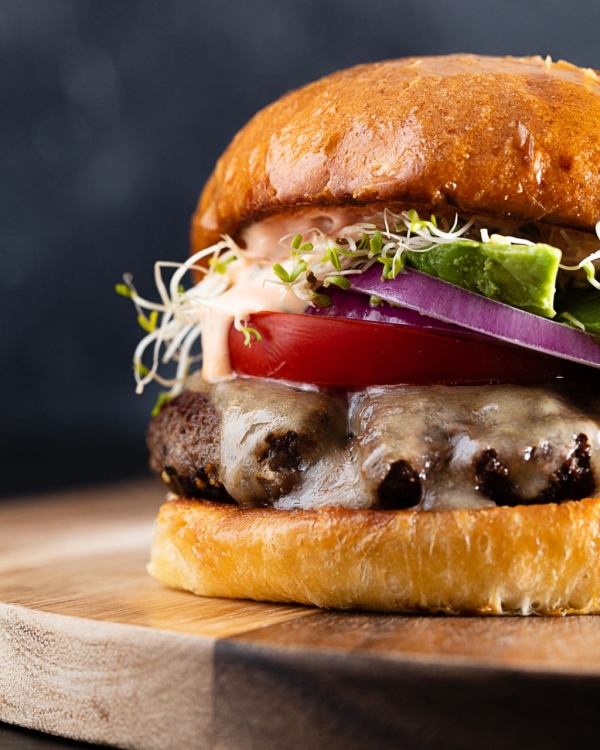 In many diners and burger joints up and down the coast, you can confidently order a California burger knowing it'll have three things: lettuce, tomato, and of course, avocado. But if you ask us, that doesn't really get to the heart of what makes a burger Californian; it's more about the freshness of the fixings than the fixings themselves. (That said, avocado is always a must.) Ours has some particularly fresh fixings, plus an extra tangy burger sauce — and that's why it's the best, if we do say so ourselves!
For the burger, we use our favorite grind — 80% lean beef, 20% fat — so the patties get a perfectly charred exterior, but stay nice and juicy on the inside. In the hot skillet, we top the burgers with white cheddar cheese, which melts into a rich, thin layer and seeps its way into all the nooks and crannies of the patties. Then, we stack them on a toasted, buttered bun, along with juicy tomatoes, crunchy alfalfa sprouts, spicy red onion, creamy avocado, and finally, our homemade burger sauce.
One great thing about this sauce is that it's a mix of stuff that you probably have in your fridge and pantry already: mayonnaise, ketchup, sweet pickle relish, Dijon mustard, and white wine vinegar. It's simple, but the flavors are out of this world. You get piquancy, tang, umami, and acidity — plus a light, creamy texture from the mayo. Slathered on the burger, the sauce is the perfect foil to the fattiness of the meat and cheese, as well as the crispness of the fresh veggies.
Eating this burger is such a treat, especially with a side of sweet potato fries and a light, hoppy beer. We love how you get bite after bite of contrasting flavors and textures — it's so satisfying, and just what a California burger should be. (And we oughta know!)

Servings: 6
Ingredients
For the burger sauce:
½ cup mayonnaise
¼ cup ketchup
1 tsp sweet pickle relish
1 tsp Dijon mustard
1 tsp white wine vinegar
Kosher salt, to taste
Black pepper, to taste
For the burgers:
2 lb Gelson's fresh Certified Angus Beef® brand 80/20 ground beef
Kosher salt, to taste
Black pepper, to taste
2 Tbsp grapeseed oil, divided
6 slices white cheddar cheese
6 tsp butter, room temperature, divided
6 soft hamburger buns
2 tomatoes, sliced
2 oz alfalfa sprouts
1 red onion, sliced
1 avocado, seeded and sliced
Directions
To make the burger sauce: In a small bowl, mix together all of the ingredients until well incorporated. Set aside.

To make the burgers: Preheat the oven to 200°. Divide the ground beef into 6 portions and roll them into balls.

Season the burgers generously with salt and pepper.

Heat a cast-iron or griddle pan to medium-high and either swirl 1 tablespoon of grapeseed oil in the pan or brush it on the griddle.

Place 2 to 3 burgers in the pan and flatten them by pressing down with the back of a spatula. Cook for 3 minutes, or until dark brown and crispy, then flip and cook for another 3 minutes.

Place a slice of cheese on top of each burger and allow it to melt for about 30 seconds. Transfer the burgers to a platter and slide them into the oven to keep warm.

Repeat steps 4 to 6 with the remaining burgers.

To toast the buns, wipe out the pan and spread ½ teaspoon of butter on both sides of each bun. Place the buns butter-side down in the pan and toast for 30 to 45 seconds, or until they are golden brown.

Assemble the burgers with the tomato slices, alfalfa sprouts, red onions, avocado, and burger sauce, and serve hot.