Recipes
How to Make the Best Sugar Cookies & Royal Icing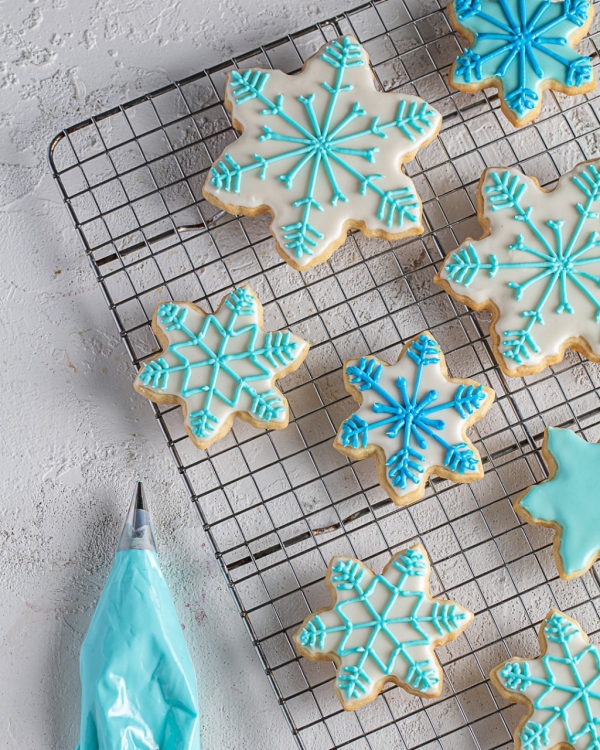 Every home baker needs a strong recipe for sugar cookies. They're a holiday classic, of course, but they're also a simple cookie, made with basic stuff you almost always have in your pantry — and a super fun project. Here, we've paired our favorite sugar cookie and royal icing recipes. What makes them the best? We'll tell you.
In the cookie dough, the butter to sugar ratio is tilted in favor of the butter, so that the dough keeps its shape for all your favorite cutters and bakes up tender and crispy. It's got a generous amount of vanilla and almond extracts, so it has a wonderful flavor — nutty and floral, it tastes really special. And overall, it's more buttery than sweet, which makes it the perfect companion for the royal icing.
In the test kitchen, our bakers like this particular recipe for royal icing because it's made with egg whites rather than meringue powder, so it's a nice, neutral base for the flavorings — more vanilla and almond extracts, which give it an unexpected richness. It mixes up thin, so it's really easy for the kiddos to spread, and we love how it sets with a perfect, shiny gloss, but remains soft with every bite. Our tip: thicken the icing with a little powdered sugar for piping, the holiday "ta-da" that makes these cookies such a memorable treat.
You can complete this baking project all at once, or take it step-by-step as time allows. Mix the dough and chill it in the refrigerator one day, roll out and bake the cookies another, and then set aside some creative time for the best part — icing them!
Ingredients
2 ½ cups all-purpose flour, plus more for dusting surface
½ tsp baking powder
½ tsp kosher salt
2 sticks unsalted butter, softened
¾ cup granulated sugar
1 large Gelson's egg, room temperature
2 tsp vanilla extract
½ tsp almond extract
Directions
In a medium bowl, whisk together the flour, baking powder, and salt. Set aside.

In the bowl of a stand mixer fitted with the paddle attachment, cream together the butter and sugar on medium speed until light in color, about 1 minute.

Scrape down the sides of the bowl, add the egg and extracts, and mix on low speed until combined.

Add the flour mixture in 3 additions, mixing on low speed until just combined.

Turn the dough out onto a clean surface, form it into a disc, and wrap it in plastic. Chill the dough in the refrigerator until firm, 30 minutes to 2 hours.

Preheat the oven to 350° and lightly dust a clean, flat work surface with flour.

Roll out the dough to ¼" thickness and, using floured cutters, cut out the cookies. Reroll the scraps until you run out of dough.

Place the cookies about 2" apart on a cookie sheet. If the dough is soft, slide the cookie sheet in the freezer for 10 minutes to firm.

Bake the cookies for 10 to 12 minutes, or until the edges are set. Remove the pan from the heat, let cool for 5 minutes, then transfer the cookies to a wire rack to cool completely.

The cookies can be stored in an airtight container on the counter for 5 days, or frozen for up to 1 month.
Recipe adapted from: NYT Cooking
Royal Icing



Yield: 4 cups

Ingredients
6 cups powdered sugar, plus more as needed
5 oz pasteurized egg whites (about 6 large eggs), whisked to loosen
1 tsp vanilla extract
½ tsp almond extract
Pinch kosher salt
Food dye, as needed
Directions
Sift the powdered sugar into the bowl of a stand mixer. Add the egg whites, extracts, and salt.

Using the whisk attachment, mix on low speed until smooth and creamy, scraping down the sides of the bowl as needed. When you lift the whisk, the icing will fall in thin ribbons and then disappear. It will spread easily over your cookies.

To thicken the icing for fine piping, set some aside and whisk in more powdered sugar, a few teaspoons at a time, until the icing falls in stiff ribbons that maintain their shape.

Divide the icing between several bowls equal to the number of colors you want to create. Mix 2 to 3 drops of food coloring into each bowl of icing and stir until combined.

Transfer the icing to piping bags fitted with piping tips, or place plastic wrap flush against the icing and cover completely. The icing can be kept at room temperature for up to 1 day.
Recipe adapted from: Food52