Recipes
Impossible Larb (Made with Impossible™ Burger)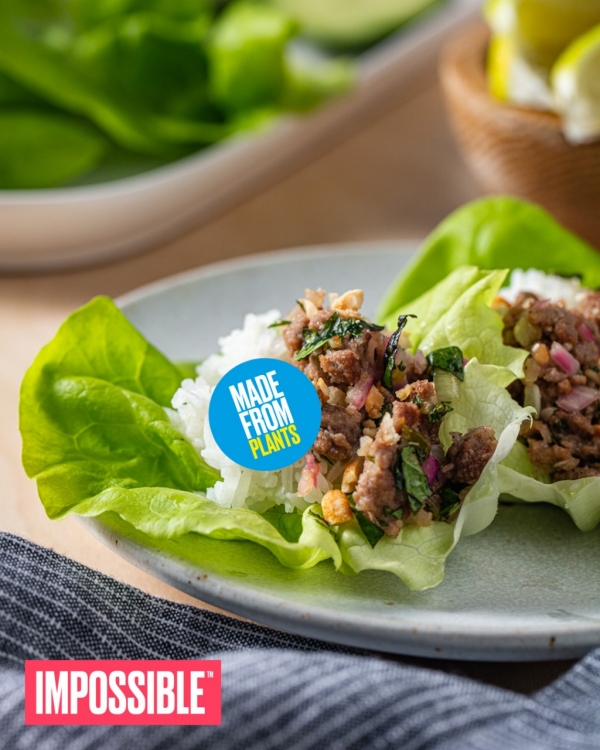 In this plant-based take on the traditional Southeast Asian dish Larb [say: laahb], Impossible Burger is pan-seared 'til it's browned all over, and then tossed with toasted rice powder, serrano peppers, sugar, fish sauce, lime juice, and aromatics. The mixture has that wonderful sweet, sour, salty, hot balance we're all craving right now — plus the fish sauce's funky umami. This dish's infinite nosh-ability comes down to the perfect see-saw balance of the deeply savory larb paired with slices of crispy, crunchy, juicy sliced cucumber or butter lettuce. It's the perfect bite.
Well, it is once you load on the toppings. We like ours piled with fluffy rice, salty roasted peanuts, cool mint, citrus-y cilantro leaves — and plenty of bright, zippy lime. Yes, it's a messy dish, but it's totally worth getting food all over you. In the test kitchen, it went down like this:

Taster wraps larb in butter lettuce: "What is this?"
Chef: "Larb."
Taster takes first bite: "Oh! Ohhhh! This is awesome — what's in there, beef?"
Chef: "No, it's Impossible Burger."
Taster inhales larb and goes in for seconds: "Oh, wow! It's amazing. Is it okay if I take more?"
One of the things we love about larb is that it can be any sort of meal. If you're having a couple people over for a few beers, it's the awe-inspiring finger food. If you're having a light weeknight dinner, it's the hearty deconstructed salad that comes together in five easy steps — and eats like a total treat.
Servings: 4
Ingredients
2 Tbsp sushi rice
2 Tbsp unsalted butter
3 garlic cloves, minced
12 oz Impossible Burger
1 serrano pepper, stemmed and finely chopped
3 large shallots, finely chopped
3 green onions, roughly chopped
1 tsp granulated sugar
2 tsp fish sauce
½ cup lime juice
¼ cup roughly chopped Gelson's organic cilantro
½ cup roughly chopped Gelson's organic mint
Optional garnishes: butter lettuce, sliced cucumber, cooked rice, crushed peanuts, lime wedges, Gelson's organic mint leaves, Gelson's organic cilantro leaves
Directions
In a medium skillet over medium-low heat, toast the rice until fragrant and browned, about 6 to 10 minutes. Remove from the heat and cool. Once cool, grind the toasted rice in a mortar and pestle or spice grinder until it's a fine powder.

In the same skillet, melt the butter over medium-high heat. Add the garlic and Impossible Burger, breaking up the Impossible Burger into crumbles with a rubber spatula. Let the crumbles sit undisturbed until well browned on one side, around 3 minutes. Stir it and cook until all sides of the crumbles are browned, about 2 minutes.

Reduce the heat to low. Add the toasted rice powder, serrano pepper, shallots, and green onions. Mix until evenly dispersed throughout the Impossible Burger.

Add the sugar, fish sauce, and lime juice. Mix well until the Impossible Burger is fully coated with the sauce. Remove the pan from the heat, and add the cilantro and mint. Stir until thoroughly combined.

To serve, wrap the larb and a spoonful of rice in a lettuce leaf — or pile it on a cucumber slice. Garnish with peanuts, lime, mint, or cilantro, as desired.