Dinner Recipes
Impossible™ Lasagna Made with Impossible™ Burger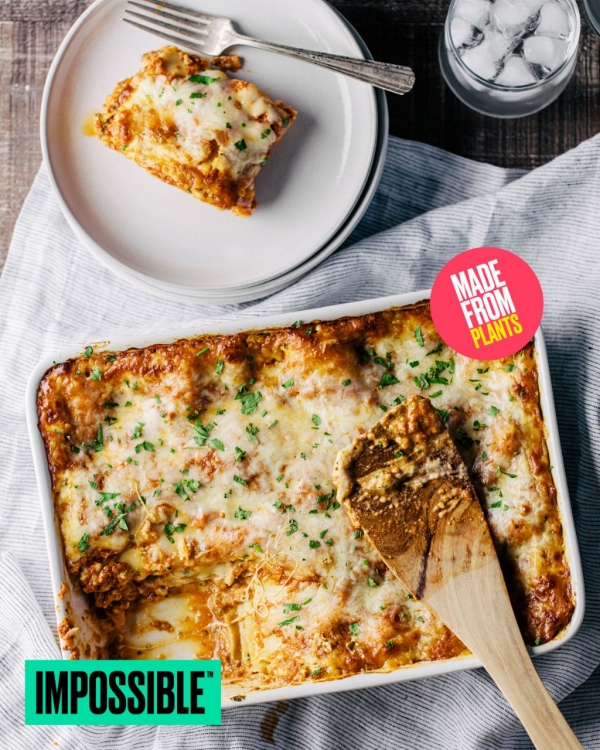 It is a culinary truth that, while cheese is critical to the oozy perfection of lasagna, it's the Bolognese sauce that does most of the heavy lifting. It's the source of the dish's rich flavor and much of its texture. So using the Impossible™ Burger to make the sauce might seem like a risky proposition. Not at all: this Bolognese recipe is right on point, and it makes a lasagna to die for.
The Impossible™ Burger tastes, cooks, and smells like meat, but it's made from plants. It holds up beautifully in a long-simmering sauce. Here, we've combined it with tomatoes, aromatics, oregano, nutmeg, and red pepper flakes to make a classic Bolognese that's authentically thick, deeply savory, and so satisfying.

The other culinary twist in this recipe is the lasagna noodles. Boiling the ruffled noodles prior to layering can mean that they overcook in the lasagna and turn soft and gloppy. The solution is to soak them in hot water for 15 minutes or so instead. They finish cooking in the oven and turn out perfectly al dente.

All in all, this is a toothsome lasagna. It's so comforting and satisfying to sink your fork through layers of delightfully elastic noodles, luxuriously meaty sauce, and fresh, herby ricotta cheese — and, of course, all that mozzarella and Parm. Cheese pull for days!

Gelson's tip: Like most lasagnas, this one can be assembled the day before baking. Keep it covered in the fridge until you're ready to bake it.

Servings: 8 to 10
Ingredients
For the Impossible™ Bolognese sauce (Made with Impossible™Burger):
2 28-oz cans whole tomatoes
¼ cup olive oil, divided
1 medium carrot, diced small
2 stalks celery, diced small
1 medium onion, diced small
4 cloves garlic, minced
12 oz Impossible™ Burger
3 tsp dried oregano
¼ tsp crushed red pepper flakes
⅛ tsp ground nutmeg
Salt, to taste
Black pepper, to taste
1 Tbsp tomato paste
½ cup white wine
For the lasagna:
15 lasagna noodles
1 15-oz container whole milk ricotta
6 oz Parmesan cheese, grated
12 oz mozzarella, plus more for topping
1 egg
¼ cup chives, minced, plus more for garnish
¼ cup parsley, minced, plus more for garnish
Salt, to taste
Black pepper, to taste
Directions
To make the sauce: Pour the tomatoes and their juices into a blender and pulse a few times until smooth but not liquified. Set aside.
In a medium saucepan, warm 2 tablespoons of the olive oil over medium heat. Add the carrots, celery, and onion, and sauté for 5 to 7 minutes, or until the vegetables are soft, being careful not to brown them.
Add the garlic and saute for another 5 minutes.
Break up the Impossible Burger with your fingers and add it to the pan, cooking for 5 minutes, or until brown.
Add the oregano, crushed red pepper, nutmeg, black pepper, and a couple of pinches of salt, and stir until combined.
Stir in the puréed tomatoes, tomato paste, and white wine and bring to a simmer. Lower the heat and simmer gently for 45 minutes.
Stir in the remaining 2 tablespoons of olive oil, season with salt and pepper, and turn off the heat.
To make the lasagna: Preheat the oven to 400º and soak the lasagna noodles for 15 to 20 minutes in hot water.
In a large bowl, mix together the ricotta, Parmesan, mozzarella, egg, chives, and parsley, until incorporated. Season with salt and pepper.
Ladle 1 1⁄2 cups of the sauce into a baking pan measuring 9 x13 inches and spread it evenly over the bottom of the pan.
Next, layer 3 noodles lengthwise in the pan and top with even layers of a heaping cup of the cheese mixture and 1 cup of sauce.
Repeat step 11 until all the noodles are gone. The top layer will just be 1 cup of sauce and shredded mozzarella.
Loosely cover the lasagna with foil and bake it for 30 minutes. Remove the foil and bake the lasagna for another 10 to 15 minutes, until the mozzarella has melted.
Remove the lasagna from the oven, and allow it to cool for 15 minutes before serving.
Calculate nutrition information for this recipe.
Contact Us today to learn more about this and other recipes!