Dinner Recipes
Indian Curry with Chicken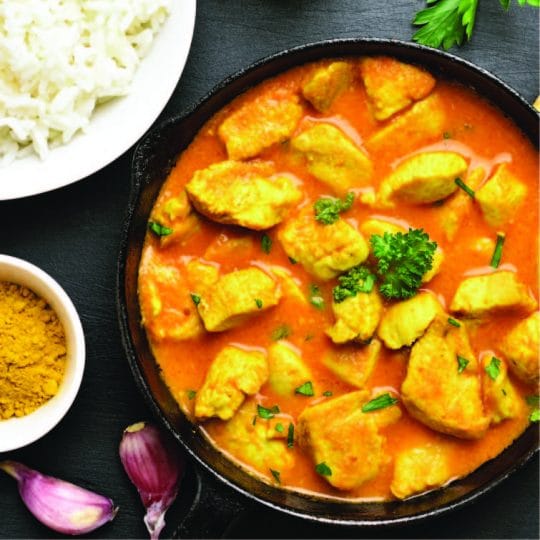 Dinner
Indian Curry with Chicken
Serves: 5
Ingredients
1 pound boneless skinless chicken breasts
1 tablespoon plus 1 teaspoon canola oil
1 cinnamon stick split lengthwise
2 to 3 cloves garlic minced
square fresh ginger root peeled and minced
2 cups onions finely chopped
1 cups Muir Glenn Organic tomato pure
cup low sodium chicken broth or water
2 teaspoons ground coriander
1 tablespoon curry powder
1 teaspoon fresh lime juice
2 tablespoons fresh cilantro chopped
1 cup non fat plain yogurt passed through a wire mesh strainer
1 cups basmati rice cooked
Directions
Lightly broil the unseasoned chicken breasts until just cooked. Remove from oven and cut into large chunks.
Heat oil in a large non stick skillet over medium high heat. Add the cumin seeds, bay leaf, cloves, and cinnamon stick. Cook, stirring constantly for about 2 minutes. Add the garlic and ginger and cook 2 more minutes. Reduce heat to medium and add the onions. Cook for 15 to 20 minutes, stirring constantly.
Once onions are cooked and there is no trace of bitterness you should taste them, pour in the tomato pure and cook for 2 minutes. If the mixture seems too thick, add in the chicken broth. Sprinkle in the salt and sugar and cook 5 more minutes. Carefully sprinkle in the ground coriander and curry powder so that it does not clump, and mix well. Remove from heat.
Squeeze in the lime juice and mix in the cilantro. Stir in the strained yogurt and mix well. Remove all the large spices and leaves. Add in the chicken. Serve over basmati rice.