Recipes
Instant Pot Barbecue Baby Back Ribs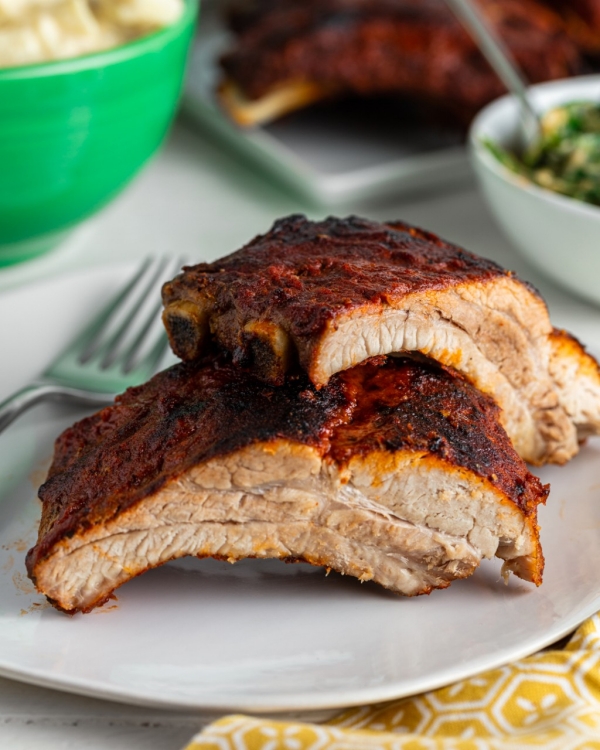 These ribs have a bold, tangy flavor, full of smoke and seasoning — thanks to a handful of aromatic spices and a fantastic barbecue sauce — and they're falling-off-the-bone tender. Basically, they're our ideal rib, and they're almost effortless.
We cooked them in the Instant Pot, and then finished them in the broiler. That's about 40 minutes of hands-free cooking time. We were able to do other stuff, like make sides, set the table, and tidy the place up — all while the appliances quietly cooked dinner. They did such a good job! We thought three ribs would be a hearty serving, but they were so amazing that most of our tasters ate four or five. There were no leftovers!
We love our grill, of course, but it was pretty great not to have to mess with it. These ribs are for the days when the weather is uncooperative, you don't have time to babysit the grill, or the craving for barbecued ribs hits you at 4 o'clock in the afternoon.
Our tip: in addition to watching your rib-to-diner ratio — make enough so that your family can pig out, and you still have leftovers — we'd recommend pairing the ribs with a darker beer, like nut brown ale.
Servings: 6
Ingredients
1 tsp yellow mustard seeds
2 tsp cumin seeds, lightly toasted
1 tsp coriander seeds, lightly toasted
¼ cup paprika
1 tsp garlic powder
1 ½ tsp cinnamon
½ tsp black pepper
3 racks baby back ribs
Primal Kitchen BBQ Sauce
Equipment: Instant Pot or pressure cooker
Directions
For the spice rub: Grind the mustard, cumin, and coriander seeds into a fine powder. Put them in a small bowl, and add the rest of the rub ingredients, through black pepper. Set aside.

Remove the membrane from the back of the baby back ribs by getting a butter knife under it, and then using a paper towel to grab hold and pull the membrane away.

Rub the spice mix into the ribs. Cover with foil, and refrigerate for at least one hour.

Pour about a cup of water into the bottom of your Instant Pot or pressure cooker. Add the ribs, standing up on their sides. Cook for 25 minutes. Release for 10 minutes.

Fire up the broiler. Coat the ribs with the barbecue sauce and broil for 2 to 3 minutes per side, or until the sauce is caramelized and the meat is slightly charred.

Recipe source: Primal Kitchen