Dinner Recipes
Irish Beef Stew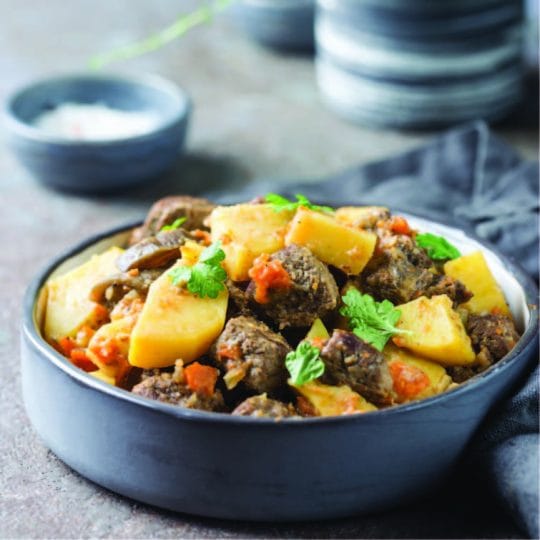 Dinner
Irish Beef Stew
Serves: 8
Ingredients
1 1/2 lbs Gelsons Natural beef lean stew meat
1 large yellow onion sliced in 1/4 inch slices
2 cloves garlic peeled and chopped
1 dried thyme or 11/2 tsp fresh thyme
1 dried rosemary or 11/2 tsp fresh rosemary
1 cup homemade beef stock or a low sodium beef stock or broth such as Health Valley Brand No Salt Added Beef Broth
12 oz Irish Stout such as Guinness Extra
1 white potatoes quartered
1/2 cabbage coarsely chopped about 1/4 head
Sea salt and fresh ground pepper to taste
Directions
Heat 6 quart store top casserole pan and add oil and bay leaves. Cook for 30 seconds to 1 minute then add 1/2 meat. Brown on all sides then put aside. Repeat with second Tbsp. olive oil and the rest of the stew meat.
Put all meat together back in pan and add sliced onion. Cook for a few minutes until onion is translucent.
Reduce heat to medium low and add garlic, thyme, rosemary, and flour and stir well until ingredients are coated.
Add stock and stout, simmer, stirring until the stew thickens.
Add remaining ingredients and cover.