Dinner Recipes
Kale and Herb Matzo Ball Soup
Matzo balls are a perfect, savory addition to a bowl of chicken soup and, of course, they're a Passover favorite. Once made with the leftover crumbs of bakery-fresh matzo, these chewy dumplings were historically called klosse, knaidlach, or some other variation on those spellings — at least until the 1930s, when the U.S. Manischewitz company began selling them as "Alsatian feathery balls." (A name that, frankly, makes us think of a certain "Saturday Night Live" sketch from 1998 starring Alec Baldwin, Ana Gasteyer, and Molly Shannon).
Luckily, that name didn't stick — and nowadays, you can pick up a box of matzo meal and call it a day, which is what we've done here. In keeping with tradition, we've made our soup dumplings by mixing matzo meal with eggs and vegetable oil, but we've also added a couple tablespoons of finely chopped dill for a spring-y herbiness. And here's a sneaky kitchen trick for you: we stirred it all up with seltzer water so the matzo balls turn out light, fluffy, and never mushy.
For the soup portion of this classic dish, we simmered a whole chicken in a big Dutch oven, along with your standard mirepoix, sweet fennel, garlic, and fresh herbs, to create a savory, aromatic broth. Then, we shredded the chicken and stirred it back in, adding dark, leafy Tuscan kale at the very end for a bit of greenery. Once you've ladled it over your bowls of divvied-up matzo balls, the finished product will look like spring put on some fuzzy socks: leafy, veggie-loaded, and speckled with bright green herbs, but also warm, steamy, and cozy.
The entire bowlscape (that's landscape, but with a bowl) is so heartwarming. However, the real key to enjoying this meal is to craft the perfect spoonful: Break up the matzo balls and scoop up a morsel with shreds of chicken and a little bit of all the different herbs and veggies. It'll make for a perfectly balanced bite that's worthy of the main course for a simple, stay-at-home holiday celebration (or for a feel-good dinner on any old weekend).
Our tip: Matzo balls can be cooled to room temperature, then covered and stored in the fridge for up to one day. You can also make the soup one day in advance, stopping short of adding the kale, cooling to room temperature, and refrigerating in a covered container. Simply reheat, add the kale, and let it simmer for a few minutes before you're ready to eat.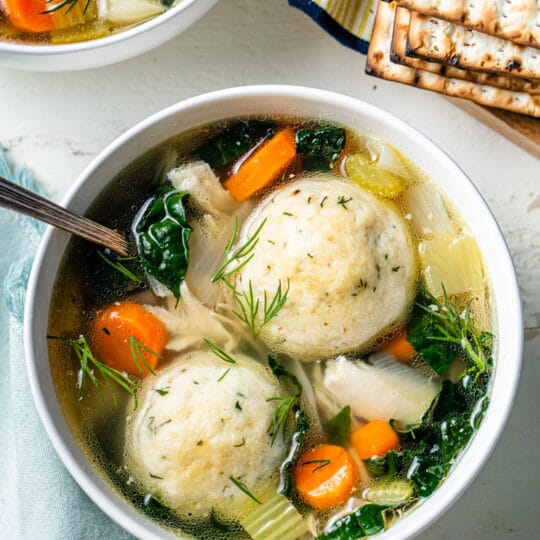 Dinner
Kale and Herb Matzo Ball Soup