Recipes
Kitchen-Sink Soba Noodles (Vegan)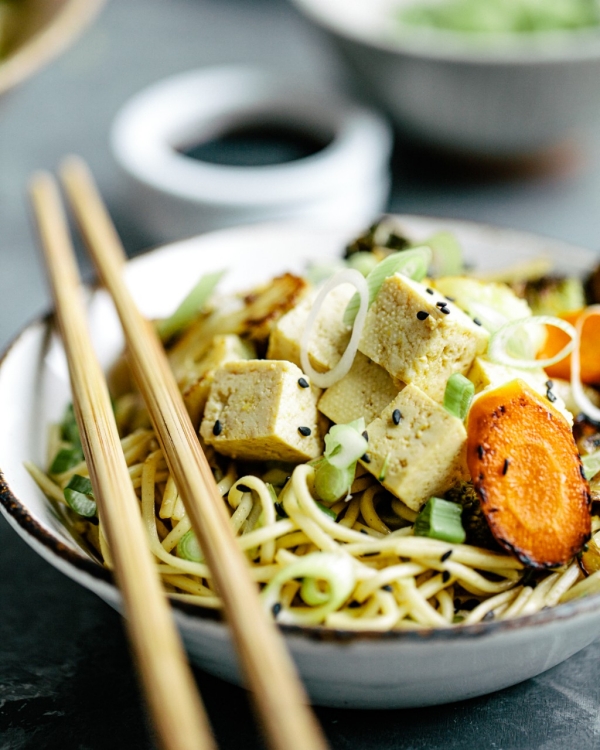 Crunchy veggies, slurpy-soft noodles, tender chunks of marinated tofu, a bright, zingy sesame vinaigrette, and a drizzle of Sriracha — this cold noodle dish is a scrumptious win-win of healthy and comforting. But, like all good kitchen-sink recipes, it's also a solver of fall cooking conundrums. It's here for you when you've got to figure out what to do with a fridge full of vegetables, and conversely, when no one has shopped for days, and you're down to a little of this and a little of that.
We tossed our noodles with broccoli, cauliflower, fennel, rainbow chard, and carrots, and we love all that crunch and color, but you can use whatever veggies you have around the house. Similarly, if you're not into tofu (or even if you are), you could throw in a little leftover pork or chicken.
Our tip: Pair this noodle dish with a bright, crisp white, like Weixelbaum Gruner Veltliner. It has all the dry citrus notes you want on a summer day, balanced by hints of pear and jasmine.

Servings: 4
Ingredients
For the vinaigrette and noodles:
1 cup fresh orange juice
2 Tbsp fresh lime juice
3 Tbsp low-sodium soy sauce
2 Tbsp regular sesame oil
1 Tbsp unseasoned rice vinegar
1 tsp sugar
Salt
9 ½ oz dried soba noodles
½ bunch green onions, diced
1 Tbsp black sesame seeds
7 oz extra-firm tofu, drained, diced into ½-inch cubes
For the vegetables:
3 Tbsp vegetable oil
½ small onion, thinly sliced
⅓ head broccoli, cut into florets
⅓ head cauliflower florets, sliced
½ small fennel bulb, halved, cored, thinly sliced
1 carrot, thinly sliced
1 Tbsp unseasoned rice vinegar
1 bunch rainbow chard, ribs and stems removed, leaves sliced
Sriracha Sauce, for serving
Directions
To prepare the vinaigrette and noodles: In a small skillet, simmer the orange juice over moderate heat until syrupy, about 15 minutes. Scrape the juice into a medium bowl, and then whisk in the lime juice, soy sauce, sesame oil, rice vinegar, and sugar. Season with salt and set aside.


In a large pot of salted boiling water, cook the soba noodles until al dente, about 4 minutes. Drain the noodles, rinse them under cold water, shake off the excess water, and blot them dry. Transfer the noodles to a large bowl.

Add the green onions and sesame seeds to the noodles, and toss with ¾ of the vinaigrette. Set the noodles aside.

Add the tofu to the remaining vinaigrette, and set it aside.

To cook the vegetables: In a large skillet or wok, heat the vegetable oil. Add the onion and stir-fry over high heat until starting to brown, about 3 minutes.

Add the broccoli, cauliflower, fennel, carrot and stir-fry until the vegetables are tender, about 5 minutes.

Add the rice vinegar and chard leaves and cook until wilted, about 2 minutes.

Add the vegetables to the bowl of soba noodles, and top with the marinated tofu. Serve with the Sriracha.
Recipe adapted from: Food & Wine
Calculate nutrition information for this recipe.