Appetizer Recipes
Korean Cheesy Corn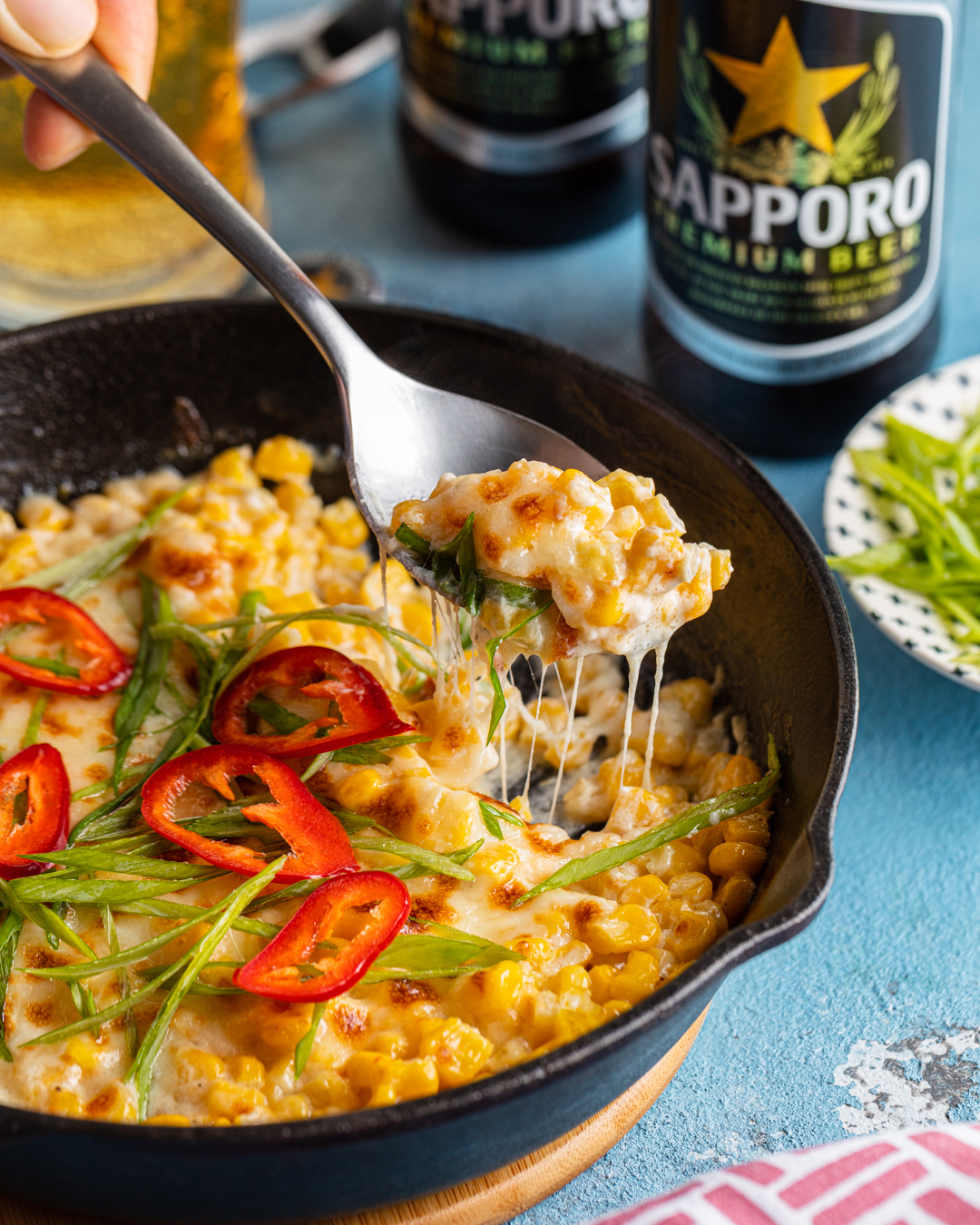 In Korea, anju is food that you eat while drinking. Anju is all about enjoying time with friends, and cheesy corn is a fantastic Korean-American example of it. It's basically a cast iron full of melty mozzarella and sweet corn. It's got mayo for creaminess, chiles for heat, and a pinch of sugar for subtle sweetness. It's garnished with green onion and neon red Fresno peppers, so it's an eye-catching dish — those bright colors woo would-be snackers from across the room.
Traditionally, cheesy corn is eaten communally — everyone dips their spoons right into the middle of it — and it's served with other dishes, like Korean barbecue or bulgogi. In the test kitchen, we couldn't resist the urge to dip corn chips in it. That's not a bad idea: the fresh corn and fried corn are great together, and the sweet cream vs. the salty crunch is sublime.
All of which is to say, you could serve cheesy corn as part of an ensemble or on its own as a cast-iron appetizer. It comes together in about five minutes, so it's perfect for a weeknight dinner or an impromptu get-together with friends. Good with beer? Yes it is.
Servings: 4
Ingredients
1 Tbsp unsalted butter
1 15-oz can whole-kernel corn, drained
½ tsp granulated sugar
Kosher salt, to taste
Freshly ground Gelson's black pepper, to taste
3 Tbsp mayonnaise
½ cup shredded full-fat mozzarella cheese
2 green onions, green parts only, thinly sliced on the bias, for garnish
1 Fresno pepper, stemmed and thinly sliced on the bias, for garnish
Directions
Preheat the broiler to high heat.
In a small cast-iron skillet, melt the unsalted butter over medium-low heat.
Add the whole-kernel corn and granulated sugar. Season with kosher salt and black pepper, and stir to combine.
Add the mayonnaise, stir to combine, and smooth the mixture into one even layer. Sprinkle the mozzarella cheese on top.
Broil for 1 to 3 minutes, or until the cheese is melted and bubbly. Garnish with slices of green onion and Fresno pepper. Serve hot.