Recipes
Lamb Birria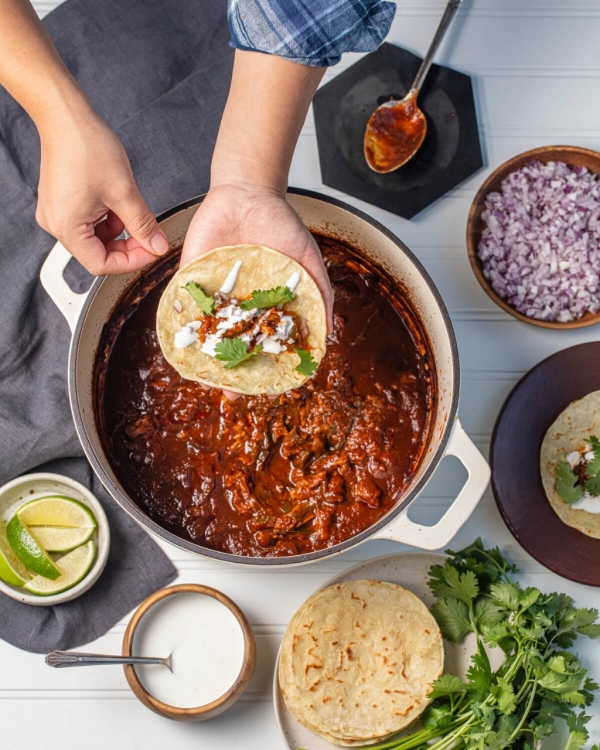 If you're ready to put away the lighter fare of summer tacos — the fried fish, the cool slaws — this lamb birria is for you. It's full of rich, autumnal depth. We braise whole lamb loin chops in an intensely flavorful salsa of tomatoes, beef broth, chiles, and aromatics. The meat is so tender, it falls right off the bone and you can shred it with a fork. It's juicy, succulent really, and redolent with garlic and spice. It tastes fantastic wrapped up in a corn tortilla with the fresh garnishes; all their bright, crunchy, creamy notes are the perfect foil for the wonderfully heavy meat.
We like to make this dish on a lazy Saturday afternoon — it needs a few hours in the oven, and we're always happy to sit by with a novel and a glass of wine while it does its thing. It's perfect for a leisurely dinner in with the S.O. As it braises, it fills the house with a warm, meaty aroma, setting the stage for a long-winded evening of deeply satisfying tacos, red wine, and good conversation.
Our tip: If you still have leftover mashed potatoes in the refrigerator, combine them with your leftover lamb birria. Together, they make the ultimate comfort food — sloppy lamb-and-potato Joes.
Servings: 10 tacos
Ingredients:
For the salsa:
3 dried ancho chiles, rehydrated, stemmed, and seeded
2 dried guajillo chiles, rehydrated, stemmed, and seeded
2 medium tomatoes, halved
1 medium onion, roughly chopped
1 beef stock cube
2 cups water
5 garlic cloves
1 tsp ground cumin
1 whole clove
3 black peppercorns
1 Tbsp tomato puree
Kosher salt, to taste
For the lamb:
2 lb lamb loin chops
2 green bell peppers, cut into ¼-inch strips
3 Gelson's organic bay leaves
2 Tbsp white wine vinegar
1 cup lager beer
1 Tbsp lime juice
Kosher salt, to taste
Black pepper, to taste
For tacos (optional):
Warm corn tortillas
Chopped Gelson's organic cilantro
Chopped red onion
Lime wedges
Crema Mexicana
Directions
Preheat the oven to 325°.

In a medium saucepan, combine the chiles, tomatoes, onion, beef stock cube, and water and cook over medium-high heat until the mixture comes to a boil and the tomatoes are softened, about 7 minutes.

Pour the mixture into a blender with the remaining salsa ingredients and blend until the chiles are no longer gritty when tasted, 3 to 5 minutes. Set aside.

In a Dutch oven or a large casserole dish, combine the lamb loin chops, green bell pepper strips, bay leaves, white wine vinegar, beer, and salsa marinade.

Cover the Dutch oven and braise the lamb for 1 hour. Remove the cover and continue cooking until the meat is tender and falls apart, about 2 more hours.

Transfer the lamb to a bowl, discard the bones, and shred the meat with two forks. Squeeze the lime juice over the meat, and season it with salt and pepper.

Serve in warm tortillas with cilantro, onion, lime, and crema.
Recipe adapted from: Mexican Food Memories