Dessert Recipes
Lavender Panna Cotta & Roasted Plum Coulis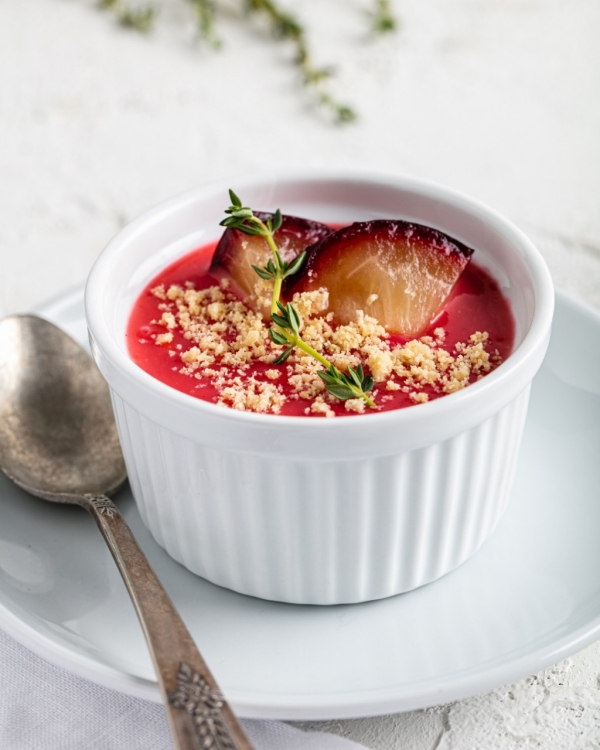 In Italian, panna cotta means "cooked cream," a rather unromantic name for one of dessert's most sublime achievements. It's warm milk and heavy cream whisked together with gelatin to make a light, silky custard — think flan sans the eggs. Our recipe includes a few sprigs of lavender and a scoop of yogurt, so that it's ultra creamy, lightly floral, and delightfully tangy.
In keeping with tradition, we made a roasted plum coulis (koo-LEE) for it. The plums are roasted with butter, brown sugar, and fresh thyme, and then whirled into a rich, deeply sweet-tart purée. It looks gorgeous atop the panna cotta with a few slices of plum, and it tastes positively divine.
Panna cotta with roasted plum coulis is the kind of dessert that turns up on restaurant menus. It's just the light, elegant bite you want after a nice meal. Yet it's quick and easy to make — a fact you don't have to share with your partner as they're gushing over your culinary prowess.
Tip: You can make the panna cotta and the coulis a day in advance of when you need them. Make sure you give both a chance to come up to room temperature before you serve them.
Servings: 6
Ingredients
For the panna cotta:
2 1/2 tsp powdered gelatin (1 envelope)
3 Tbsp cold milk
2 cups heavy cream
⅓ cup sugar
1 tsp lavender
1 cup plain Greek yogurt
1 Tbsp vegetable oil
For the roasted plum coulis:
3 ripe plums, halved
2 Tbsp softened butter
¼ cup brown sugar
6 sprigs thyme
1 Tbsp water
2 Tbsp lemon juice
2 Tbsp sugar
1 shortbread cookie, crumbled, for garnish
Special equipment: 6 6-oz ramekins or wine glasses
Directions
To make the panna cotta: In a small bowl, sprinkle gelatin over cold milk and let it bloom, or soften, for 10 minutes. Set it aside.

Meanwhile, in a small saucepan, bring the heavy cream, sugar and lavender to a rapid simmer.

Remove the cream mixture from the heat, let it stand for 5 minutes, and then pass it through a mesh strainer to remove the lavender.

Next, whisk the gelatin mixture into the warm cream until smooth and completely dissolved.

In a separate bowl, whisk the yogurt until it's smooth, and then whisk it into the cream and gelatin mixture.

Brush the ramekins with the vegetable oil and fill each one with ½ cup of the panna cotta. Cover the ramekins with plastic wrap and transfer them to the fridge until they set, 2 to 4 hours.

To make the roasted plum coulis: Preheat the oven to 400º and line a baking sheet with parchment paper.

Place the plums on the baking sheet, cut side up, and fill each half with 1 teaspoon of butter and a sprinkle of brown sugar. Then, top each with a sprig of thyme.

Bake for 20 minutes, and then remove the thyme sprigs and let the plums cool for 10 to 15 minutes.

Slice two of the plum halves into 3 wedges each and set them aside.

Transfer the remaining plums into a blender with the water, lemon juice, and sugar and purée until liquified.

Top each of the ramekins of panna cotta with plum coulis and sliced plums.