Lunch Recipes
Leafy Green Chicken Salad with Tahini Vinaigrette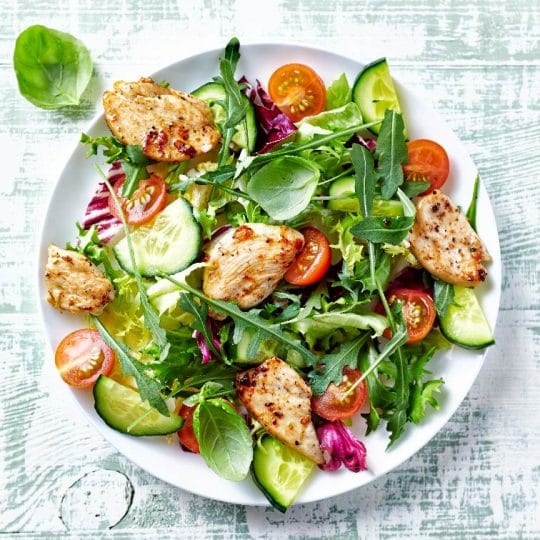 Lunch
Leafy Green Chicken Salad with Tahini Vinaigrette
Serves: 4
Ingredients
4 tablespoons organic tahini
3 tablespoons Maille old style whole grain mustard
2 teaspoons Wholesome Sweeteners organic agave
1 clove Melissas organic garlic
1/2 teaspoon black pepper
1/2 cup Regina white wine vinegar
1/3 cup Napa Valley organic olive oil
1 pound organic boneless skinless chicken breasts
1 extra large tomato diced
1 small hothouse cucumber diced
1 small broccoli crown chopped
1/2 yellow bell pepper diced
Directions
Combine tahini, mustard, agave, garlic, salt, pepper, water, vinegar and olive oil in a food processor and blend until smooth, at least 30 seconds.
Remove 3/4 cup of dressing and toss with chicken breasts. Allow to marinate at least 20 minutes.
Transfer chicken to a broiler pan and discard marinade. Broil chicken breasts until cooked through, about five minutes on each side. Cut into bite sized pieces.
Combine remaining ingredients in a salad bowl. Add chicken and toss with 1/2 cup of dressing.