Recipes
Leftover Pot Roast Agnolotti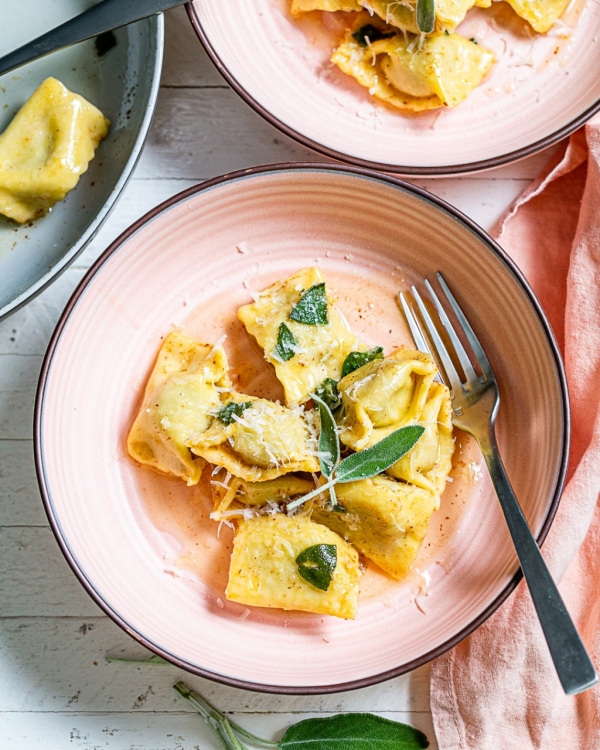 Having leftover pot roast in your refrigerator is the best way we know to imagine yourself as a fancy cooking show chef, striding into the kitchen and finding that most of the ingredients have already been prepared for you. "And now we remove a half-pound of braised beef from the refrigerator to fill our pasta," you can say to your imaginary audience, and you're already halfway to dinner. How easy is that?
Don't let the fancy-looking name of this dish intimidate you. It's pronounced ah-nyuh-LAHT-tee, btw, and to be entirely accurate, hold onto that "LAHT" part as long as possible, like you're an extra in a Fellini movie and you don't want the credits to roll. Legend has it that this particular pasta variety was invented by Angiolino del Montferrato, nicknamed Agnolot. The plural of that nickname makes — yep, you guessed it.
At its heart, this is just a simple noodle variation that's a close cousin to ravioli. The only real difference is that ravioli is made from two pieces of pasta cut into squares and sealed together, while agnolotti is made from a single piece that's folded over. Easier to make, just as pretty to look at, and more fun to say — count us in.
While this recipe calls for pot roast, feel free to substitute any other braised meat you have on hand, including short ribs, pork shoulder, or oxtail, for example.
Our tips: This recipe calls for a fluted pastry wheel to seal the edges. A fork will do in a pinch, but we promise you'll have Speed Racer-level fun as you zip those edges together with a wheel. It's a multitasking tool, too, so use it to cut strips of pastry for lattice-top pies or to slice up shortbread cookie dough squares.
Servings or yield: 4

Ingredients
½ lb braised beef (pot roast), shredded
¼ cup braised carrots
¼ cup braising liquid
1 cup shredded Grana Padano cheese, plus more for garnish
1 large Gelson's egg yolk
¼ tsp salt, plus more for pasta water
¼ tsp black pepper
1 recipe pasta dough
All-purpose flour, for dusting
1 large Gelson's egg, beaten, for egg wash
4 Tbsp unsalted butter
2 Tbsp torn sage leaves
Special equipment: pasta maker and fluted pasta wheel
Directions
In a food processor, combine the beef, carrots, braising liquid, cheese, egg yolk, salt, and pepper, and pulse until the mixture begins to stick together.

Using a pasta roller, roll out the pasta dough to the #6 thickness, then place it on a clean work surface dusted lightly with flour.

Cut the pasta sheet in half lengthwise and brush the sheet with the egg wash, covering the entire ½ sheet.

Place 1 teaspoon of the braised beef mixture at the top of the sheet, about ½" from the top and left edges. Continue this process, placing the teaspoons of beef about 1" apart, in a single vertical line, until you have reached the end of the sheet.

Fold the sheet lengthwise over the braised beef mixture and press the top and bottom of the open side together to create a seam.

Next, press the dough together between each teaspoon of filling, creating little pockets or pillows.

Using a fluted pastry wheel, cut along the long seam you just created, and then cut between each pocket of filling to separate the agnolotti.

Pinch the short edges, making sure the corners seal and leaving the signature flap on the long, fluted side of the agnolotti. Place the finished pasta on a lightly floured baking sheet.

Repeat steps 2 to 8 until all of the beef mixture has been used, or all of the pasta sheets have been filled. The agnolotti can now be frozen or cooked immediately.

Bring a large pot of salted water to a boil over high heat and gently place the agnolotti into the boiling water, gently stirring so the pasta doesn't stick together or stick to the bottom of the pan. Cook for 3 to 4 minutes from fresh, or 5 to 7 minutes from frozen. Strain the agnolotti, reserving 2 to 3 tablespoons of the pasta water.

In a large skillet over medium heat, melt the butter until it begins to brown. Remove the pan from the heat and add in the agnolotti, tossing to coat them in the butter.

Spoon in the reserved pasta water and return the pan to the heat. Toss in the sage leaves and stir to combine.

Divide the agnolotti evenly between 4 bowls and top with the remaining cheese and spoonfuls of butter and sage. Serve immediately.