Appetizer Recipes
Lemon Pepper & Hot Honey Wings
We've been a little gah-gah for hot honey in the test kitchen these days. That fiery, floral sweetness is so tantalizing, we want to put it on everything from flatbreads to grilled peaches — but one of our favorite hot honey pairings is chicken wings. Here, we combine it with lemon pepper seasoning, apple cider vinegar, red pepper flakes, and butter to make some verifiably finger-licking-good baked wings.
Why baked? It's just as delicious as frying wings, but far less fussy. No oily smell, no oily mess! These wings come out of the oven super crispy, delightfully sticky, and layered with different types of heat — earthy black pepper heat, bright chile flake heat, and of course, sweet honey heat. They have that classic wing thing where you can't stop eating them. (And why should you?)
Lemon pepper and hot honey wings disappear fast at game days and parties (in part because they pair so well with a cool, crisp pilsner). By which we mean, you should probably make a double batch. They're so easy to throw together, you might as well!
Serves: 6 to 8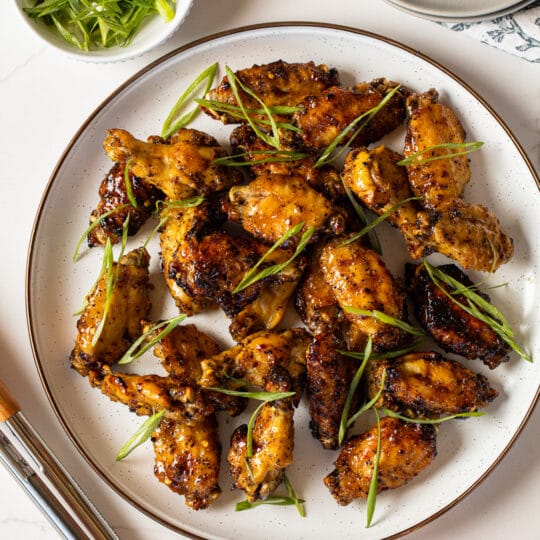 Appetizer
Lemon Pepper & Hot Honey Wings
Ingredients
3 Tbsp Gelson's 100% California extra virgin olive oil
¼ cup Gelson's lemon pepper seasoning
1 ½ Tbsp apple cider vinegar
½ tsp Gelson's crushed red pepper flakes
2 green onions, thinly sliced on the bias, for garnish
Directions
Preheat the oven to 400º. Line 2 rimmed baking sheets with oven-safe cooling racks.

Pat the chicken wings dry with a paper towel and put them in a large bowl. Add the olive oil and stir to coat.

Rub the lemon pepper into the wings, making sure to coat all sides. Sprinkle the baking powder over the chicken and toss to coat evenly.

Arrange the wings on the prepared racks in a single layer, leaving enough space between them so they don't touch each other. Bake for 40 to 45 minutes, until the skin is crispy and an instant-read thermometer inserted in the thickest part of the wing reads 165º.

In a small saucepan, melt the butter over medium heat. Whisk in the hot honey, vinegar, and red pepper flakes. Bring to a simmer and cook for 2 minutes.

Transfer the baked wings to a large bowl. Pour the hot honey glaze on top and toss to coat evenly.

Transfer the wings to a serving platter, garnish with the green onions, and enjoy hot.
Recipe adapted from: Wholesome Yum