Dinner Recipes
Lemongrass Chicken Skewers & Vietnamese Noodles
'Tis the season for skewers, and this Vietnamese-inspired lemongrass chicken will be the hero of all your summer dinner parties. The marinade for the chicken is made with loads of lemongrass, brown sugar, garlic, and fish sauce — it's layered and full of rich umami. All that big flavor tastes amazing on a bed of springy noodles and super fresh, super crunchy salad. Talk about texture!
Tip: We like to put out the skewers, noodles, and veggies and let folks build their own adventure. We also double up on the dressing — its bright, sweet heat is so pleasing, you're going to want to be generous with it.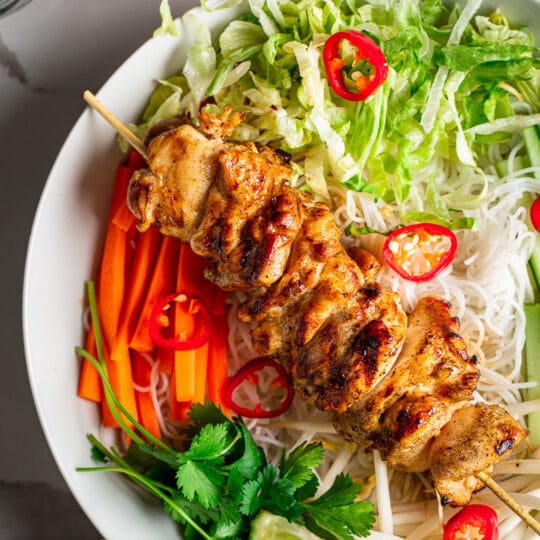 Dinner
Lemongrass Chicken Skewers & Vietnamese Noodles
Serves: 4
Ingredients
¼ cup plus 2 Tbsp fish sauce, divided
4 garlic cloves, minced, divided
1 thai chile, thinly sliced
5 Tbsp freshly squeezed lime juice, divided
½ lb boneless, skinless chicken thighs, cut into 1'' pieces
1 stalk lemongrass, sliced into ½" pieces
2 Tbsp dark brown sugar, packed
3 Tbsp vegetable oil, divided
7 oz Dynasty maifun rice sticks
Gelson's fresh cilantro leaves and tender stems, for garnish
1 fresno pepper, sliced, for garnish
Special equipment: 4 12" wooden skewers
Directions
In a small bowl whisk together ¼ cup fish sauce, rice vinegar, white granulated sugar, water, half the garlic, thai chile, and 3 tablespoons lime juice until sugar is dissolved. Set aside.

In a large bowl, combine the chicken thighs, lemongrass, remaining half of the garlic, 2 tablespoons lime juice, fish sauce, soy sauce, dark brown sugar, and 1 tablespoon of the vegetable oil. Mix with rubber spatula until the chicken is well coated. Cover with plastic wrap and marinate in the refrigerator for at least 1 hour or up to overnight.

Soak skewers in a 9x13" container filled with water for 15 minutes.

Meanwhile, fill a small pot halfway with water and bring to a boil over high heat. Add the rice noodles and remove the pot from the heat. Soak the noodles for about 10 minutes or until al dente. Drain and rinse the noodles under cold water for 30 seconds to stop the cooking. Set aside.

Remove the chicken from the refrigerator. Weave the chicken onto the skewers, leaving an inch of space on the ends and shaking off any excess marinade.

Heat the remaining 2 tablespoons of vegetable oil in a large cast-iron skillet over medium high heat. Add the chicken skewers and sear for 8 minutes, turning every 2 to 3 minutes, until the chicken is deeply brown, caramelized, and registers at 165° on an instant-read thermometer.

To serve, arrange the rice noodles, carrots, cucumbers, shredded lettuce, and bean sprouts on a large serving platter. Place the chicken skewers on top, garnish with the fresno peppers, cilantro, and lime wedges, and drizzle on the sauce.

Leftovers can be stored in an airtight container in the refrigerator for up to 3 days.
Recipe source: recipe tin eats