Dinner Recipes
Lobster Mac and Cheese Recipe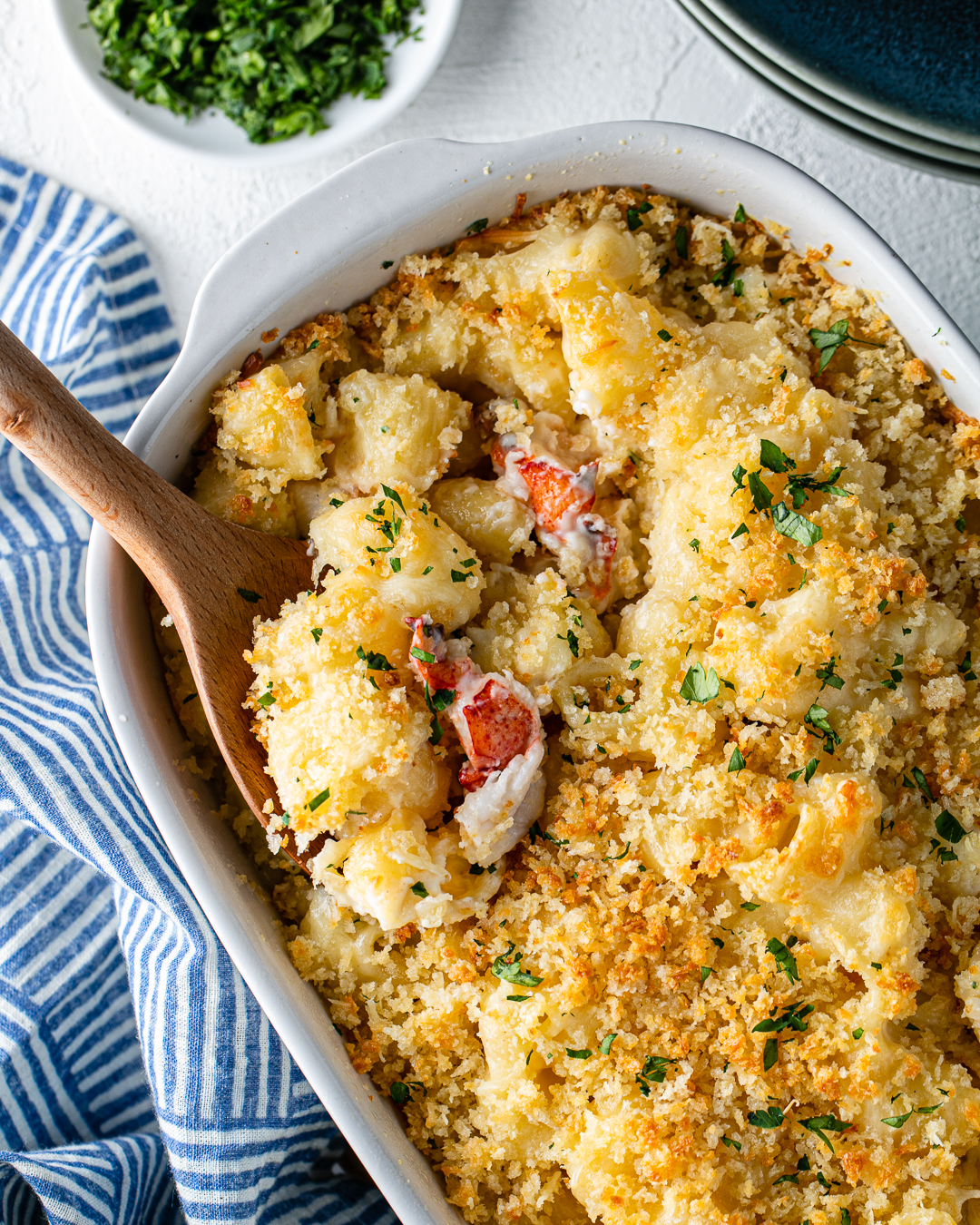 Lobster mac and cheese is, without a doubt, the ultimate fancy comfort food. And this version has nice, big chunks of lobster, so it feels extra decadent. That said, no amount of lobster can rescue a sub-par mac and cheese — which is why we made sure this one was everything a good mac should be: rich, creamy, and oh-so cheesy.

For the sauce, we use a basic roux, and then stir in half-and-half, sharp white cheddar, nutty Parmesan, and milky fontina — plus a little white pepper and a grating of fresh nutmeg. (It's such a classic spice combo, and it takes creamy sauces from good to great.) After giving the al dente conchiglie and lobster chunks a healthy coating of sauce, we layer it all in the pan with even more cheddar, Parmesan, and fontina, for good measure.
Finally, we combine panko breadcrumbs, grated Parmesan, and melted butter, and then scatter it all over the pasta before sliding it into the oven. It bakes into a fantastically crispy, golden brown crust — we love the contrast with the creamy-as-can-be sauce. Similarly, the white cheeses, which melt into all the nooks and crannies of the pasta, are the perfect complement to the rich, buttery lobster: mild enough to let the king of crustaceans shine, and just complex enough that even the bites without lobster are interesting. We love to savor a bite with a hunk of lobster, then enjoy a few bites without, and repeat.
This lobster mac and cheese is delightfully indulgent, but at the same time, it's not showy — by which we mean, it's exactly the right vibe for a special meal with your partner or crush. (Ahem, Valentine's Day dinner!) You could set the table with a bottle of bubbly or a top-shelf chardonnay, a bright tangle of greens, and maybe a flourless chocolate cake for dessert.
Or you could do what we did: eat it directly out of the pan for two days straight.
Ingredients for the Lobster Mac and Cheese
Olive oil spray
½ tsp kosher salt, plus more for pasta water
10 oz conchiglie
1 ½ cups freshly grated sharp white cheddar cheese
1 cup freshly grated fontina cheese
¾ cup freshly grated Parmesan cheese, divided
6 Tbsp unsalted butter, divided
¼ cup all-purpose flour
2 ½ cups half-and-half
¼ tsp ground white pepper
⅛ tsp freshly grated nutmeg
10 oz cooked lobster, chopped
½ cup panko breadcrumbs
Fresh parsley, minced, for serving
How to Make the Lobster Mac and Cheese
Spray a 2-qt baking dish with cooking spray, and preheat the oven to 325°.

Bring a large pot of water to a boil and season generously with salt. Cook the pasta to al dente.

Meanwhile, in a large bowl, combine the cheddar, fontina, and ½ cup Parmesan.

Melt 4 tablespoons butter in a medium saucepan over medium-low heat. Whisk in the flour and cook for 1 to 2 minutes. Reduce the heat to low and whisk in the half-and-half until thickened to the consistency of creamy soup, 2 to 3 minutes.

Remove from the heat and season with the kosher salt, white pepper, and nutmeg, stirring to incorporate.

Add ⅓ of the cheese to the butter mixture, and stir until smooth.

Add the drained, cooked pasta and chopped lobster, and stir to combine.

Spoon half of the mac and cheese into the prepared baking dish and top with half of the remaining cheese. Repeat with the remaining mac and cheese and top with the last of the cheese.

Melt the remaining 2 tablespoons butter. In a small mixing bowl, combine the panko, remaining ¼ cup Parmesan, and butter, stirring to combine. Sprinkle the topping over the mac and cheese.

Bake on the middle rack for 10 minutes, or until the topping is golden brown. If needed, switch to the broiler to brown the topping.

Garnish with minced parsley and serve immediately.
Recipe source: Simply Scratch
Calculate nutrition information for this recipe.