Lunch Recipes
Mango Burrata Panzanella
With sweet mango, juicy cherry tomatoes, and peppery basil, this panzanella feels like the last hurrah of summer. We toss all of those bright goodies with giant chunks of salty, olive oil-drizzled toast and creamy, shredded burrata. The mango and burrata together? Just heavenly!
The vinaigrette is a standard Italian number made with red wine vinegar, honey, Dijon mustard, and garlic. We also thinly slice red onion and then let the little slivers sit in the mixture — à la a quick pickle — so they soften a bit and take on a perkier flavor. It's a simple dressing, all in all. But it's delightful with the basil and a nice counterbalance to the lush cheese and fruit.
After dressing the panzanella, we let it sit for about 30 minutes to allow all of the flavors to meld into perfect harmony. So yes, you can absolutely make this salad ahead of time, whether you're meal prepping for the week or heading to your BFF's place for lunch on the patio (in which case, we'd definitely pair it with a New Zealand sauvignon blanc).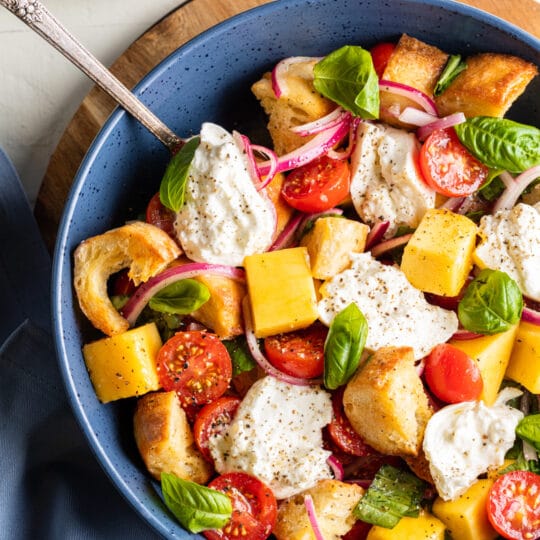 Lunch
Mango Burrata Panzanella
Ingredients
½ tsp freshly ground Gelson's black pepper
¼ cup extra virgin olive oil
½ cup thinly sliced red onion
8 oz ciabatta or baguette, diced into 1" pieces (about 6 cups)
2 Tbsp extra virgin olive oil
1 ½ pt cherry tomatoes, halved
⅓ cup chopped Gelson's organic basil leaves, plus more for garnish
8 oz burrata cheese, torn
Freshly ground Gelson's black pepper
Directions
Preheat the oven to 425º.

To make the vinaigrette: In a large serving bowl, combine the red wine vinegar, honey, Dijon mustard, garlic, kosher salt, and black pepper. Drizzle in the extra virgin olive oil while whisking continuously to emulsify. Stir in the red onion and let sit for 10 minutes.

Meanwhile, to make the salad: Transfer the diced bread to a rimmed baking sheet and drizzle with the extra virgin olive oil and kosher salt. Toss to coat. Bake for 10 to 13 minutes, or until the edges of the bread are golden brown. Let cool slightly.

Add the toasted bread, cherry tomatoes, mango, and basil to the serving bowl with the vinaigrette and toss to coat. Let sit for 30 minutes.

Garnish the salad with the burrata cheese, additional basil, and a few cracks of black pepper.
Recipe source: Dishing Out Health