Recipes
Marukan Quinoa Salad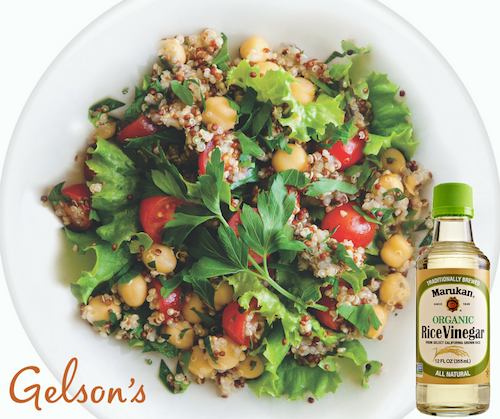 Kick off your new year with this healthy and delicious Marukan Quinoa Salad! You can get all of the fresh ingredients and Marukan Organic Rice Vinegar, which is currently on sale, at your local Gelson's store.
PREP: 30 Minutes
Serves: 4
Ingredients:
1 Cup Quinoa
2 Cups Water
5 Cherry Tomatoes, cut in half
1/2 Cups Garbanzo Beans
1 1/2 Cups Lettuce
For Garnish Parsley
2 Tbsp Marukan Organic Rice Vinegar
2 Tbsp Dijon Mustard
1/3 Cup Olive Oil
To Taste Salt & Pepper
Instructions:
Boil 2 cups of water and add the cup of quinoa, let simmer until the quinoa has absorbed all the water, 15-20 minutes.
While the quinoa is cooking, prepare the dressing (Marukan Rice Vinegar, Dijon Mustard, Olive Oil, Salt and Pepper).
Once the quinoa is finished, let it cool down in a bowl. Then add the cherry tomatoes, garbanzo beans and lettuce to the quinoa.
Finally drizzle your desired amount of dressing into the bowl, toss together, garnish with parsley and enjoy!