Recipes
Mashed Potato Croquettes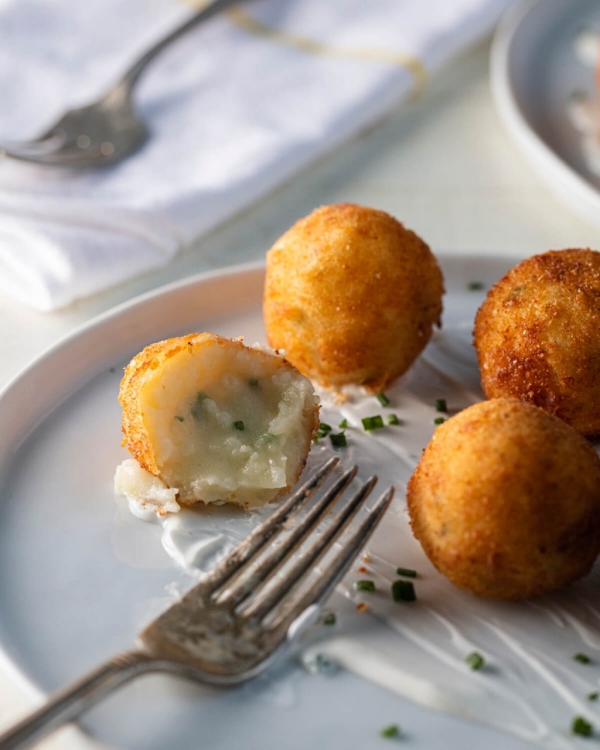 Potato croquettes are one of those fried delicacies that inspire fear in the heart of the home cook — they seem fussy and best left to the professionals. In fact, they're very easy to make. (Dangerously easy!) These pretty little croquettes are especially so because they're made with leftover mashed potatoes and everyday staples, like Parm, eggs, and breadcrumbs.
In the test kitchen, we were tempted to eat them cold. Between the mashed potatoes, chives, and cheese, they tasted like the interior of a marvelously creamy twice-baked potato. But into the hot oil they tumbled! The secret to frying croquettes is to work in small batches, giving the little balls plenty of space, so they don't crumble in the pan — and keeping the oil at a nice, consistent temperature. The result is a croquette that's golden brown and lightly crunchy on the outside, lush on the inside — and positively dreamy swiped through a dollop of sour cream.

Basically, what we're doing here is congratulating you for going wildly overboard on your mashed potatoes this Thanksgiving. Potato croquettes will definitely give your leftover turkey a renewed sense of elegance. They'll also make fantastic finger food for any post-holiday shenanigans, from socially distant Black Friday cocktails on the patio to a lazy game day on the couch.
Yields: 18 croquettes
Ingredients
2 large Gelson's egg yolks
2 cups cold mashed potatoes
½ cup grated Parmesan
2 Tbsp chopped Gelson's organic fresh chives, plus more for garnish
1 Tbsp all-purpose flour
4 large Gelson's eggs
2 cups breadcrumbs
Vegetable oil (for frying; about 2 cups)
Sour cream, for serving
Directions
In a medium bowl, mix together the egg yolks, mashed potatoes, Parmesan, chives, and flour. Roll the dough into walnut-size balls and chill until cold, at least 2 hours.

In a medium bowl, beat together the eggs. Place the breadcrumbs in a second medium bowl.

In a 10-inch skillet, heat ½-inch of vegetable oil (about 2 cups) over medium-high heat until a pinch of breadcrumbs bubbles immediately when added.

Dip the potato balls in the beaten egg, then roll them in breadcrumbs.

Working in batches, fry the croquettes, turning them often, until they're golden brown and crisp, 3 to 4 minutes. Remove the croquettes from the oil with a slotted spoon, drain them on paper towels, and serve them warm with a dollop of sour cream and a garnish of chives.
Recipe source: Bon Appétit
Calculate nutrition information for this recipe.