Dinner Recipes
Matzo Gnocchi Soup
There is so much comfort in a bowl of dumplings and broth, and especially in this recipe, which puts a disco spin on the matzo ball — with little potato and matzo gnocchi. Packed with chives, parsley, and black pepper, they have a wonderful flavor that feels just right for spring. The texture of the matzo gnocchi is fun too: light like a matzo ball, creamy like gnocchi, with a chewiness all their own.
Gnocchi goodness aside, our favorite thing about this soup is the broth. We make it by putting a whole chicken, bones and all, in a stock pot with a full head of garlic, carrots, celery, leeks, and a bunch of other aromatics. As it simmers away on the back of the stove, the herby chicken soup smells waft out of the kitchen — it makes the house so cozy. It also makes all the chicken and veggies you need for this soup. We love how savory-sweet the carrots get, cooking in that garlicky broth.
When we sourced this recipe for matzo gnocchi soup, we were thinking about the holidays — about filling the house with all those rich aromas and inviting our friends and family in to celebrate with us. But it will make a hearty main dish any night that you just need the sweetness of a home-cooked meal and a warm bowl of comfort.

Servings: 6 to 8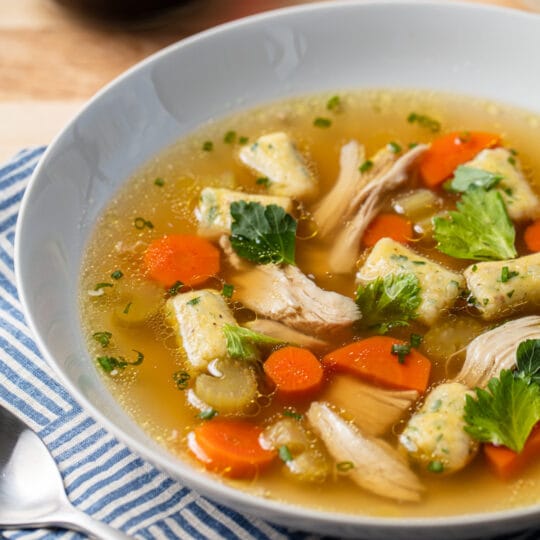 Dinner
Matzo Gnocchi Soup
Ingredients
3 large carrots, peeled and halved
3 celery stalks, halved, leaves reserved for garnish
3 large leeks, white parts only, halved lengthwise
1 head garlic, halved crosswise
2 Tbsp whole Gelson's black pepper
1 bunch Gelson's organic fresh thyme
1 Tbsp minced Gelson's organic fresh chives, plus more for garnish
1 Tbsp minced Gelson's organic fresh parsley, plus more for garnish
½ tsp freshly ground Gelson's black pepper
Directions
Preheat the oven to 375°.

To make the broth: In a large stockpot, combine the chicken, carrots, celery, leeks, garlic, black peppercorns, bay leaf, thyme, and 3 quarts water. Lightly season with salt and bring to a simmer over medium-high heat.

Reduce the heat to low and cook, maintaining a low simmer, for 1 ½ hours. Skim the foam off the surface as needed.

Using tongs, remove chicken, carrots, and celery from the broth and transfer them to a cutting board.

Strain the broth through a fine-mesh sieve into a large bowl. Set the broth aside and discard the remaining solids.

When cool enough to handle, remove the chicken meat from the bones and shred it into bite-size pieces.

Chop the carrots and celery into bite-size pieces, and set them aside.

While the chicken is simmering, make the matzo gnocchi: Using a paring knife, pierce the potato all over, and place it on a sheet pan. Bake for 1 hour and 15 minutes, or until the potato is fork-tender.

Allow the potato to cool, just until you can handle it (you want to work with a warm potato). Cut the potato in half and scoop the flesh out of the skin. Transfer the flesh to a large mixing bowl and mash it into a smooth paste.

Add the matzo meal, chives, parsley, kosher salt, and black pepper. Stir in the yolks until well combined to form a dough.

Divide dough into 4 pieces and cover with a kitchen towel. Working with 1 piece at a time, roll the dough into a 12"-long rope. Use a bench knife to cut the rope into 1" pieces.

Transfer the gnocchi to a rimmed baking sheet lined with parchment paper and cover with a towel. Repeat with the remaining dough.

In a clean stockpot, bring the broth to a simmer over medium heat and season with salt and black pepper. Add the gnocchi and cook for 1 minute. Add the shredded chicken and chopped vegetables, and simmer until the chicken is heated through and the gnocchi is tender, 4 to 5 minutes.

Season with salt. Divide the soup between bowls, and garnish with chopped chives, parsley, and celery leaves. Serve hot.
Recipe source : Bon Appétit