Beverage Recipes
Mexican Chocolate-Inspired Cold Brew
We don't know about you, but we love to treat ourselves to a fancy coffee drink every now and then. (Okay, every day!) Lately, this little ditty has been in our rotation. Inspired by Mexican chocolate, it's appropriately chocolaty, not too sweet — and full of the warm, invigorating spice of cinnamon and clove. And between the milk and homemade whipped cream, it's luscious as all get-out.
And here's the really good news: The heart of the drink is Gelson's cold brew coffee, so you don't have to fuss with grinding beans or pulling a shot of espresso. Easy-peasy! Plus, this recipe makes a whole pitcher's worth of the spiced, chocolaty cold brew, so you'll have enough for the whole brunch crew … if you decide to share.
Our tip: Feel free to skip the homemade whipped cream and use a ready-made one if you're in an I-need-coffee-now pickle. You can even sub in your favorite plant-based milk and non-dairy whipped cream, if you like!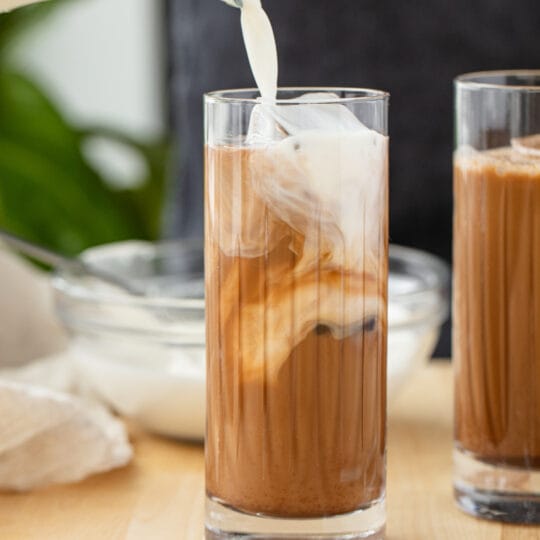 Beverage
Mexican Chocolate-Inspired Cold Brew
Serves: 8
Ingredients
4 cups Gelson's cold brew coffee
2 tsp Gelson's ground cinnamon
2 tsp Gelson's ground cloves
1 Tbsp confectioners' sugar (optional)
Freshly grated Gelson's cinnamon, for garnish
Directions
In a large pitcher, combine the cold brew coffee, cinnamon, cloves, and chocolate sauce. Stir well to combine.

In a stand mixer fitted with the whisk attachment, beat the heavy cream and confectioners' sugar, if using, on medium speed until it's thick enough to hold soft peaks, 1 to 2 minutes. The peaks should hold for a few seconds before falling back into the cream.

To assemble one drink, fill a highball glass with ice. Add 4 ounces of the chocolate cold brew, 1 to 2 ounces of milk, and top with a dollop of whipped cream.

Garnish with freshly grated cinnamon. Serve immediately. Leftover chocolate cold brew can be stored in an airtight container in the refrigerator for up to 5 days. Shake to combine before serving.
Recipe source: Coffee at Three

Calculate nutrition information for this recipe.