Dessert Recipes
Mini No-Bake Cheesecake
At other times and in other places, we have proclaimed that all things mini are cute — and hard to resist. These cheesecakes prove the rule and then some because they're not only small and positively scrumptious, they're no-bake and deceptively quick and easy to make. Have 10, they're tiny, and we can (and will!) always make more!
Well, they're no-bake-ish. We press the graham cracker crust into the muffin liners and bake them for five minutes so they fully set and have a nice crunch. You don't even have to do that if the dog days of summer have turned your kitchen into a sweat lodge.
The rest is so easy-peasy it could be a fun collab with the kiddos: The filling and sauce come together with a little bit of dumping, whipping, folding, and spooning. We made a very simple, very classic strawberry compote to go on top of our cheesecakes, but you can use any berry. Not feeling fruity? Try a drizzle of bittersweet chocolate or caramel sauce.
For all that ease, mini no-bake cheesecakes taste amazing. The filling has a wonderful, light tangy flavor and a super creamy texture — the perfect foil for its crunchy-sweet crust and jammy topping. Their compact, three-bite size makes them the perfect ending to any celebratory meal, but we think they'd make an especially sweet summer birthday dessert.
Our tip: If you're not having a party, the mini cheesecakes and sauce will keep in the freezer for up to 30 days. Store them separately, defrost, and add the sauce before serving.

Yield: 12 cheesecakes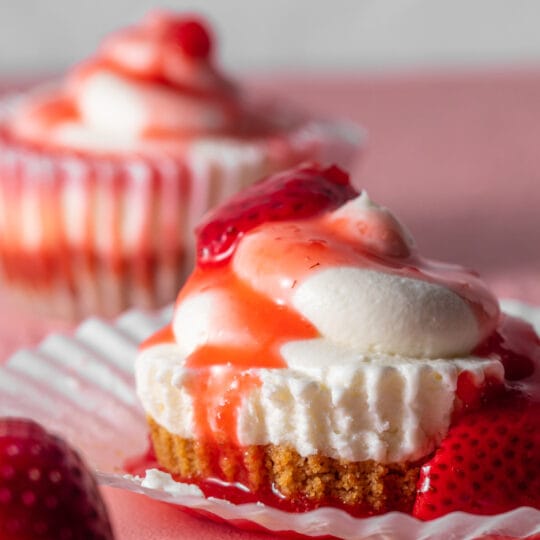 Dessert
Mini No-Bake Cheesecake