Dinner Recipes
Moroccan Braised Chicken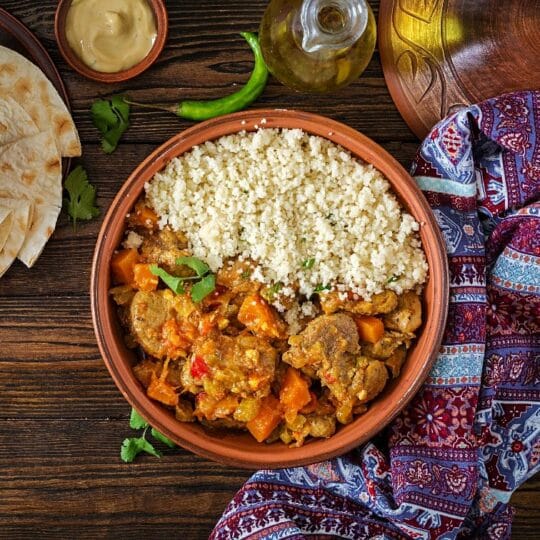 Dinner
Moroccan Braised Chicken
Serves: 6
Ingredients
1/3 cup Sunmaid Zante currants
2 tablespoons Napa Valley organic olive oil divided
2 large organic onions sliced into half moons
1 clove Melissas organic garlic minced
1 teaspoon Bombay Brand Madras curry powder
1 teaspoon McCormick organic ground coriander
1 teaspoon McCormick organic ground cumin
1/4 teaspoon McCormick organic ground cayenne pepper
4 Rosie Organic boneless skinless chicken breast halves cut in thirds about 2 1/4 pounds
1/4 teaspoon black pepper
1 cup Swansons certified organic free range chicken broth
4 organic carrots peeled and cut inch thick on the diagonal
1 large head organic cauliflower cut into uniform pieces
1 cup Bobs Red Mill organic quinoa
Directions
Heat wine in a small pot until just bubbling. Pour over currants and let stand while you prepare the rest of the ingredients.
Heat one tablespoon olive oil in a large skillet or pot with a tight fitting lid over medium heat. Add onions and cook until they are clear, about ten minutes. Add garlic and cook one more minute. Move onions to the side and add remaining tablespoon of oil in the pan. Season oil with curry powder, coriander, cumin and cayenne pepper and cook one minute. Mix with the onions and add chicken pieces to the pan. Season tops with salt and pepper. Cover with onions and brown chicken for five minutes on each side.
Add chicken broth, currants and wine. Cover and reduce heat to low. Simmer for 10 minutes. Add the carrots and cauliflower, cover and cook 20 more minutes. Uncover and cook for 15 to 20 more minutes until the vegetables are crisp tender. Make sure the chicken is covered with the onions and spoon some of the sauce over the chicken every few minutes to keep it from getting dry.
Meanwhile, bring the water to a boil and add the quinoa. Cover and cook until the water is absorbed, about 15 minutes. Fluff with a fork. Serve stew with quinoa.