Recipes
Mother's Day Breakfast in Bed Ideas to Make Her Day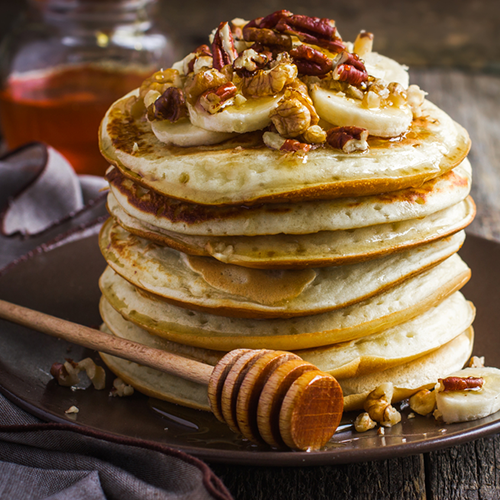 Everyone wants to be sure that their mom feels loved, especially on Mother's Day. Moms do so much for their families all year long; they definitely deserve a day to be pampered. There is no better way to say thanks than serving up a delicious homemade brunch or offering mom breakfast in bed. To help you properly spoil your mom, we have compiled a list of some of the easiest, and tastiest, Mother's Day brunch recipes and breakfast ideas.
Easy Banana Bread Flapjacks
Pancakes are a breakfast in bed staple, but this doesn't mean they need to be boring. Put a fun spin on them by combining 2 cups of flour, 3 tablespoons of sugar, 1 ½ teaspoons of baking powder, and 1 teaspoon of baking soda in a bowl. In a separate mixing bowl, combine 1 ¼ cups of buttermilk, 1 cup of mashed bananas, 2 eggs, and ¼ cup of butter. Once each is mixed, put them together and mix well. Pour the batter into circles (or hearts, for bonus points) on the griddle, and cook them for about three minutes per side. Garnish with syrup, pecans, and sliced bananas.
Hash Brown Waffles
Put a fun spin on waffles by making them with hash browns or another battered potato product, such as deep-fried potato bites. Simply line a heated griddle with the thawed potato product, filling it completely. Close the waffle maker and cook for about 10 minutes. If you want to really impress your mom, serve with bacon and a fried egg.
Honey Nut Cereal Turnovers
Here's your opportunity to let your children or younger siblings help you make the ultimate breakfast in bed meal for Mother's Day. This recipe is perfect for little ones as it is easy and safe. Simply buy a package of ready-made turnover mix and filling. When you put your turnovers together, flatten them out, taking care to keep the filling inside the turnover. As they are baking, mix together 1 ½ cup of confectioner's sugar, ¼ cup of sour cream, 2 tablespoons of pure honey, and a pinch of salt. Use this topping on your turnovers, once they are cooled. Finally, add a handful of honey nut flavored breakfast cereal to the top and serve. For added color, add a few sprinkles.
Preparing the meals above is easy as long as you have high-quality and fresh ingredients. Visiting a gourmet grocery store, like Gelson's, ensures your mom's special brunch tastes amazing. Gelson's is a nationally recognized upscale and organic grocery store, catering to families across Southern California for over 60 years. Visit one of our convenient locations to start gathering what you need for your mom's special day.
Image: Anna Shepulova / shutterstock