Dinner Recipes
Mushroom, Beef & Barley Soup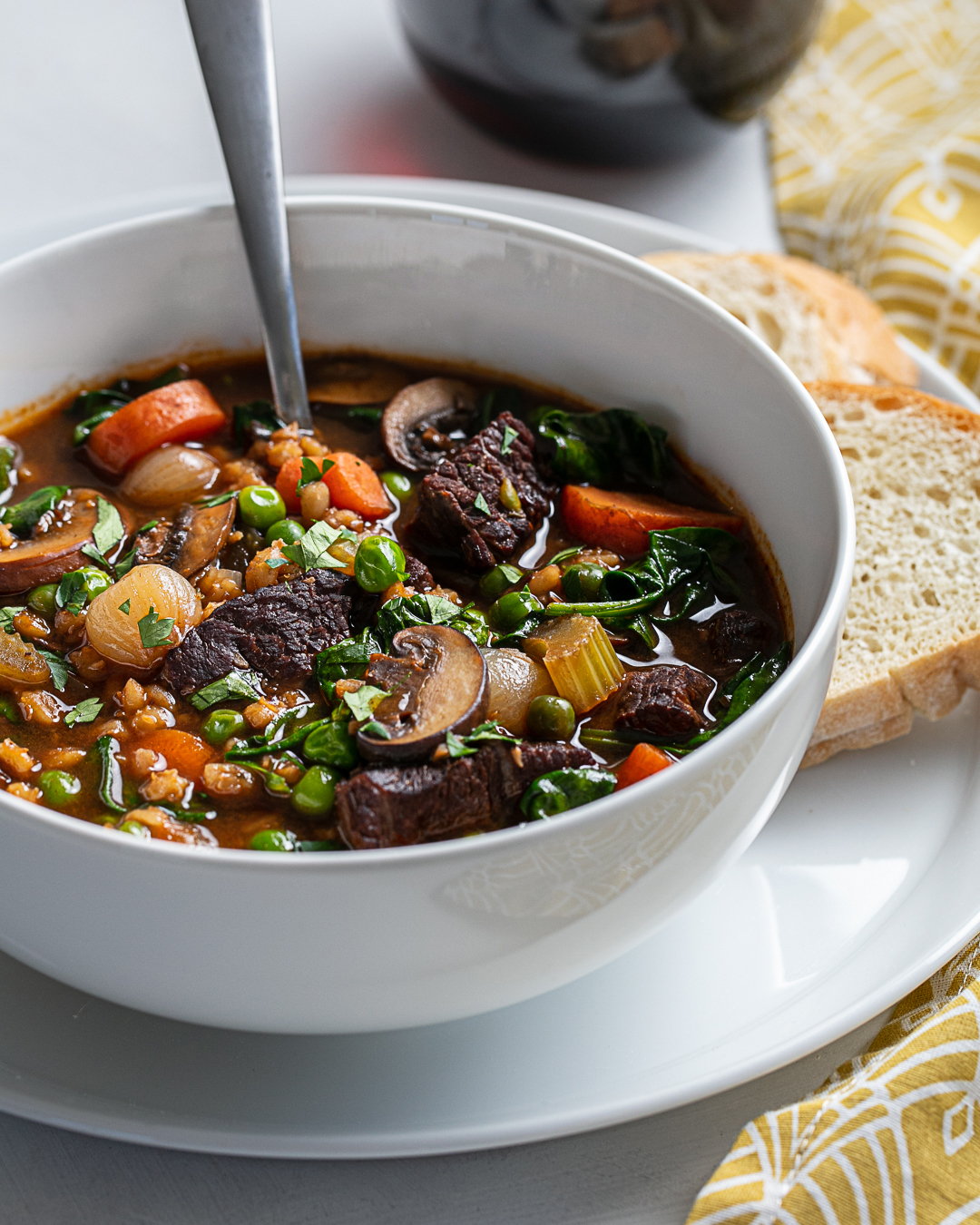 Mushroom barley soup is an oldie but goodie, a classic dinner soup that's so full of warmth and comfort it instantly puts us in a nostalgic frame of mind. It's a little like going home to visit grandma, which is to say that, while we love this soup, we don't eat it often enough. This version might change that: its broth is flavorsome and deeply satisfying, and it's both meaty and full of healthy veggies. It's also a bit of a win for the busy cook — a slyly gourmet one-pot meal.
This recipe comes by its rich, savory depth honestly. Once the beef is seared, it simmers in a bath of tomato paste, red wine, broth, and aromatics for a full hour and a half — just long enough to tenderize the meat and to give the broth some layers. The barley and veggies are added at the end of this long cooking process so that they hold their flavor and texture: the mushrooms are tender, not slimy, the carrots retain their sweetness and crunch, and the barley is nice and chewy. Every spoonful of this soup is different and pleasing, but our favorite might be the combination of soft pearl onion, fork-tender beef, and little pops of green peas. Textures collide!
In the bowl, this is a very handsome dish, and between the rich wine broth and hearty chunks of beef, it feels pretty luxe — like it could go head-to-head with beef bourguignon. We prefer to make it on a weekend because it feels so special and, though very easy, it's a bit of a project. (And, truth be told, we like to enjoy a glass of wine and a novel during that long simmer.) Also, it's really nice to hit Monday with a bunch of mushroom, beef, and barley soup in the fridge: it makes an incredibly hearty lunch.
Our tip: This is a great recipe for meal-prepping. If you're planning to freeze it, stop after step 6. The spinach, peas, and garnish will all taste better if you add them when you reheat the soup.
Servings: 8
Ingredients
2 lb beef chuck, trimmed, cut into 1" pieces
Kosher salt, to taste
Black pepper, to taste
1 Tbsp grapeseed oil
4 garlic cloves, minced
¼ cup tomato paste
1 cup dry red wine
8 cups beef broth
2 bay leaves
¾ cup pearled barley
8 oz yellow pearl onions, trimmed, skins removed
2 medium carrots, sliced in ¼"-thick rounds
2 medium celery stalks, sliced ¼" thick
8 oz baby bella mushrooms, sliced ¼" thick
Leaves from 3 thyme sprigs, chopped
1 cup fresh or frozen peas
5 oz baby spinach leaves
2 tsp white wine vinegar
Torn parsley leaves, for garnish
Directions
Generously season the beef with salt and pepper on all sides.

Heat the oil in a large Dutch oven over high heat until shimmering. Sear the beef on all sides, about 10 minutes. Drain excess fat, reserving 2 teaspoons in the pot.

Reduce the heat to low, stir in the garlic and cook until fragrant, about 1 minute. Stir in the tomato paste and cook until dark in color, about 30 seconds.

Add the wine to deglaze the pan, then add the beef broth and bay leaves. Bring to a boil, then reduce to a simmer. Skim off any foam, cover, and cook for 1 ½ hours.

Add the barley, cover, and cook for 25 minutes.

Add the onions, carrots, celery, mushrooms, and thyme leaves. Return to a simmer and cook, covered, until the barley is al dente and the vegetables are fork-tender, about 20 minutes.

Stir in the peas, cook for 5 minutes, and remove the pot from the heat. Stir in the spinach until wilted.

Stir in the vinegar and season with salt and pepper.

Divide the soup between bowls, garnish with parsley, and serve.
Recipe adapted from: Delish
Calculate nutrition information for this recipe.