Recipes
Mushroom & Egg Savory Crêpes
Mushroom & Egg Savory Crêpes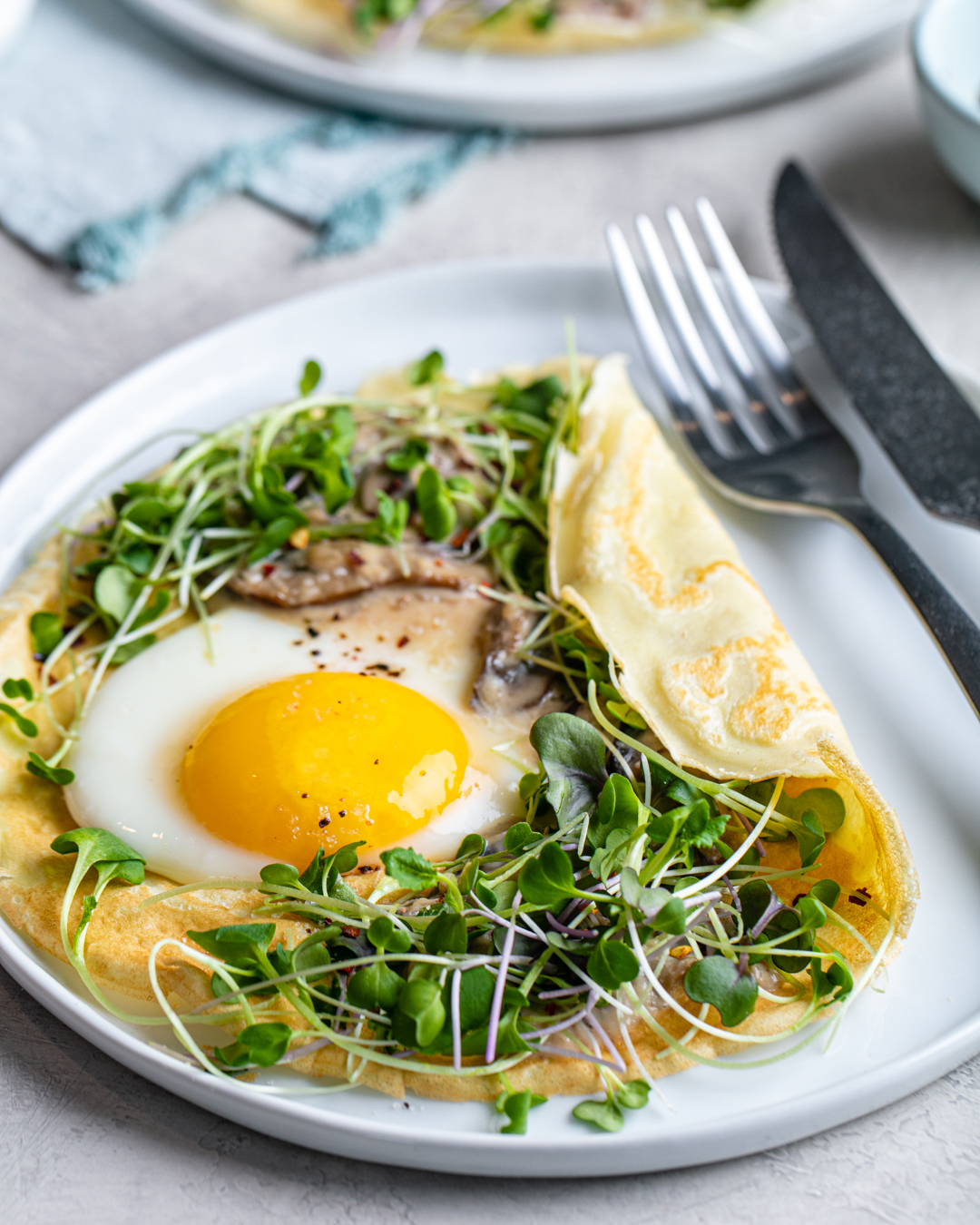 Our love affair with homemade crêpes began back when we whipped up a sweet set with Meyer lemon and whipped ricotta. If those were decadent (and believe us, they were), then these savory crêpes — with their creamy mushroom sauce, lush egg, bright microgreens, crushed red pepper, and sprinkling of truffle salt — must be on a whole other luxurious, hedonistic planet.
If you've never made crêpes before, you'll be pleased to hear that they're nowhere near as intimidating to make as they may seem. All the ingredients — eggs, milk, flour, clarified butter — come together in the blender, and the frying is super quick and easy: a swirl of the pan to spread the batter into a thin layer, a gentle flip, and ta-da! We have a crêpe. And for this recipe, the egg cooks right on top of the flipped crêpe, so you don't even dirty another pan.
To make the sauce, we sauté shallots, baby bella mushrooms, and fresh thyme until everything is fragrant and well-browned, deglaze the pan with a splash of white wine, and thicken it all with a roux of milk and heavy cream. Last but certainly not least, we stir in a handful of nutty Gruyère cheese — plus a pinch of cayenne pepper for a hint of heat to temper all that richness.
The composed plate is a thing of beauty: The rich, runny egg and the creamy, umami-laden mushroom sauce are a match made in culinary heaven — especially on top of the light, airy, subtly sweet crêpe. And we just love how the truffle salt accentuates the baby bellas in the sauce. But what really makes each bite exquisite are the microgreens and crushed red pepper: they add fresh, peppery layers to all that creamy, savory goodness. It's such an elegant dish, perfect for a light yet satisfying brunch (fueled by hot coffee and sparkling rosé, of course), or even a fancy-ish weeknight dinner with the S.O.
Servings: 8
Ingredients
For the crêpes:
3 large Gelson's eggs
1 cup whole milk
¾ cup all-purpose flour
¼ cup cold water
3 Tbsp unsalted butter, clarified and cooled
For the mushroom cream sauce:
2 Tbsp unsalted butter
1 medium shallot, finely chopped
8 oz baby bella mushrooms, rinsed, stemmed, and thinly sliced
½ Tbsp Gelson's organic fresh thyme leaves
¼ cup dry white wine
2 Tbsp all-purpose flour
¾ cup whole milk
½ cup heavy whipping cream
½ cup grated Gruyère cheese
1 pinch Gelson's cayenne pepper
Kosher salt, to taste
Freshly ground Gelson's black pepper, to taste
For the crêpe toppings:
1 tsp unsalted butter, clarified
8 large Gelson's eggs
2 oz microgreens
Gelson's crushed red pepper, for garnish
White truffle salt, for garnish
Directions
To make the crêpes: Place the eggs, whole milk, all-purpose flour, cold water, and clarified butter in a blender and purée until smooth, 10 to 15 seconds.

Pour the batter into a medium bowl, cover, and chill in the refrigerator for 1 hour, or up to 1 day. Note: chilling will relax the glutens in the batter, so your crêpes will cook up light and airy.

To make the mushroom cream sauce: In a medium skillet, melt the butter over medium-high heat until it begins to bubble. Add the shallots and sauté, stirring frequently, until they begin to soften, about 1 minute.

Add the baby bella mushrooms and thyme, stirring frequently, until the mushrooms are well-browned, 6 to 8 minutes. Decrease the heat to medium, deglaze with the white wine, and simmer until almost all of the wine has cooked off.

Add the all-purpose flour and stir continuously until fully incorporated.

Add the whole milk and heavy whipping cream. Bring to a simmer for 1 to 2 minutes, or until the mixture has thickened and the roux is completely incorporated.

Remove from the heat, stir in the Gruyère cheese, add the cayenne pepper, and season with kosher salt and black pepper. Keep warm over low heat while making the crêpes.

To cook the crêpes and toppings: In a 7" nonstick frying pan, melt the clarified butter over medium heat, swirling to coat the pan.

Using a small ladle, pour 3 to 4 ounces of the batter into the frying pan and swirl until the pan is covered.

Cook the crêpe for 45 to 60 seconds, or until the bottom is just starting to color. Reduce the heat to low, run a small rubber spatula around the edge of the crêpe to loosen it, and flip it over.

Immediately crack an egg in the center of the crepe, cover the pan, leaving the lid slightly ajar to let steam escape, and cook for 2 to 2 ½ minutes, or until the egg white has set. Transfer the crêpe to a serving plate. Repeat with the remaining batter, making 8 crêpes.

Spread a few spoonfuls of the mushroom sauce next to each egg. Top each crêpe with a pinch of microgreens, and season with crushed red pepper and white truffle salt. Fold the edge of each crêpe over the toppings, like an omelet, and enjoy immediately.
Recipe source:
Calculate nutrition information for this recipe.