Recipes
Mushroom Tartine & Fried Eggs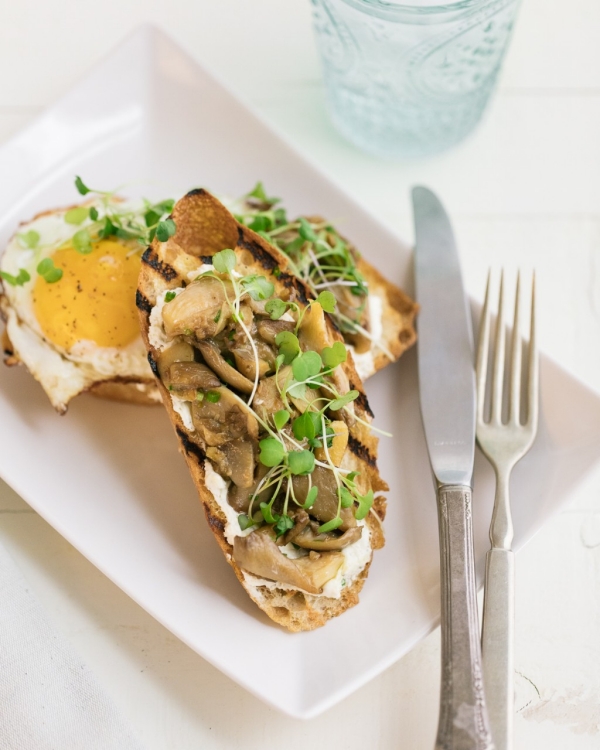 Toast is one of our favorite foods, and we like it in all its forms. Hot toast, golden brown and buttered right out of the toaster, is a joy and a comfort at any time of day: perched on the side of our breakfast plate or inhaled with peanut butter and a cup of coffee in the late afternoon. It's a terrific midnight companion too. But we also like fancy, grilled dinner toast — the kind that floats urbanely in a bowl of clams and garlic-infused broth.

This recipe falls somewhere between the humble home toast and the restaurant toast. It's sourdough, lovingly slathered in olive oil and a pinch of flake salt, grilled, and then piled up with a creamy herb cheese, oyster mushrooms, and a crispy fried egg. The mushrooms are cooked in miso, vinegar, herbs, and aromatics, so they're meaty and intensely savory. Break that lush egg yolk over the top of them, and you have a rich, satisfying dish, full of flavor and chewy, crunchy, creamy texture.

You could really serve this dish at any point in the day. It makes a phenomenal brunch, of course. We also really like it for an easy, midweek dinner, where we serve it with a green salad and a bottle of wine — comfort and luxury!

Our tip: Our current favorite wine pairing with this dish is Freixenet Sparkling Cordon Negro Brut Cava. Its lemony notes are lovely with the earthy oyster mushrooms, and its perfect acidity and balance will work at brunch, happy hour, or dinner. Bonus: It's a good value, so you'll only feel a little bit like a hedonist if you drink it by yourself on a Tuesday.

Servings: 1 or 2


Ingredients

4 tsp olive oil, divided
1 Tbsp shallot, minced
1 tsp garlic, minced
4 oz oyster mushrooms
2 tsp sherry vinegar
1 tsp honey
1 Tbsp white miso paste
2 Tbsp unsalted butter, divided
1 tsp chives, minced
1 egg
2 slices sourdough bread
2 Tbsp garlic and herb cheese spread
Flake salt, to taste
Black pepper, to taste
Microgreen mix for garnish



Directions
To make the mushrooms: In a medium sauté pan, warm 3 teaspoons of the olive oil over medium heat. Add the shallot and garlic and sauté until fragrant, about 30 seconds.
Next, add the mushrooms. They'll sweat a little in the pan. Sauté them until water has evaporated and they begin to caramelize.
Add the sherry vinegar and toss together.
Add the honey and miso and toss again to combine.
Add in 1 tablespoon of the butter and sauté until it's melted and incorporated with the miso, about 1 minute.
Toss in the chives, season to taste with salt and pepper, and set aside.
To make the egg: In a medium, non-stick pan, melt the remaining tablespoon of butter over medium heat.
Crack the egg into the pan and fry it until the whites are set and the edges begin to crisp. Remove the pan from heat, and set it aside.
To make the toast: Preheat a grill pan to high.
Drizzle olive oil on the sourdough slices and season lightly with salt and pepper.
Place the bread slices down onto grill pan, press lightly, and cook for 30 seconds, or until the bread is golden brown.
Flip the bread over and grill the second side.
Transfer the grilled bread slices to plates. Spread each slice with about a tablespoon of cheese, and then top each with the mushroom mixture, the egg, and a pinch or two of greens.