Dinner Recipes
Mussakhan
Mussakhan is a much-loved Palestinian dish that combines a bold contrast of Mediterranean flavors: it's bright with sumac and lemon and yet full of earthy, warming spices like cumin, cinnamon, and allspice. It's also one of those showstopping platters that, with just a little forethought, you can make on the average weeknight. It's basically the queen of sheet-pan dinners.
We like to put the chicken in the marinade in the morning. This is an easy approach because it's just lemon juice, olive oil, garlic cloves, and the spices — no chopping or fussing. And that gives the chicken plenty of time to soak up all that flavor. In the evening, you can toss it in the oven and then use the roasting time to prep all the garnishes and pour a glass of wine.
The chicken comes out of the oven burnished a deep golden brown, very crispy, and so unbelievably juicy. The thing to do is to serve it on a platter of warm naan so the bread can sop up all that goodness. If your family and friends are like ours, they'll pull off hunks of the bread and fold them around the deeply aromatic chicken, crunchy toasted pine nuts, and pungent red onion — the perfect bite, vibrant and comforting all at once.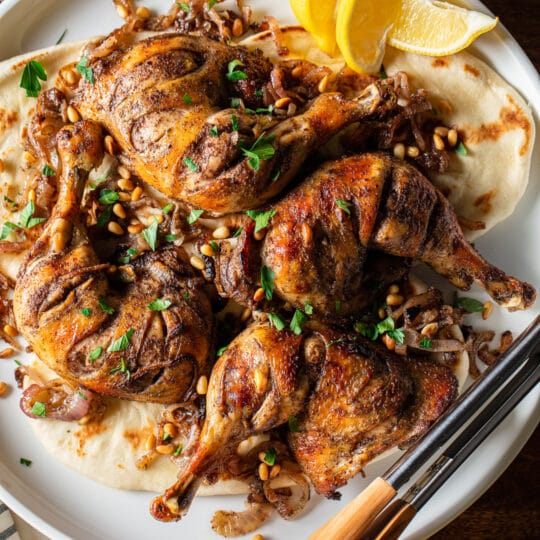 Dinner
Mussakhan
Serves: 4
Ingredients
2 lb bone-in, skin-on whole chicken legs
¼ cup freshly squeezed lemon juice
½ tsp Gelson's ground cumin
½ tsp Gelson's ground allspice
¼ tsp freshly ground Gelson's black pepper
1 red onion, halved and thinly sliced
4 pieces naan bread, warmed
2 Tbsp pine nuts, toasted
Freshly chopped parsley, for garnish
Lemon wedges, for serving
Directions
Using a chef's knife, score the tops of the chicken legs diagonally, about 1" apart.

In a large bowl, whisk together lemon juice, olive oil, garlic cloves, sumac, cumin, allspice, cinnamon, salt, and black pepper. Add in the chicken thighs and mix until the chicken is well coated.

Add in the red onions, cover with plastic wrap, and marinate in the refrigerator for 1 hour or up to overnight.

Preheat the oven to 400° and line a sheet pan with parchment paper.

Transfer the chicken legs and onions to the sheet pan. Roast for 40 minutes or until the chicken is dark brown, the juices run clear, and the internal temperature reads 165° on an instant-read thermometer.

Spread the warm naan flat on a serving platter, and place chicken legs and onions on top. Garnish with the pine nuts and parsley. Serve hot with lemon wedges. Leftover chicken can be stored in an airtight container in the refrigerator for up to 3 days.
Recipe source: New York Times