Dessert Recipes
Nan-e Berenji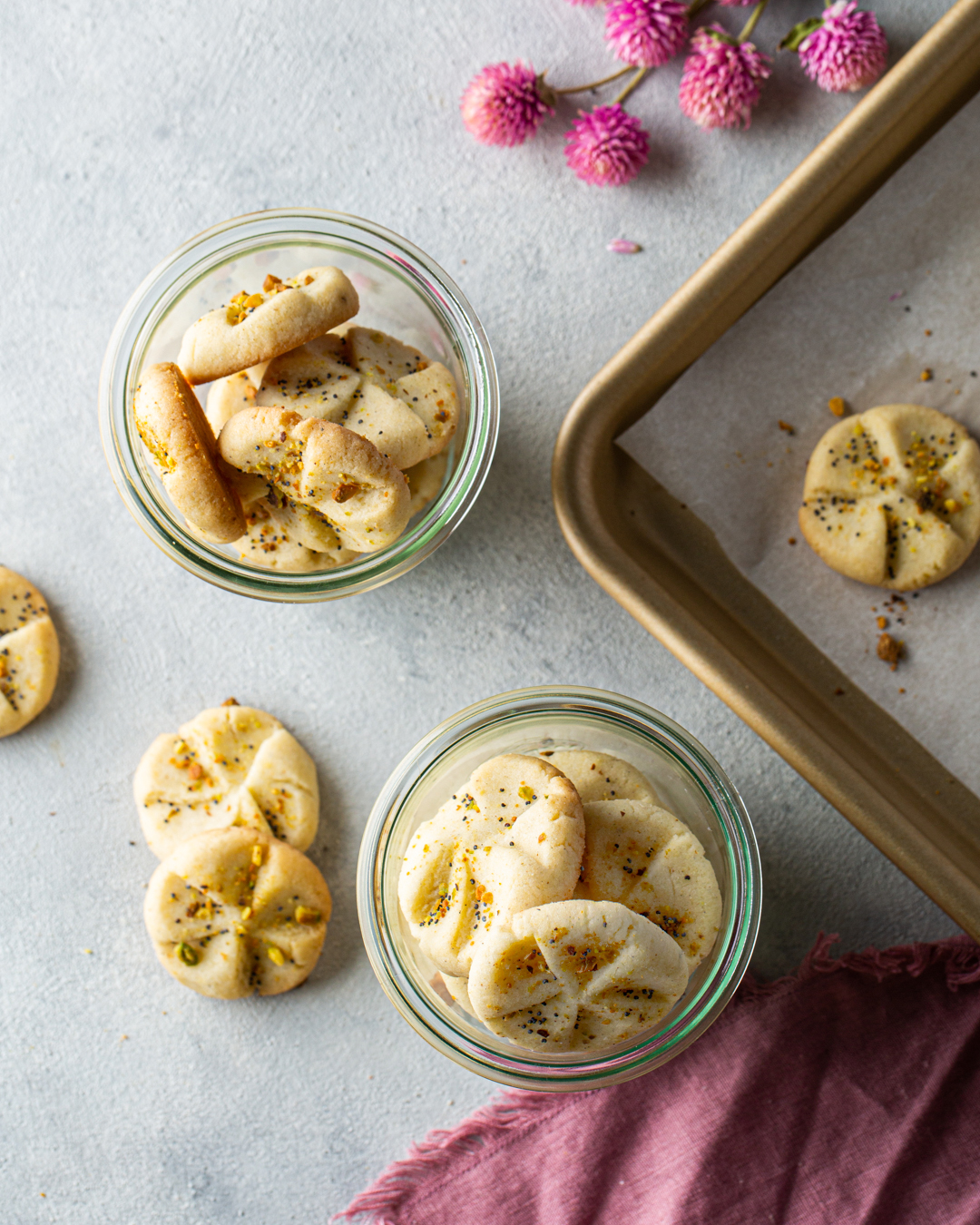 Every year on the spring equinox, millions of people worldwide celebrate Nowruz, the Persian New Year. In Persian, Nowruz translates to "new day," and accordingly, it's a time of renewal and cleansing away the past — a time of reconnecting with nature and loved ones, and promoting peace, reconciliation, and neighborliness.
Nowruz festivities are extensive and varied, but they typically include spring cleaning, visiting with friends, family, and neighbors, and setting the haft-sin table. Haft-sin is an arrangement of seven foods that symbolize hope for the new year, from sumac to garlic to apples — all of which, in Persian, begin with the letter "sin." But the haft-sin table is also often adorned with a mirror, painted eggs, live goldfish, coins, hyacinths, and a variety of sweets. Seven types of sweets, to be exact, including nan-e berenji, these teeny, rose water-scented rice cookies.
Making nan-e berenji is very straightforward: You first cream together butter and sugar — and then add in eggs, rose water, cardamom, baking powder, rice flour, and salt. And while you can make nan-e berenji dough by hand or with a mixer, we like to use the food processor to ensure a smooth, uniform consistency. It's quick, too: a few pulses is all you need to get the moist yet firm texture that's ideal for rolling and flattening the dough into little disks.
Before sliding the cookies in the oven, we decorate them with a pinwheel pattern, and a sprinkle of poppy seeds and crushed pistachios. They bake up quickly, and when you open the oven, the perfume-y scent of roses wafts into the kitchen — it's positively lovely. Take a bite, and that floral flavor bursts in your mouth too, along with the rich butter and the hints of sweet cardamom. And we especially love the wee crunch of the poppy seeds on top … and the big crunch of the pistachios!
The dense, crunchy texture of nan-e berenji makes them the perfect tea cookie. Traditionally, they're served with some sort of black tea: we enjoyed our batch with a pot of strong, malty assam, but you could also brew up a bitter bergamot tea, like Earl Grey, for an additional floral note.
Also, this recipe yields a ton of tiny, easily transportable cookies. You'll have plenty to bring along to celebrations or leave on the porches of friends, family, and neighbors for a sweet Nowruz surprise!
Yield: 4 dozen
Ingredients
2 ¾ cups Bob's Red Mill rice flour
1 tsp baking powder
1 tsp ground cardamom
¼ tsp kosher salt
2 sticks unsalted butter, room temperature
1 cup confectioners' sugar
1 large Gelson's egg plus 1 egg yolk
1 Tbsp rose water
Poppy seeds, for decorating
Crushed pistachios, for decorating
Directions
In a medium bowl, whisk the rice flour, baking powder, cardamom, and kosher salt until combined.

In a food processor, process the unsalted butter and confectioners' sugar until very smooth and creamy, about 30 seconds.

Add the egg, egg yolk, and rose water, and pulse until smooth, about 15 seconds.

Add about half the dry ingredients and pulse just to combine. Add the remaining dry ingredients and pulse until a soft dough forms.

Pat the dough into a disk about 1" thick. Wrap the disk in plastic wrap and chill for about 2 hours, or until firm.

Place racks in the upper and lower thirds of the oven and preheat to 300°. Line 2 baking sheets with parchment paper.

Roll ½ tablespoon of dough into a ball. Place the ball on the parchment paper, pressing gently until it is about ½" thick. Repeat with the remaining dough, spacing the cookies 1" apart. Then, using the side of a teaspoon, lightly indent each cookie in a pinwheel pattern. Sprinkle the tops of the cookies with poppy seeds and crushed pistachios.

Bake the cookies, rotating the baking sheets halfway through, until the edges of the cookies are starting to lightly brown, 12 to 14 minutes. Remove from the heat and let the cookies cool on the baking sheets.

The cookies may be stored in an airtight container at room temperature for up to 1 week.
Recipe adapted from: Bon Appétit
Calculate nutrition information for this recipe.