Recipes
No-Churn Chocolate Ice Cream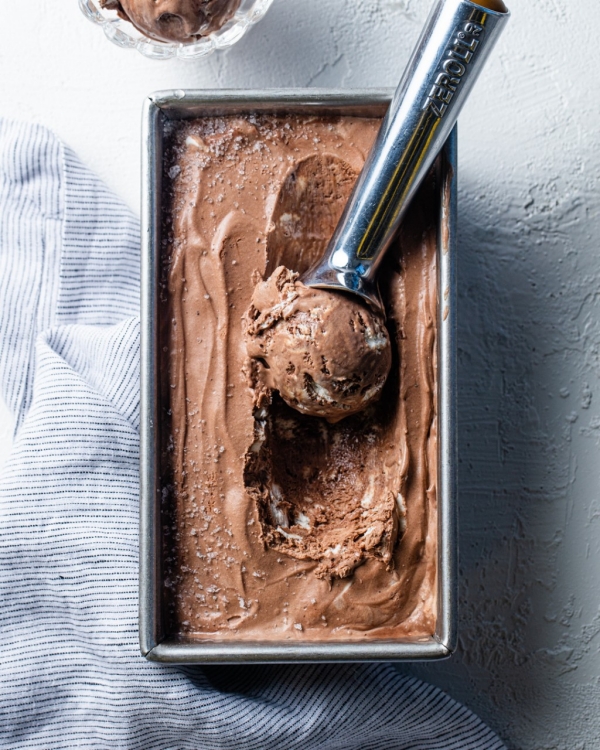 What does no-churn mean? It means no ice cream maker required — all you need is 10 minutes and an electric mixer. (Maybe just a whisk if you've been doing your push-ups.) It means just five ingredients and no fussy egg custard included. It means so dangerously easy to make, even a kid could do it. Best of all, it means ice cream with so much rich, chocolaty depth of flavor, you won't miss the custard at all. And a fantastic texture: marshmallow fluff meets creamy soft-serve.
Seriously, this is the perfect cooking project to do with the kids. It's got plenty of dumping, and just enough whirring, to be thrilling. If you make it in the morning, you'll have a pan of ice cream ready in time for afternoon snack — or family movie night.
Our tip: Think of this recipe as a base. After all, if you leave out the cocoa powder it's just vanilla ice cream. You can add anything you like to it before it goes in the freezer: salted caramel swirls, fresh berries, chocolate chips, or crushed peppermint candies. Feeling boozy? Go ahead and swap out the vanilla for Irish cream, Kahlúa, or amaretto.
Servings: 12
Ingredients
1 14-oz can sweetened condensed milk
1 ½ tsp vanilla extract
½ cup unsweetened cocoa powder
Pinch of salt
2 cups heavy whipping cream (cold)
Directions
Place a loaf pan measuring 5 x 9 inches in the freezer until you need it.

In a medium bowl, combine the sweetened condensed milk with the vanilla extract, cocoa powder, and salt. Whisk the mixture until thoroughly blended.

In a large mixing bowl, beat the heavy cream with an electric mixer until stiff peaks form.

Add about 1 cup of the whipped cream to the condensed milk mixture and stir gently until well blended.

Fold the condensed milk mixture into the remaining whipped cream with a spatula or spoon, turning until no streaks remain.

Pour the cream mixture into the chilled loaf pan, and spread it evenly. Cover the pan tightly with plastic wrap, and return it to the freezer for 4 hours.

Remove the ice cream from the freezer, and let it stand for about 10 minutes to soften slightly.

Scoop the ice cream into dessert dishes and garnish with your favorite sauces and ice cream toppings.