Appetizer Recipes
No-Cook Spinach Dip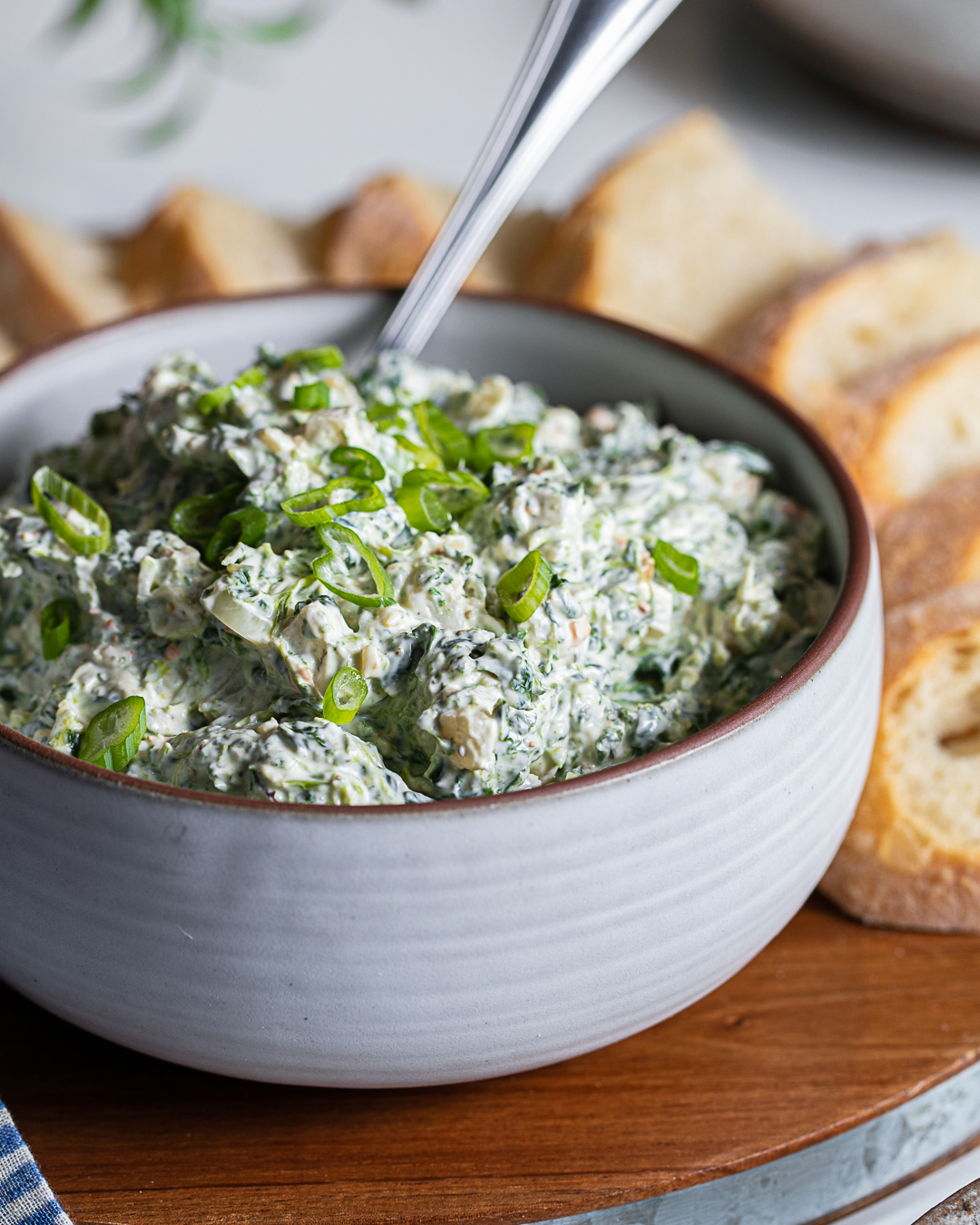 Sure, you've always seen this dip at graduation parties, baby showers, and other family celebrations. And while the version made by your favorite aunties may be mighty fine, we'd like to humbly suggest this freshened-up recipe. First, we kept the parts of spinach dip that everyone loves — bright green spinach, a bit of mayo, and all the sprinkles and spronkles of seasonings that make it shine.
Then, we cleverly swapped out sour cream for Greek yogurt, which gives the dip a zippy, tangy quality and brightens it considerably. The addition of water chestnuts is a revelation. Skeptical? We were too, until we discovered that they add a welcome crunch you never realized was missing until right about … now. But when you take your first happy scoopful of this better-than-ever dip, you'll know we were right.
A hollowed-out bread round is a classic serving method, and serving it with crudités on the side will amp up your veggie intake considerably. But true confession: our go-to move is to pair it with sturdy ridged potato chips, like Ruffles.

Servings: 4 to 6
Ingredients

1 ½ cups full-fat Greek yogurt
½ cup mayonnaise
1 tsp freshly squeezed lemon juice
2 dashes Worcestershire sauce
2 dashes Louisiana-style hot sauce
1 ½ Tbsp Mrs. Dash seasoning
½ tsp kosher salt
Black pepper, to taste
10 oz frozen spinach, thawed and drained
4 green onions, thinly sliced
1 8-oz can sliced water chestnuts, drained, small-diced

Directions

In a medium bowl, whisk together the first 8 ingredients until smooth.

Add the spinach, green onions, and water chestnuts, and stir until combined.

Cover and refrigerate for 30 minutes, or up to 24 hours, to allow the flavors to meld.

Serve with your favorite dippables.