Dessert Recipes
Nutella Soft Serve
How can soft serve be so thick and creamy and yet so unbelievably airy? It defies textural physics! And yet the answer is so everyday: whipping cream.
In the test kitchen, we beat the whipping cream with a little vanilla and a pinch of salt until soft peaks form — and then vigorously whip a dollop of it into a great big bowl of Nutella. We gently fold the rest of it in and then tuck all that creamy goodness into a ziplock bag, and the freezer does the rest of the work.
Seriously, it's that easy, which makes it the perfect Saturday afternoon project for your kids. It will be ready in time for dessert, and for all that simplicity, its rich, cocoa-hazelnut flavor tastes really, really special. We put ours in cake cones, and we love that crispy texture with the silky smooth, light and luscious soft serve … but, it's also pretty fun to pipe it directly into your mouth.

Serves: 4 to 6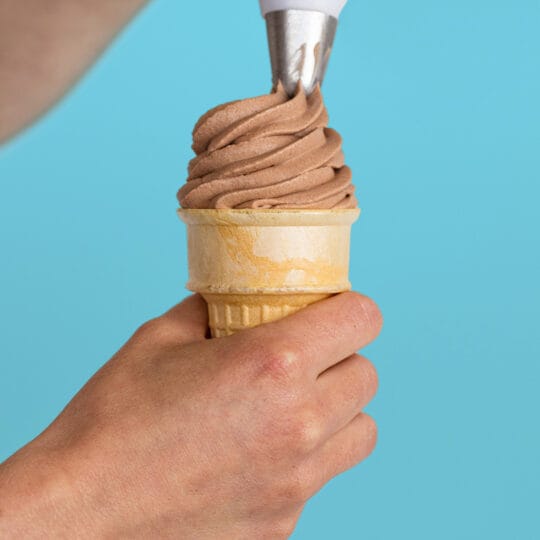 Dessert
Nutella Soft Serve
Ingredients
2 cups heavy whipping cream
Special equipment: 1 large piping bag and decorative piping tip, or a gallon-size ziplock bag
Directions
In a stand mixer fitted with the whisk attachment, combine the heavy cream, vanilla extract, and a pinch of kosher salt. Beat on medium speed until soft peaks form, 1 to 2 minutes.

In a large mixing bowl, vigorously whisk 1 cup of the whipped cream into the Nutella until silky smooth and no lumps remain. Add the remaining whipped cream in 2 batches, folding gently until just combined between each addition.

Transfer the Nutella cream to a large piping bag fitted with a large star tip or to a gallon ziplock bag. If using a piping bag, twist the tip to seal it. Press out any air and seal the top with a clip. Place the bag in the freezer and chill, opening the bag and stirring every 30 minutes, until ice-cold and thick like soft serve, about 1 ½ hours.

Pipe the soft serve into a bowl or ice cream cone. If you're using a ziplock bag, you'll need to snip a 1" hole in a corner of the bag. Enjoy!

Leftover soft serve can be stored in an airtight container and frozen for up to 1 month. Temper at room temperature for 20 to 30 minutes before serving, then scoop the soft serve into a bowl.
Recipe source: Ingredient