Appetizer Recipes
Nutty Pesto Mousse
Savory basil pesto whirled up in soft cream cheese and topped with sundried tomatoes and toasted pine nuts — this unbelievably easy mousse is like a deconstructed cheese ball, and who doesn't love a cheese ball?
Spread atop a crispy Carr's cracker, pesto mousse looks celebratory and tastes well nigh irresistible. No one would know it's just four ingredients or that it came together in mere minutes! It's the perfect appetizer for suddenly occurring cocktails and mislaid happy hours.
Our tip: Pesto mousse pairs brilliantly with a lush white wine like Three Pears Pinot Grigio. Its delicate pears and nectarine flavors work well with the rich nuts and Parmesan, and it's fresh and crisp enough to provide some ballast for the cream cheese.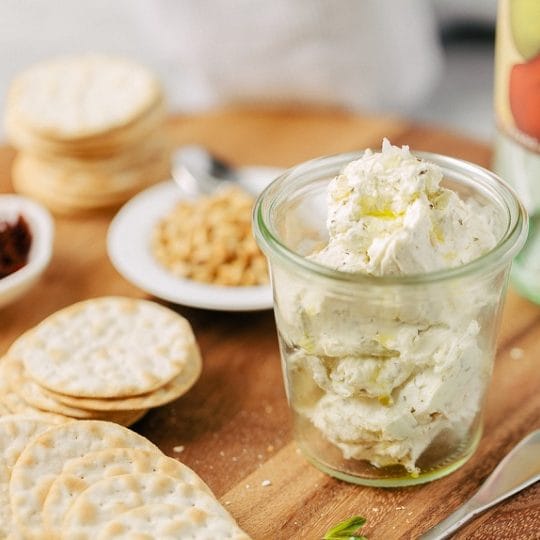 Appetizer
Nutty Pesto Mousse
Serves: 10
Ingredients
8 oz cream cheese, softened
1 Tbsp prepared basil pesto
2 Tbsp oil-packed, sun-dried tomatoes, drained and chopped
1 Tbsp pine nuts, toasted
Carr's Table Water Original crackers
Directions
Preheat the oven to 350º.
Spread the pine nuts on a small baking sheet or pie tin and bake for 5 to 10 minutes, or until light golden brown, stirring once or twice.
Soften cream cheese in microwave at high for 15 to 20 seconds.
In small bowl, combine the cream cheese and pesto.
Spread the mousse on crackers. Sprinkle with tomatoes and pine nuts.
Recipe source: Carr's Crackers