Recipes
One-Pan Chicken with Tomatoes & Pancetta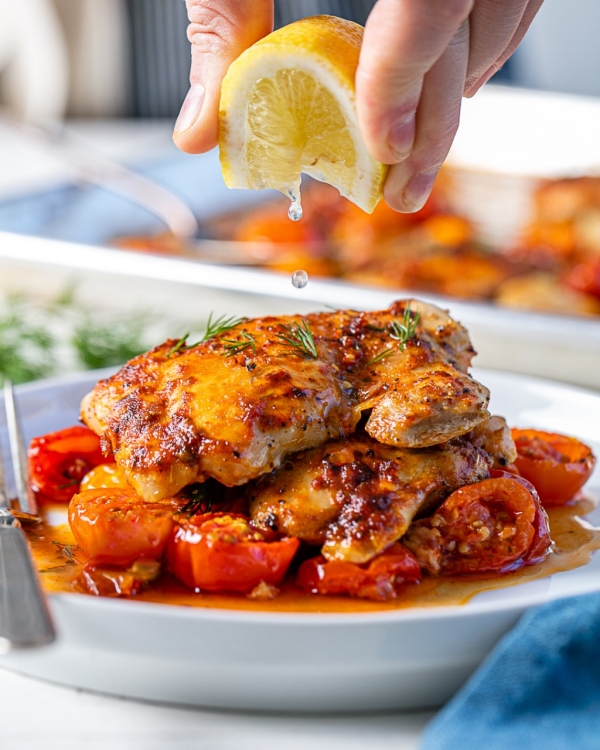 There's a special kind of alchemy that takes place with this recipe, all thanks to one small ingredient. Although it needs just three ounces of diced pancetta, that little bit of pork transforms this sheet-bake into a remarkable entrée.
You may have cooked with pancetta before — it's the key ingredient in that Roman speciality, pasta carbonara. Pancetta is cured pork belly, which is made by seasoning meat with spices like nutmeg, juniper, and black pepper. After seasoning comes curing, which is a way to "cook" meat by removing moisture with a coating of salt and a little bit of time. It's a densely flavored "secret ingredient" that works a special kind of magic when it's given a chance to mingle with other ingredients in the oven.
As the ingredients roast, the pancetta creates an achingly umami-rich sauce that's a perfect complement to the dark meat of skinless chicken thighs. Since the sauce is such a star here, serve this entrée with porous, crusty bread to soak up all the juices, or spoon the finished dish on top of a bed of couscous, polenta, or pasta. It's easy enough for weeknights, but impressive enough for special-occasion meals.
Our tip: Transform leftovers into weekend brunch by shredding the chicken in the sauce, warming it up in a shallow bowl, and topping it all off with a poached egg. (Bottomless mimosas? Good idea.)
Servings: 4
Ingredients
1 ½ lb Gelson's boneless, skinless chicken thighs
½ tsp kosher salt, plus more to taste
9 whole garlic cloves, divided
2 Tbsp extra-virgin olive oil, plus more for drizzling
1 ½ Tbsp freshly squeezed lemon juice, plus more for serving
1 Tbsp sweet or smoked paprika
1 tsp dried oregano
1 tsp brown sugar
¾ tsp ground cumin
1 pt cherry tomatoes (preferably different colors), halved
3 oz pancetta, diced
¼ cup torn Gelson's organic fresh dill, parsley, or other herbs, for serving
Freshly ground black pepper, to taste
Directions
Heat the oven to 425°. Season the chicken on both sides with salt and place on a rimmed baking sheet.

Smash all the garlic cloves with the side of a knife and peel them. Finely grate 1 garlic clove into a small bowl. Stir in the olive oil, lemon juice, paprika, oregano, brown sugar, and cumin. Brush the mixture over the chicken and toss to coat.

Add the tomatoes and smashed garlic cloves to the baking sheet, spreading them out around the chicken. Season the tomatoes lightly with salt and drizzle with a little more olive oil. Scatter the pancetta on top.

Roast until the chicken is golden brown and cooked through, 30 to 35 minutes. After 15 minutes, stir the tomatoes, garlic, and pancetta, but don't disturb the chicken.

Transfer the chicken to 4 plates.

Stir the tomatoes and pancetta around in the pan, scraping up all the delicious browned bits from the bottom and sides, stir in the fresh herbs, and season with black pepper, salt, and a squeeze of fresh lemon juice.

Spoon the tomatoes, garlic, and pancetta over the chicken to serve.
Recipe adapted from: NYT