Recipes
One-Pot Creamy Fettuccine & Squash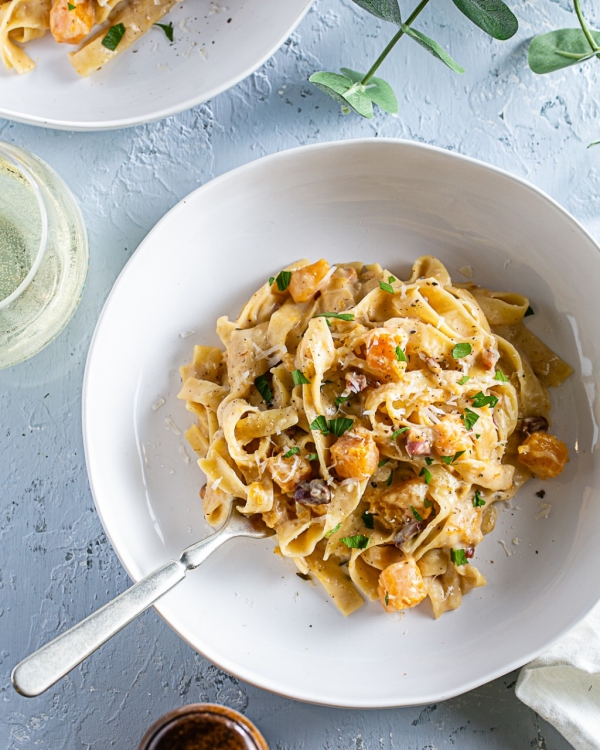 Fall is officially at our doorsteps (maybe not meteorologically, but definitely in spirit). We're digging out our flannels from the back of the closet, planning family outings to the apple orchard, and eating squash like it's nobody's business. But fall is also a busy time, especially this year: we're helping the kids with school between Zoom calls, and getting work and errands done whenever we can. Our schedules call for dinners that are easy, easy, easy — which is why we dreamed up this autumnal, one-pot pasta with sweet butternut squash and fresh sage and thyme.
Besides a bit of chopping, there's hardly any prep work involved in this dinner; all the magic happens right in your Dutch oven. We first sauté butternut squash, thyme, sage, red pepper flakes, shallots, and garlic in butter until golden brown and fragrant. Then, we deglaze everything with a bit of white wine and add the chicken stock, milk, and fettuccine. Once the pasta is perfectly al dente and all those liquids have thickened, we stir in browned pancetta and grated Parmesan cheese.
The result is a rich, creamy, comforting meal with vibrant, earthy notes from the fresh herbs and a subtle undercurrent of spice from the red pepper flakes. The aromatics are delightfully autumnal — and the crispy, salty bits of pancetta are the perfect foil to the sweet, lightly caramelized butternut squash. But our favorite part? How the squash breaks down during the cooking process and works itself into the sauce, making it thicker, creamier, and just a tinge golden.
We could probably make this pasta at least once a week all season long, in part because it's both sophisticated enough for the grown ups and creamy enough for the kiddos. It's the sort of meal that calls for popping open a bottle of brut on a weeknight (and a bottle of sparkling grape juice for the underage in the room). And, if you think it can't get any better than that, it does: you'll only have one dirty pot to wash once dinner's all said and done.
Servings: 4
Ingredients
5 oz pancetta, diced
3 Tbsp unsalted butter
3 cups large-diced butternut squash (about ½ of a large squash)
Leaves from 4 thyme sprigs
¼ tsp rubbed sage
¼ tsp red pepper flakes
2 large shallots, minced
2 garlic cloves, minced
½ cup dry white wine
1 cup chicken stock
1 ½ cups whole milk, plus more if needed
8 oz fettuccine
½ tsp kosher salt, plus more to taste
Black pepper, to taste
½ cup grated Parmesan
Chopped parsley, for garnish
Directions
In a large Dutch oven, cook the pancetta over medium heat until browned, 4 to 5 minutes. Transfer the crispy pancetta to a small bowl and set aside.

Wipe out the pan and return it to medium heat. Combine the butter, butternut squash, thyme, sage, and red pepper flakes in the hot pan. Cook, stirring occasionally, until all sides of the squash have browned, 6 to 8 minutes.

Add the shallots and garlic and cook until fragrant, about 1 minute.

Deglaze the pan with the white wine and cook for 1 minute more.

Add the chicken stock, milk, fettuccine, and salt. Bring the mixture to a boil, reduce the heat, and simmer for 10 to 13 minutes, or until the pasta is cooked to al dente and the liquid is mostly absorbed. Stir occasionally as the pasta cooks to keep it from sticking to the bottom. If the pasta needs more liquid, add more milk.

When the pasta is al dente, season with salt and pepper, and stir in the Parmesan cheese and crispy pancetta.

Garnish with parsley and serve immediately.