Dinner Recipes
One-Pot Roasted Chicken & Caramelized Carrots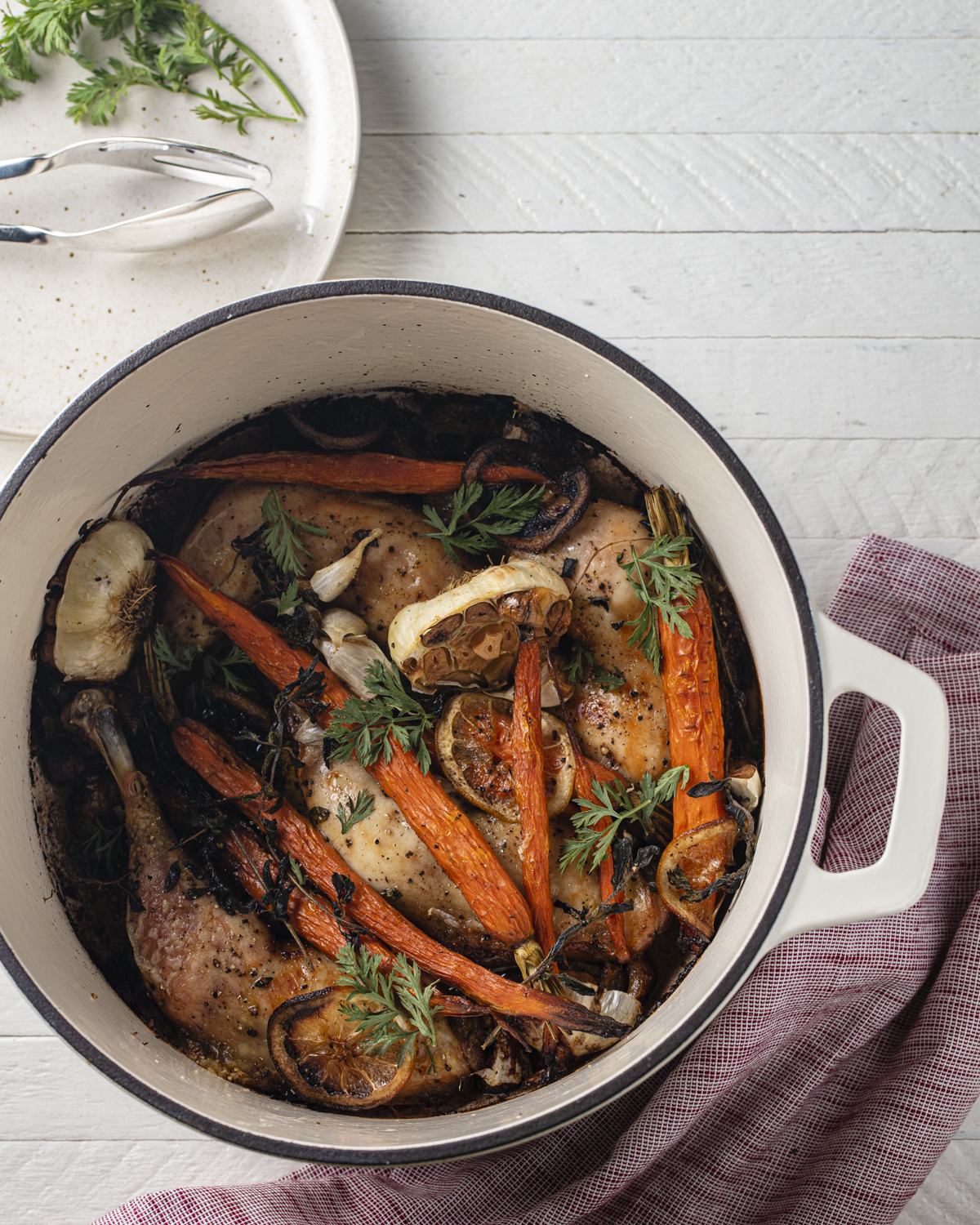 This is the chicken version of the notorious dump cake: You literally throw everything in a pot and slide it in the oven. Yet it's one of the most deeply satisfying chicken dishes we've ever eaten, and it certainly set the test kitchen abuzz.
We love what an hour or so in a Dutch oven does for these humble ingredients. The chicken is very juicy, and it has a wonderful skin — crispy, salty, and peppery. The carrots develop a roasty glaze in the bottom of the pan, so they're soft, sweet, and a little al dente. But the garlic is the real star of the show: after simmering for so long in the schmaltzy olive oil, it's caramelized and lightly charred. The texture is soft; the flavor mild and sweet. Our tasters were digging around in the pot for it, saying, "I want some more of that garlic candy."
It's the perfect, hands-free weeknight dinner. We'd serve it with a green salad — think spinach in a bright, citrus vinaigrette — a loaf of crusty bread, and a little sweet cream butter.
Our tip: There will be lots of cooking juices left in the bottom of your Dutch oven. We like to dunk our bread in them, but you can also use them in other dishes. They make divine fried eggs, for example.
Servings: 4
Ingredients

2 lbs whole chicken legs, or bone-in, skin-on drumsticks or thighs
Kosher salt, to taste
Freshly ground black pepper, to taste
1 bunch carrots, preferably with their green tops
2 heads garlic, unpeeled, halved crosswise
1 lemon, thinly sliced, seeds removed
½ bunch Gelson's organic oregano, plus more leaves for garnish
1 cup olive oil

Directions

Heat the oven to 325º.

Arrange the chicken in a large, shallow baking dish or a shallow braising pot (about 2 ½ to 3 quarts) so that the legs are snug and lying flat. Season the chicken pieces with salt and pepper.

If the carrots have their green tops, trim the tops so that the stems are ½- to 1-inch long. Save some of the greens for garnish.

Scatter the carrots, garlic head halves, lemon slices, and oregano sprigs among the chicken pieces, nestling everything in there. (It's okay if the carrots stick out a bit.)

Pour the olive oil over the chicken and vegetables. Season again with salt and pepper.

Place the baking dish in the oven, uncovered, and roast until the chicken is so tender it nearly falls off the bone and the carrots and lemons are nicely caramelized, 65 to 85 minutes. Allow the chicken to cool slightly.

Divide the chicken, vegetables, and lemons between the plates and scatter with roughly chopped carrot tops, if you have them, and more oregano.
Recipe adapted from: New York Times