Appetizer Recipes
Onion Jam Crostini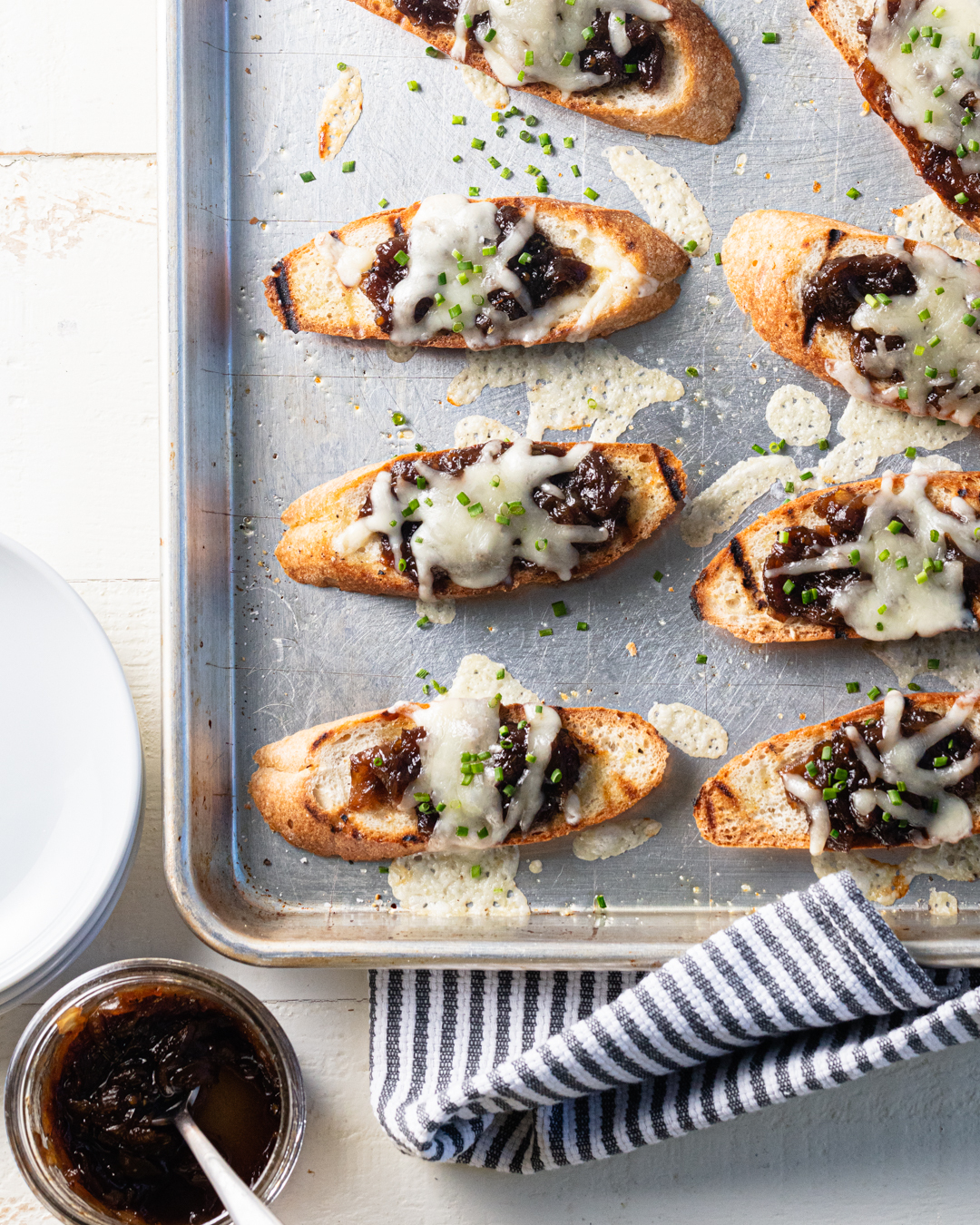 Caramelized onions are a magical thing. As the onions cook down, all their natural sweetness and warmth comes out, and all their sharp pungency disappears. They're basically soft, intensely savory, onion candy. Here, we've foiled that plot by adding a generous amount of glossy, black balsamic vinegar, mustard, and brown sugar to the mix — so the onions have a jammy sweetness, full of rich fruit and bright tang. In short, we give them back their big, onion groove, and then some.
For this recipe, we've layered the onion jam on slices of toasted baguette with Fontina cheese — and baked them, so the cheese melts into the silky onions. What a nicely balanced bite: the well-salted toast, the nutty cheese, the tangy-sweet onions, and a little scattering of chives. Humble, yet deeply pleasing.
It goes without saying, almost, that you should make a double batch of the onion jam. You'll find endless uses for it. It's perfect in a grilled veggie sandwich, a burger, or a fish sandwich. We like to put a little pot of it on our charcuterie boards — and a fat dollop of it in our omelets. It's also grand on meat, much like you'd use a mostarda.
Our tip: Onion jam makes a terrific gift. Make a little basket of onion jam, cheese, crackers, and wine. It can be for an easy Zoom cocktail hour, or a private party on the patio.

Servings: 16 to 20 crostini

Ingredients


4 Tbsp olive oil, divided
3 large sweet onions, julienned
½ cup balsamic vinegar
1 Tbsp whole grain mustard
2 tsp minced Gelson's organic fresh thyme
¾ cup firmly packed brown sugar
Kosher salt, to taste
Black pepper, to taste
1 baguette, sliced on the bias, about ½-inch thick
4 oz shredded Fontina cheese
2 Tbsp minced Gelson's organic fresh chives

Directions

Preheat the oven to 350°.

In a medium saucepan over medium heat, sauté the onions in 2 tablespoons of the olive oil for 35 to 45 minutes, stirring occasionally, until the onions are amber in color.

Pour in the balsamic vinegar and sauté for 1 to 2 minutes, until it thickens a bit.

Stir in the mustard, thyme, and brown sugar. Reduce the heat to low and simmer for 10 to 15 minutes, stirring occasionally, until the mixture is thick enough to coat the back of a spoon.

Season the onion jam with a pinch of kosher salt and black pepper. Remove it from the heat and allow it to cool. Note: onion jam can be stored in the refrigerator in an airtight container for up to 30 days.

Bring a grill pan or grill to medium-high heat.

On a sheet pan, drizzle the remaining 2 tablespoons of olive oil over the baguette slices, sprinkle with a pinch of kosher salt and black pepper, and toss to coat.

Place the oiled baguette slices on the grill, gently pressing with the back of a pair of tongs. Toast for 30 to 45 seconds until nice grill marks form. Flip and press again, toasting for another 30 to 45 seconds.

Transfer the crostini to the sheet pan. Top each one with about 1 tablespoon of onion jam and a pinch of shredded Fontina.

Bake for 5 minutes or until the cheese is melted and bubbling a bit.

Garnish with a pinch of chives and serve warm.