Appetizer Recipes
Organic Creamed Spinach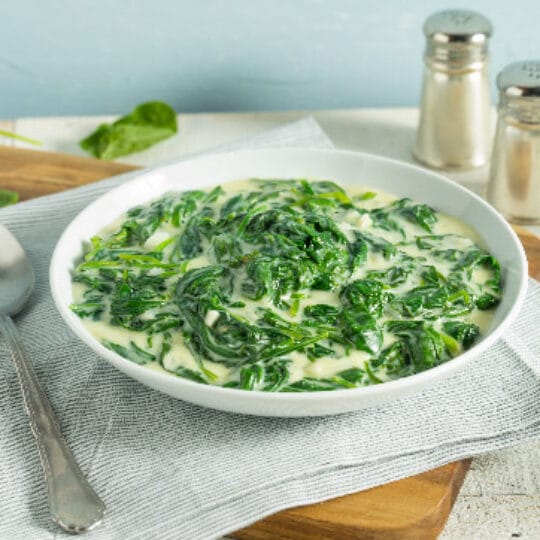 Appetizer
Organic Creamed Spinach
Serves: 4
Ingredients
4 teaspoons Napa Valley organic olive oil divided
1/2 small Melissas organic onion minced
1 pound organic baby spinach washed but not dried
2 ounces Nasoya organic silken tofu
1 tablespoon Arrowhead Mills stone ground organic whole wheat flour
3 ounces Horizon Organic nonfat milk
1 large clove Melissas organic garlic minced
1/2 tablespoon Universal organic parmesan cheese finely grated optional
Directions
Heat 1 teaspoon olive oil in a large pot with a lid over medium heat. Add onion and cook to soften, about 5 minutes. Add spinach, cover and wilt, about 3 minutes, stirring occasionally. Remove spinach and onion, squeeze out, transfer to cutting board and chop.
In a blender, combine the tofu and milk until smooth.
Heat 1 tablespoon olive oil in a small heavy saucepan over low heat. Whisk in flour, whisking constantly until smooth, 3 to 5 minutes. Whisk in garlic and cook about 30 seconds. Whisk in tofu milk, salt, pepper, and nutmeg. Cook until thickened, whisking almost constantly, about 8 minutes. Remove from heat.
Squeeze the chopped spinach and onion to remove most of the water and combine with the thickened tofu milk. Sprinkle with parmesan cheese if desired, mix, and serve.