Dinner Recipes
Vegan Palak Paneer Tofu
This one goes out to anyone who loves palak paneer, but Gelson's is especially excited to share it with the folks who are lactose intolerant or leaning into a plant-based diet. Instead of paneer, or pressed cottage cheese, this recipe coats chunks of extra-firm tofu in the palak — a curry of spinach, tomatoes, and coconut milk that's redolent with fresh ginger, garlic, and spices, and is basically the epitome of comfort food.
How does it all come together? Amazingly. In part, that's because the tofu also brings a boatload of flavor to the dish. It's coated in a trio of peppers — black pepper, smoky paprika, and crushed red pepper — and sautéed 'til it's golden brown. We love how the silky palak clings to the tofu, and how the tofu returns the hug by adding some really nice heat to the dish.
This is one of those very simple yet impressive and deeply satisfying dishes that comes together in about a half hour. You can totally make it on a weeknight, when you might otherwise be digging through the drawer of takeout menus. That said, our chefs did send over a plea for taking the long way. Well, the long short way.
In the test kitchen, we're all about balancing easy against results. We'd definitely say to use canned tomatoes here because they taste great, and blanching tomatoes is a step too many on a busy weeknight. However, we hope you'll go the extra mile and use fresh spinach. It cooks in a matter of minutes, and it adds a lot more fresh, veggie flavor to the dish — and, just as importantly, a lot less water.
Our tips: This dish is only mildly hot. If you'd like more heat, try drizzling some chile oil over the finished dish. And you can use either full-fat coconut milk or heavy cream in the curry, depending on your dietary preferences.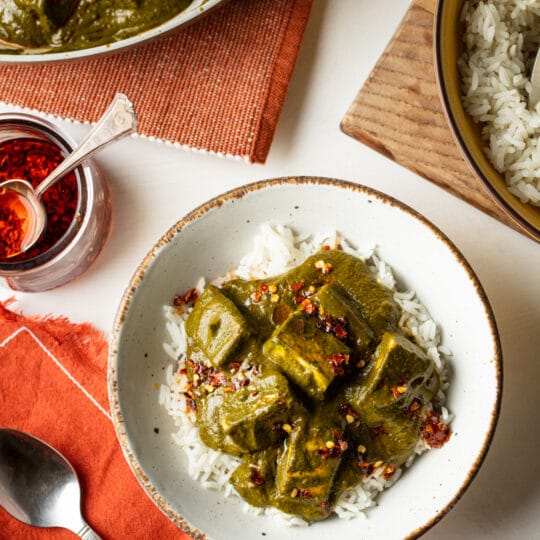 Dinner
Vegan Palak Paneer Tofu
Serves: 4
Ingredients
1 lb extra-firm tofu, diced into ¾" pieces
½ tsp freshly ground Gelson's black pepper
¼ tsp Gelson's smoked paprika
½ tsp Gelson's crushed red pepper
2 ½ tsp grapeseed oil, divided
1 lb fresh spinach leaves
1"-piece ginger, peeled and roughly chopped
4 garlic cloves, roughly chopped
¾ tsp Gelson's ground cumin
⅛ tsp Gelson's cayenne pepper
15-oz can diced tomatoes, drained
½ cup full-fat coconut milk
Freshly squeezed lemon juice, to taste
Cooked white rice, for serving
Directions
To make the tofu: In a large nonstick skillet, heat the grapeseed oil over medium-high heat. Add the extra-firm tofu and sprinkle with black pepper, smoked paprika, crushed red pepper, and kosher salt. Toss and sauté until the tofu is light golden brown, 5 to 6 minutes, and then transfer the tofu to a plate.

To make the spinach curry: Using the same skillet over medium heat, add 1 teaspoon grapeseed oil. Add the spinach leaves and cook until completely wilted, 6 to 7 minutes. Transfer the spinach to a plate.

Add the remaining 1 ½ teaspoons grapeseed oil to the skillet. Once hot, add the ginger and garlic and sauté for 1 minute. Stir in the cumin, garam masala, and cayenne pepper. Cook, stirring continuously, until fragrant, about 30 seconds.

Add the diced tomatoes and cook until soft, 3 to 4 minutes. Return the wilted spinach to the skillet and season with kosher salt. Cook, stirring occasionally, for 2 minutes.

Turn off the heat and transfer the spinach mixture to a blender. Add the coconut milk and blend on high until the mixture resembles a smooth paste.

Return the skillet to medium heat and add the spinach purée. Stir in the granulated sugar, and then the tofu. Cover and simmer for 10 minutes.

Season to taste with freshly squeezed lemon juice and additional kosher salt. Serve over white rice, and garnish with chile oil.
Recipe adapted from: Cook with Manali