Appetizer Recipes
Pancetta, Ricotta & Hot-Honey Flatbreads
Ricotta is usually used to add creamy texture — not rich flavor — to a dish. But on this flatbread, you'll find that its milky, delicately sweet flavor is in stark contrast with the salty pancetta and the sweet heat of the hot honey. The lush, creamy ricotta feels like a unique, standout topping; the bacon and honey are downright tantalizing together. It's impossible to get a bad bite.
We love the crust here, too: It's our Neapolitan-style pizza dough, which bakes up with nice, crispy edges and a delightfully chewy middle. And it's just the right thickness to let all of the toppings shine.
We'd serve pancetta, ricotta, and hot-honey flatbread as a breezy appetizer for a midweek happy hour — but we've also been known to add a green salad or roasted Brussels sprouts and call it dinner. Either way, it'll taste fabulous with a bright chenin blanc or berry-forward pinot noir.
Our tips: Don't forget to pull the parchment paper before you broil the flatbreads. (No oven fires, please!) And feel free to use a premade pizza dough if you're in a pinch.

Yield: 2 large flatbreads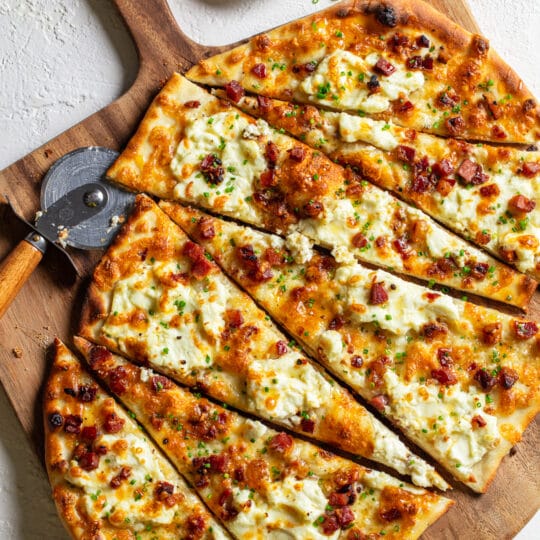 Appetizer
Pancetta, Ricotta & Hot-Honey Flatbreads
Ingredients
10 oz diced pancetta, divided
Gelson's all-purpose flour, for dusting
1 recipe Neapolitan-Style Pizza Dough (link above)
3 Tbsp Gelson's 100% California extra virgin olive oil, divided
Freshly ground black pepper, to taste
2 cups whole-milk ricotta, divided
2 cups shredded whole-milk mozzarella, divided
Special equipment: pizza stone and pizza peel
Directions
Place a pizza stone in the oven on the second highest rack. Thirty minutes before baking the flatbreads, preheat the oven to 500°.

Scatter the pancetta in a large nonstick skillet. Place the skillet over medium heat and cook, stirring occasionally, until the fat renders and the pancetta is crispy, 7 to 8 minutes.

Add the garlic and cook until fragrant, 30 seconds. Transfer the pancetta and garlic to a paper towel-lined plate.

Lightly dust a work surface with flour. Divide the prepared dough in half, and then roll each half into a large, ⅛"-thick oval. Transfer each oval to a piece of parchment paper.

Divide and brush the olive oil over each piece of dough and sprinkle them with black pepper. Divide and dollop the ricotta on top of each flatbread. Then, divide and evenly sprinkle the mozzarella and pancetta over each.

Use a pizza peel to transfer one flatbread and the parchment paper to the oven. Bake for 2 minutes. Then, remove the parchment paper, increase the heat to broil, and cook for 2 to 3 minutes or until the mozzarella is melted and golden and the crust is charred in spots.

Reduce the oven to 500° and repeat step 6 with the remaining flatbread.

Drizzle the flatbreads with the hot honey and sprinkle with the flake salt and chives. Slice, serve hot, and enjoy!