Dinner Recipes
Passover Dinner Ideas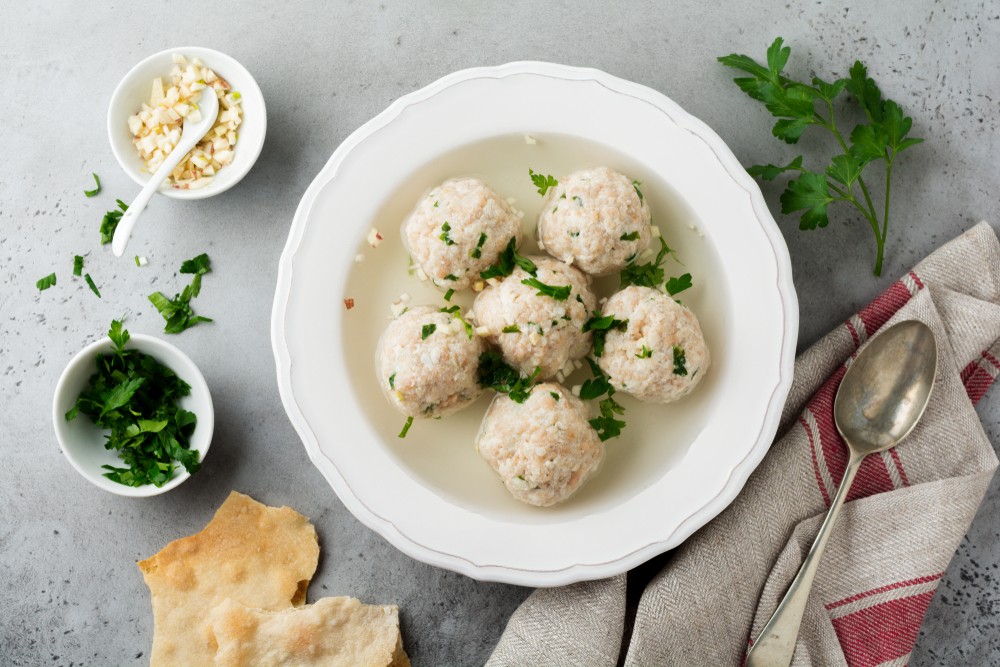 As a celebration of freedom and joy, Passover is one of the most beloved holidays in the Jewish tradition.
On the first night of Passover, the Seder dinner is served and shared among friends and family, signifying the start of several days of festivities. And for some families, the celebratory dinners carry on through all seven or eight days of Passover. If you're the cook in your house, that's quite a few meals you'll be prepared!
Although there are many Passover Seder customs, varying among families and regions alike, the one thing that all Passover dinners have in common is a sense of ceremony - and of course, a variety of wonderful dishes for everyone to enjoy.
Whether your family prefers a traditional Passover dinner or you're searching for creative recipes for Passover dinner, we have you covered. We've put together a deliciously diverse collection of Passover dinner recipes, featuring a mix of modern and ultra-traditional, making it easy to serve a memorable meal for all your holiday guests.
Best Passover Dinner Recipes for Your Seder
From appetizers to dessert, we've assembled a virtual recipe box stuffed with recipes for the Seder season.
A juicy, perfectly-roasted beef brisket is a Seder table staple for many families, but there are a few common mistakes that can leave you with a dry, flavorless main dish. This recipe gives you a rundown of the best tips for cooking beef brisket, including how and when to season it, how long to cook a brisket, and even how to slice it properly. If you need to save oven space for other dishes - or want an easier option - try the recipe for slow-cooker beef brisket.
This traditional dish is surprisingly divisive - for most people, it's either a "love it" or "hate it" kind of meal. But even if you're not usually a fan of this old-school seafood appetizer, we recommend giving this recipe a try. The ingredients list is short and simple, yet the flavor payoff is excellent.
There's nothing quite like a warm, comforting bowl of homemade matzo ball soup. With this recipe, you can master the cherished matzo meal. If you're planning on hosting friends or family for the holidays, this recipe for matzo ball soup can serve eight people as a meal (two matzo balls per bowl) but 16 as an appetizer.
Sometimes, the simplest salads are the most delicious. The bitter chicories are a sturdy base for the light vinaigrette dressing, which balances sweetness with a sharp acidity. Chopped herbs round out the flavor profile for a fresh salad that can complement any entree.
If you're planning to have matzah at your dinner, charoset is a must-have condiment that just about everybody enjoys. You might be surprised to find just how easy it is to make, especially with this recipe in hand.
Recipes for Passover desserts can be tough to find, but you absolutely can't go wrong with macaroons. This version offers two options: chocolate and traditional. Your guests won't be able to resist these bite-sized treats, so you might want to make an extra batch so that there's plenty for seconds (and thirds!).
Before you assume that these are the same old green beans you've eaten for years, hear us out: the combination of caramelization from a hot pan with a seasoning blend of garlic, red pepper flakes, and capers create a symphony of flavors that make this veggie truly shine. Best of all, you can take this vegetable side from the fridge to the table with just a few minutes of preparation and cooking.
Put a Southern California spin on your holiday meal with this sweet and spicy side. A blend of hot sauce and butter spruces up the sweet potatoes, pairing perfectly with their natural sweetness. Lime adds a fresh kick, while the raw pumpkin seeds (pepitas) bring a crunchy texture to every bite.
You might think you've seen every roast chicken recipe out there, but this one gives you a chef-worthy technique for preparing the perfect bird. The chicken and potatoes are roasted in the same cast-iron skillet, saving you a pan while maximizing the flavor potential.
If you need ideas for gluten-free desserts, try this decadent icebox cake made with matzo. The crispy-thin matzo is the ideal base for this layered dessert and pairs so well with the rich chocolate topping.
For a fun twist on matzo ball soup, serve it up shooter-style: a spoonful of soup is topped by a mini matzo ball, creating the perfect bite. It's a creative appetizer that can be served buffet-style, as a passed appetizer, or even just a casual grab-and-go option at a party.
Even though you'd think that tarts are off the table, there are actually some great gluten-free crusts out there. This recipe uses an almond crust as its base, swapping out traditional flour in favor of almond flour. A rich vanilla custard is topped off with blueberries and blackberries for a colorful spring dessert that will look beautiful on your holiday table.
Make the most of California's superb spring weather by getting outside and firing up the grill, then enjoying these grilled lamb chops al fresco style. Be prepared to set up shop next to the grill because you'll want to give these chops your undivided attention for the best possible results. But don't worry, you won't miss out on any festivities - the grilling is complete in less than ten minutes.
The Orthodox Union recently stated that certain brands of quinoa were kosher-acceptable, adding this gluten-free grain to your list of possible ingredients. A quick swap of the vinegar for something similarly tangy makes this recipe an appropriate food for the Jewish holiday, so you won't have to tackle any complicated recipe re-works. Brussels sprouts and quinoa are a tasty match and healthy addition to the menu.
Visit Your Local Gelson's for Passover Dinner Necessities
Once you've picked the recipes that will be gracing your Seder table this year, it's time to start shopping. Gelson's Supermarkets have all the ingredients you'll need for cooking an incredible meal, no matter how simple or sophisticated your kitchen skills.
Don't have the time or energy to prepare a full Passover table? Let Gelson's take care of the cooking for you with our fully-prepared Passover dinners. Our menu includes traditional beef brisket, BBQ chicken, potato kugel, and other Passover favorites. Simply place your order online, then pick up your dinner from the Gelson's nearest you.
No matter what style of Seder dinner you're planning, ultra-casual, formal, or somewhere in between, stop by your neighborhood Gelson's Supermarket for everything you need and more.
Image credit: Shuttershock/Katarzyna Hurova