Dinner Recipes
Pasta Puttanesca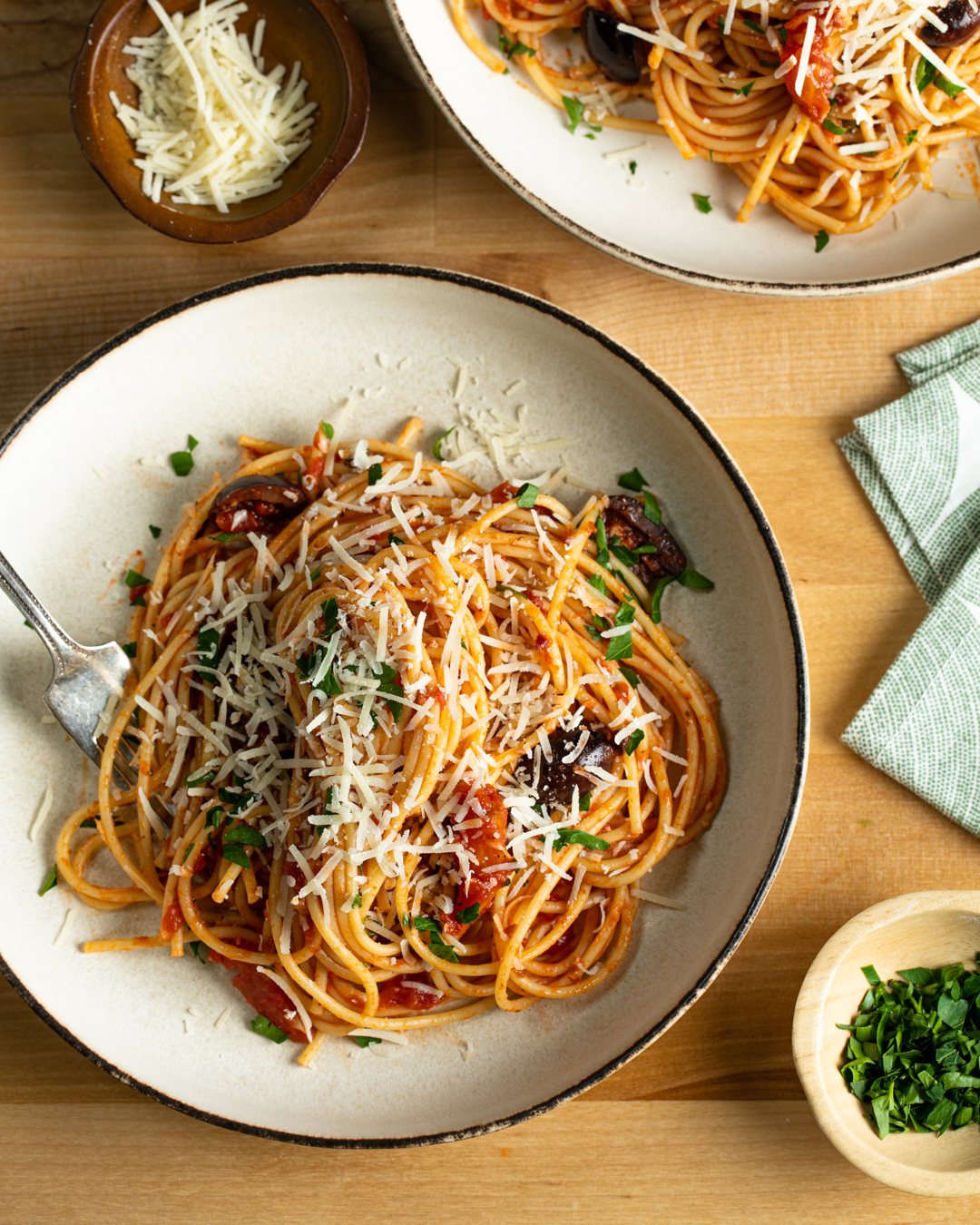 Some food historians believe the name puttanesca is derived from the word puttana, Italian for "lady of the night." True or not, this saucy pleasure did become popular in the port city of Naples sometime in the 1950s, and it bears the distinct brininess of a recipe born seaside. Anchovies, capers, and Kalamata olives provide intense umami flavor that's balanced out by the bright acidity of the tomatoes. The garlic adds vigor, chopped parsley lends freshness, and red pepper flakes provide a tingle of heat at the finish.
We appreciate the fact that pasta puttanesca is wildly easy to throw together; this recipe clocks in at about 20 minutes prep time from start to finish. It is the easy spaghetti whose company you crave, but is ready for whatever the night may bring. It's also an excellent dish for this time of year, when we're craving winter and spring food at the same time: intensely flavorful, not too heavy, and entirely comforting.
Make this after a long day when you don't feel like cooking but really feel like eating. Or serve it at a patio dinner party while the air is still a little cool, ideally with a big salad and a bottle of fruity red that anticipates summer — and easier times ahead.
Servings: 4
Ingredients
¼ cup extra virgin olive oil
4 large garlic cloves, minced
1 28-oz can whole peeled tomatoes with basil
½ cup Kalamata olives, halved and pitted
3 anchovy fillets, minced
1 ½ Tbsp drained capers
1 tsp Gelson's whole dried Mediterranean oregano
½ tsp Gelson's crushed red pepper
Kosher salt, to taste
Freshly ground Gelson's black pepper, to taste
12 oz spaghetti
2 Tbsp chopped parsley
Gelson's grated Parmesan cheese, for garnish
Directions
Heat the extra virgin olive oil in a large pot over medium heat. Add the garlic and sauté until fragrant, about 1 minute.

Add the tomatoes with their juices, Kalamata olives, anchovy fillets, capers, Mediterranean oregano, and crushed red pepper. Stir to combine.

Break up the tomatoes with a wooden spoon and simmer the sauce over medium-low heat until it has thickened a bit, about 8 minutes. Season with kosher salt and black pepper.

Meanwhile, cook the spaghetti according to the package directions in a large pot of boiling, salted water until al dente. Drain the pasta and return it to the pot.

Add the sauce and parsley to the spaghetti and toss over low heat until the sauce coats the pasta, about 3 minutes.

Garnish with Parmesan cheese and serve hot.

Recipe adapted from: Epicurious