Dinner Recipes
Patty Melt
Okay, there might be one thing the East Coast has on us: the patty melt! It's a classic sandwich burger, made with just a few simple ingredients: dark rye bread, caramelized onions, hamburger, Swiss cheese, and butter. We like to throw our dark rye on the grill, so it gets super crisp and just a smidge too toasty — its roasty molasses flavor is the perfect complement to those ultra-sweet onions.
Of course, the beef makes the burger. Did you know our meatcutters prepare our ground beef fresh in-store multiple times a day, using trimmings from Certified Angus Beef Brand® of prime and choice beef, as well as grass-fed beef cuts? True story! We offer a variety of fat ratios, but for this recipe we chose the 80/20 because it chars up beautifully on the outside and stays juicy on the inside.
Sweet, salty, meaty, and gooey — patty melts are hands-down the most comforting of burgers. We definitely like to add some high notes with condiments like hot sauce, dill pickle slices, or pepperoncini. And a side of creamy coleslaw is never a bad idea.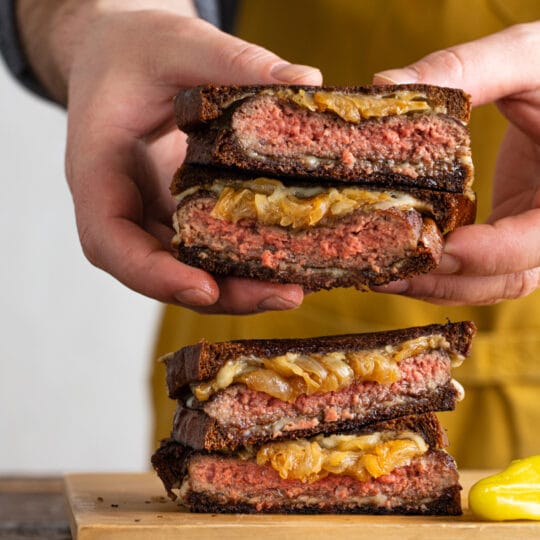 Dinner
Patty Melt
Serves: 4
Ingredients
​​6 Tbsp unsalted butter, divided
2 medium yellow onions, thinly sliced
1 ½ lbs 80/20 ground beef
Freshly ground Gelson's black pepper, to taste
Directions
To caramelize the onions: In a large skillet over medium-high heat, melt 2 tablespoons of the butter. Cook, stirring occasionally, until the butter foams, 1 to 2 minutes.

Add the onions and season with salt. Let the onions sit, uninterrupted, for 1 minute. Continue to cook, stirring frequently, until the onions have released some liquid and are translucent, about 5 minutes.

Reduce the heat to medium-low and cook for 30 to 45 minutes, stirring occasionally, until the onions are dark golden brown.

Transfer the onions to a bowl and carefully wipe out the skillet.

To make the patty melts: Divide the ground beef into 4 patties that are slightly wider than the slices of bread. Generously season both sides with salt and black pepper.

Return the skillet to the stove, add 2 tablespoons of the butter, and melt over medium-high heat.

Place the patties in the skillet and cook for 2 ½ minutes. Flip and cook for another 2 ½ minutes, then transfer the patties to a plate and allow them to rest for a few minutes.

Carefully drain and discard the fat, and wipe out the skillet. Return the skillet to the stove and heat over medium.

Add the remaining 2 tablespoons of butter. Once melted, add 4 slices of bread. Top the bread with one slice of cheese, a patty, some caramelized onions, another slice of cheese, and another slice of bread.

Use a spatula to press down on the patty melts. Cook until the bread is crisp, 1 to 2 minutes. Flip and press down again. Cook until toasted and crisp, 1 to 2 minutes more. Serve hot.
Recipe source: NYT Cooking
Calculate nutrition information for this recipe.