Breakfast Recipes
Peach and Heirloom Tomato Toast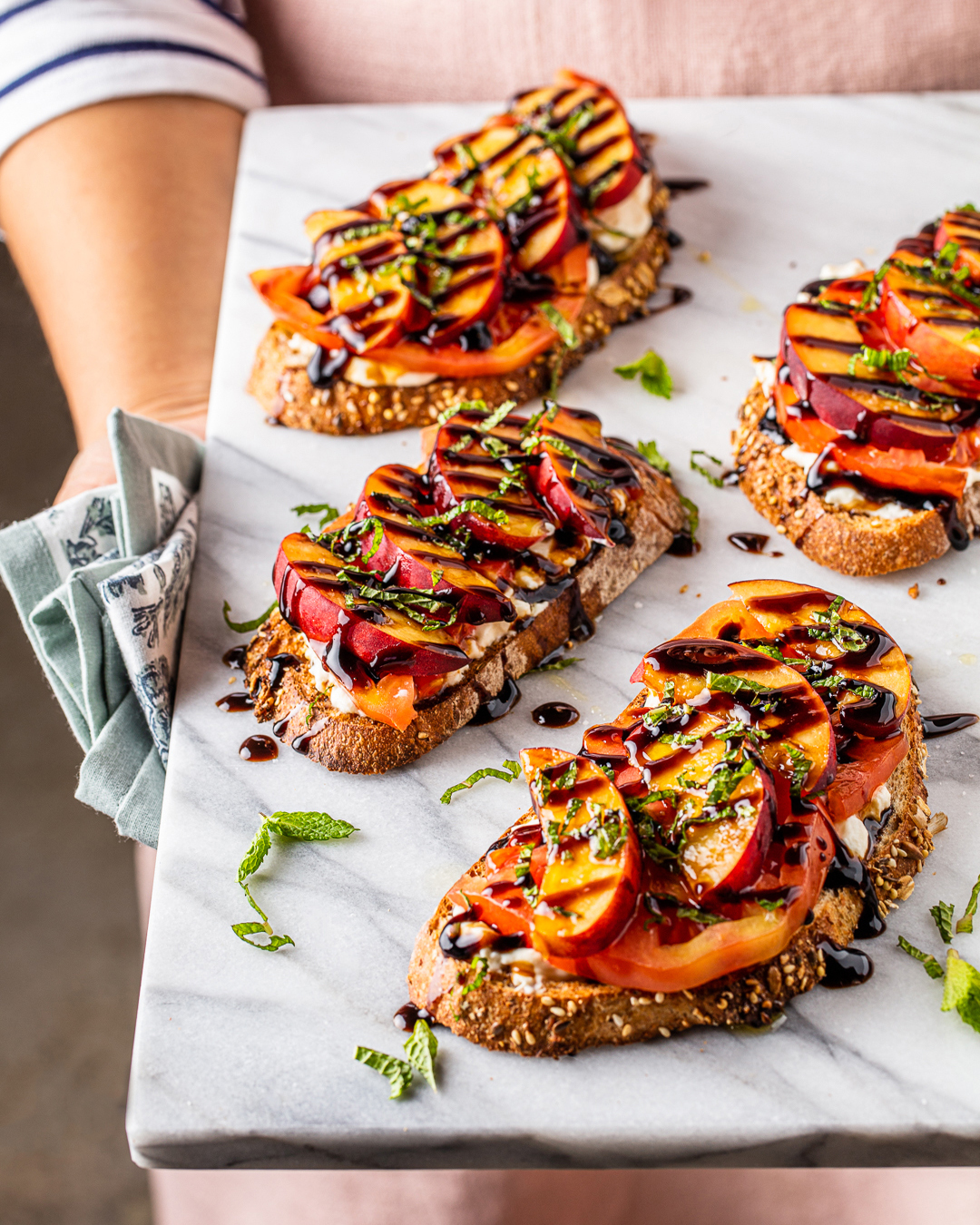 Here we've piled a perfect mix of summer flavors on toast: A decadent swirl of buttery soft burrata cheese, sweet-tart peaches, earthy heirloom tomatoes, and slivers of green mint. It's such a hearty snack (read: too loaded with goodness to pick up) that you'll have to eat it with a knife and fork, and it's so delectable in all its textures and tastes you won't mind — you'll want to slow down and savor every bite.

Our tip: Peach and Heirloom Toast also makes a wonderful breakfast. It's well balanced and satisfying, in part because we use Röckenwagner's seed loaf. With 16 grams of protein it will hold you 'til lunch!
Servings: 4
Ingredients
4 thin slices Rockenwagner Seven Grain Loaf loaf, toasted
1 8-oz ball Di Stefano Burrata cheese, quartered
1 large, ripe heirloom tomato, cut into 8 slices
1 large, ripe organic peach, sliced into 16 thin wedges
¼ tsp Le Saunier de Camargue fleur de sel (sea salt)
8 fresh mint leaves, chiffonade
2 tsp Napa Valley organic olive oil
2 tsp Fini balsamic glaze

Directions
Spread two ounces of Burrata cheese over each slice of warm toast.
Layer each one with two slices of tomato, four slices of peach, and a pinch of salt.
Garnish with mint and a drizzle of the olive oil and balsamic reduction.
Enjoy immediately.
Each piece contains:
Calories 310
Fat 18g
Saturated Fat 9g
Trans Fat 0g
Cholesterol 50mg
Sodium 250mg
Total Carbohydrate 23g
Dietary Fiber 2g
Sugars 10g
Protein 16g
Vitamin A 27% DV
Vitamin C 24% DV
Calcium 31% DV
Iron 11% DV