Breakfast Recipes
Pear Butter Toast with Ricotta & Granola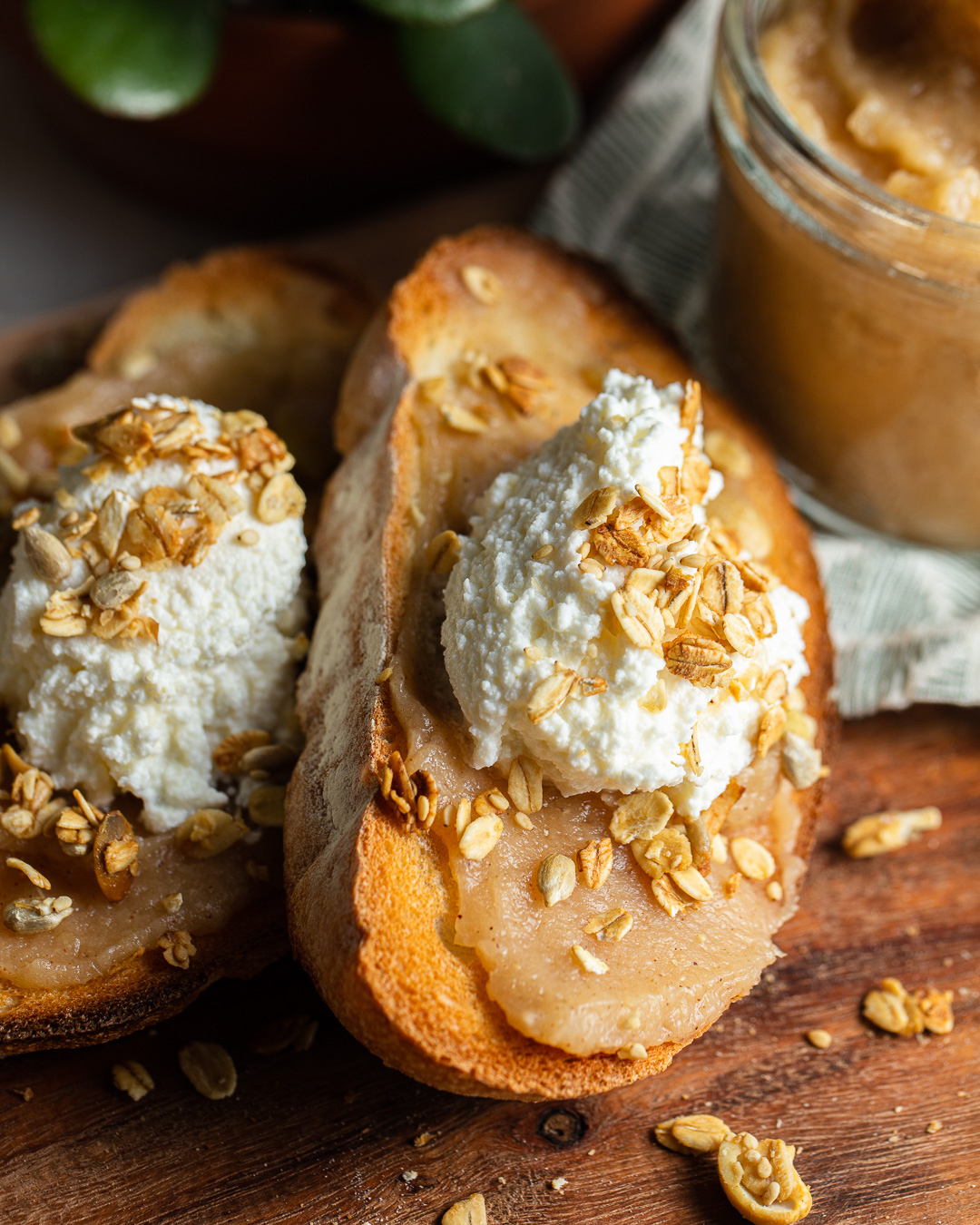 As you can imagine, we spend a lot of time thinking about, preparing, and eating food, and yet humble toast has always been, and always will be, near the top of our list of favorites. That seems to be true for lots of people. It's crunchy and warm and slathered in butter, what's not to love?

In this recipe, we exchange sweet cream butter for a wintry pear butter that's sweet and full of ginger, nutmeg, and cinnamon spice. It tastes amazing — simultaneously rich and super fresh — heaped on hot toast with fresh, creamy ricotta and crunchy granola. It's somehow more grown up, like a sophisticated avocado toast for the morning.

Our tip: We like to make this on a Saturday morning, when we've got a little more time, and then eat it for breakfast all week long. The pear butter is a great addition to the other jams in your fridge. It's fantastic on waffles and pancakes, and we've even put it on our charcuterie boards — it pairs beautifully with the nutty, salty cheeses and preserved meats.
Ingredients
3 lbs ripe pears, peeled, cored, and chopped
3 Tbsp honey
1 Tbsp lemon juice
1 tsp ground cinnamon
½ tsp ground ginger
1 pinch nutmeg
1 pinch ground clove
¼ tsp salt
Loaf of bread
½ cup ricotta cheese
½ cup granola
Directions
In a large pot, combine the pears, honey, lemon juice, cinnamon, ginger, nutmeg, clove, and salt and cook on medium low heat for 1 hour, or until the pears have broken down and began to brown.

Transfer the pears to a food processor and blend until smooth

Toast 4 pieces of bread, and then set them on four small plates, and spread each with pear butter. Add a dollop of ricotta and a sprinkle of granola.

Serve immediately.