Dessert Recipes
Pecan Pie Upside-Down Cake
It's easy to understand why there's so much love and nostalgia for upside-down cakes. They're absolutely scrumptious but as easy to make as a coffee cake, and it's always fun to flip them over and see what the top looks like — a reveal that never gets old.
In the test kitchen, we've baked both pineapple and citrus upside-down cakes, and we love how the fruit and brown sugar caramelize in the oven, a sweet-tart complement to the cake. And yet, what's fun about this seasonal pecan pie remix is that it's not that — nor is it as sweet as the classic pie. It's the perfect balance of crunchy pecans, buttery caramel, and fluffy cake.
The cake is made with oil, rather than creamed butter, so it comes together fast. Thanks to some sour cream, it's moist and tangy, the perfect foil for all the nutty-sweet pecan goodness. Speaking of: even if you make the cake ahead, be sure to flip it before it cools completely so that gooey caramel can soak into the cake.
Pecan pie upside-down cake makes a beautiful finish for a holiday meal. Serve it warm with a scoop of vanilla ice cream and a cup of strong coffee. Now, that's contentment!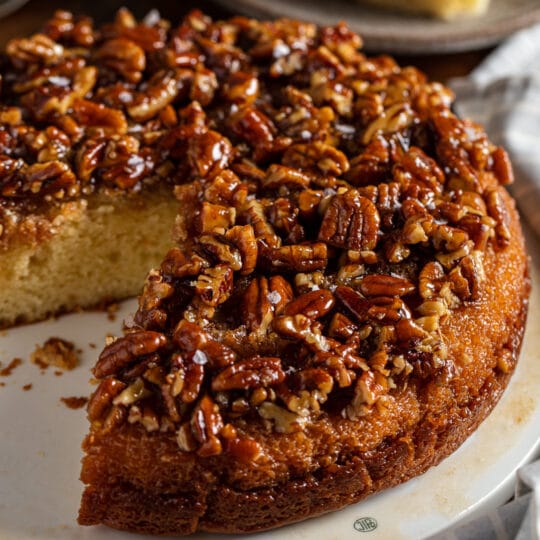 Dessert
Pecan Pie Upside-Down Cake