Recipes
Pecan Streusel Bran Muffins
Pecan Streusel Bran Muffins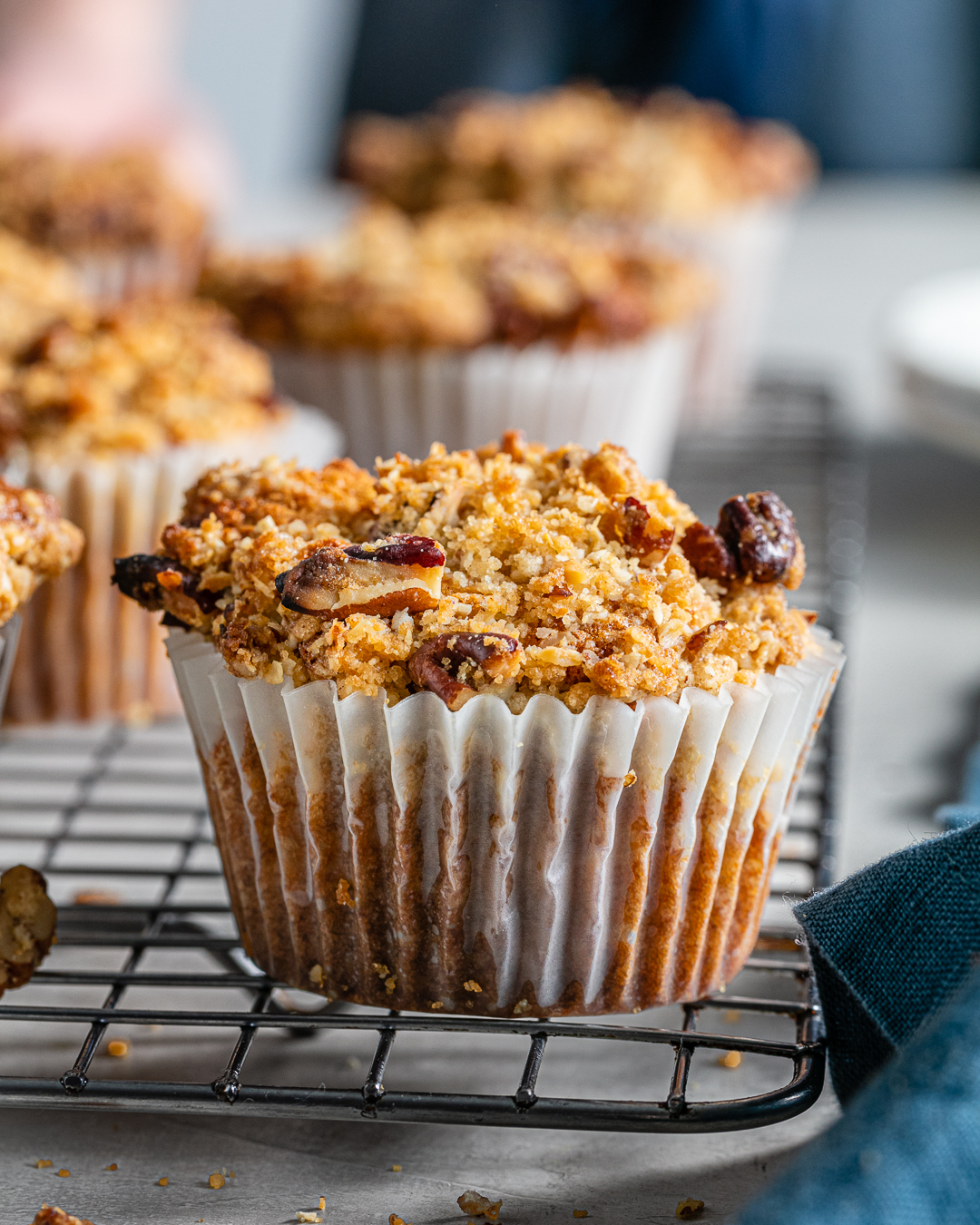 If bran muffins are notorious for being dry, mealy, or flavorless, then these must be anti-bran muffins. Seriously, they almost verge into cupcake territory: their texture is light and fluffy, their flavor almost caramelly — and crumbled on top is a sweet, nutty streusel that perfectly complements the bran.
This recipe was inspired by a bran muffin that one of our test kitchen bakers made in pastry school — a bran muffin that used uncooked oat bran, rather than a processed bran cereal, and was full of both molasses and potential. We were convinced we could create a bran muffin that defied all stereotypes! Since then, we've finessed the ratio of sugar to molasses and honey, as well as that of milk to butter. The result? A muffin with malty, maple-y sweetness, and a decadently moist crumb.
For the streusel, we used a little more oat bran, plus chopped pecans, brown sugar, and butter. In the oven, the pecans get nice and toasty, and the butter and the sugar melt, mingle, and caramelize, creating a satisfyingly crunchy crust — a welcome contrast to the moistness of the muffins. We're convinced that this streusel would taste good on every baked good ever. Also: we'd gladly eat it by the spoonful.
We'd make these bran muffins on a sleepy Sunday afternoon with some tunes or a podcast playing in the background, and then reap the benefits over the course of the week. (Eat one on a Zoom call, and your coworkers will be jealous with a capital J … and quite possibly drooling with a capital D.) They're delightful with a cup of coffee — especially if the beans have some toasty, nutty notes — or even a caramel latte. And in our experience, they're an A+ afternoon pick-me-up: sweet enough to help you make it to five o'clock, and hearty enough to keep you full 'til dinner!
Our tip: Make sure your eggs, butter, and milk are at room temperature to help ensure everything incorporates fully into the batter. That said, don't fret if the batter doesn't come together completely — it's better to avoid over-mixing, and the muffins will still turn out great.
Yield: 12 muffins
Ingredients
For the streusel:
¼ cup all-purpose flour
¼ cup Bob's Red Mill oat bran
½ cup pecan halves, chopped
¼ cup packed brown sugar
3 Tbsp unsalted butter, cold, diced
1 pinch kosher salt
For the muffins:
1 ¼ cups all-purpose flour
¾ cup Bob's Red Mill oat bran
2 tsp baking powder
½ tsp baking soda
1 stick unsalted butter, room temperature
⅓ cup granulated sugar
½ tsp kosher salt
2 large Gelson's eggs, room temperature
1 tsp vanilla extract
4 Tbsp honey
1 ½ Tbsp molasses
½ cup whole milk, room temperature
Directions
Preheat the oven to 350°. Line a 12-cup muffin pan with paper liners.

To make the streusel: In a medium bowl, combine the flour, oat bran, pecans, brown sugar, cold butter, and salt. Rub the mixture between your fingers until incorporated and press it into clumps. Refrigerate until ready to use.

To make the muffins: In a medium mixing bowl, whisk together the flour, oat bran, baking powder, and baking soda. Set aside.

In the bowl of a stand mixer fitted with the paddle attachment, cream the butter, sugar, and salt on medium-high speed until light and fluffy, about 3 minutes.

Reduce the speed to low. Add the eggs and vanilla, and mix until incorporated.

Add the honey and molasses, and mix until incorporated.

Add half the dry ingredients and mix just until incorporated. Mix in the milk, and then mix in the remaining dry ingredients just until incorporated.

Transfer the batter to the paper-lined muffin cups, filling each ⅔ full. Sprinkle the streusel on top.

Bake for 20 to 25 minutes, or until an inserted toothpick comes out clean. Cool the pan on a wire rack. Muffins can be stored in an airtight container at room temperature for up to 3 days.
Calculate nutrition information for this recipe.